ACC Football Notebook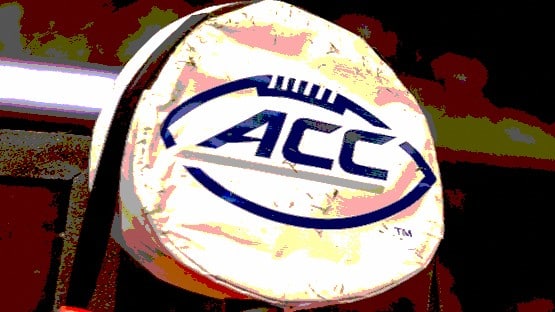 For the first time this season, the ACC had five teams ranked in the Associated Press (AP) Top 25 poll in Florida State (No. 5), North Carolina (No. 14), Miami, (No. 17), Duke (No. 19), and Louisville (No. 25). Clemson is also receiving votes. The same five teams were ranked in the USA Today AFCA Coaches Poll this week, nearly mirroring the AP Poll. Florida State came in at No. 5, while North Carolina (No. 13) and Miami (No. 17) were both in the top 20. Duke is No. 21 and Louisville broke in the poll this week at No. 25. Clemson is also receiving votes in the coaches poll.
The ACC is off to a great start in non-conference play in the 2023 season, going 29-13 (.690) overall in non-conference play over the first five weeks of the season. The ACC will play for non-conference games this week. Eight of the ACC's 29 non-conference wins have come against the Big Ten and the SEC, with the ACC recording four wins over each of the two conferences. The rest of FBS is 12-38 overall versus the two Power 5 conferences.
Entering Week 6 of play, the ACC still has four teams that remain unbeaten in Louisville (5-0), Florida State (4-0), Miami (4-0), and North Carolina (4-0). The four undefeated teams are tied for the most among any FBS conference, matching the Big Ten and the Pac-12.
Week 7 Schedule
Boston College at Army
Time/TV: Noon, CBSSN
Series: Boston College leads series, 25-13; Last meeting: Boston College, 48-27 (2013)
CBSSN: Chris Lewis (play-by-play), Ross Tucker (analyst), Tina Cervasio (sideline)
Line: Army -3
William & Mary at Virginia
Time/TV: Noon, ACCN
Series: Virginia leads series, 31-6-1; Last meeting: Virginia, 43-0 (2021)
ACCN: Jorge Sedano (play-by-play), Orlando Franklin (analyst), Marilyn Payne (sideline)
Line: n/a
Marshall at NC State
Time/TV: 2 p.m., The CW
Series: NC State leads, 5-0; Last meeting: NC State, 37-20 (2018)
The CW Network: Evan Lepler (play-by-play), James Bates (analyst), Tabitha Turner (sideline)
Line: NC State -6.5
Virginia Tech at No. 5 Florida State
Time/TV: 3:30 p.m., ABC
Series: Florida State leads series, 23-13-1; Last meeting: Virginia Tech, 24-3 (2018)
ABC: Mark Jones (play-by-play), Louis Riddick (analyst), Quint Kessenich (sideline)
Line: Florida State -24
Syracuse at No. 14 North Carolina
Time/TV: 3:30 p.m., ESPN
Series: Series is tied, 3-3; Last meeting: North Carolina, 31-6 (2020)
ABC: Dave Pasch (play-by-play), Dusty Dvoracek (analyst), Tom Luginbill (sideline)
Line: North Carolina -8.5
Wake Forest at Clemson
Time/TV: 3:30 p.m., ACCN
Series: Clemson leads series, 70-17-1; Last meeting: Clemson, 51-45 (2OT) (2022)
ACCN: Chris Cotter (play-by-play), Mark Herzlich (analyst), Sherree Burruss (sideline)
Line: Clemson -21
No. 10 Notre Dame at No. 25 Louisville
Time/TV: 7:30 p.m., ABC
Series: Notre Dame leads series, 2-1; Last meeting: Notre Dame, 12-7 (2020)
ABC: Joe Tessitore (play-by-play), Jordan Rodgers (analyst), Katie George (sideline)
Line: Notre Dame -6.5
Georgia Tech at No. 17 Miami
Time/TV: 8 p.m., ACCN
Series: Miami leads series, 14-13; Last meeting: Miami, 35-14 (2022)
ACCN: Wes Durham (play-by-play), Tim Hasselbeck (analyst), Taylor Tannebaum (sideline)
Line: Miami -21
Open: Duke, Pitt