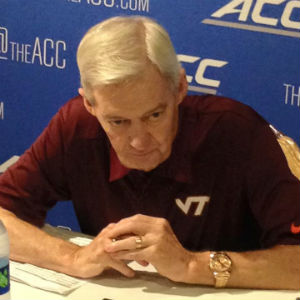 Virginia Tech football coach Frank Beamer talks with reporters in Wednesday's ACC Coaches Teleconference.
FRANK BEAMER: It's always good to have a little extra time before you play Georgia Tech. They're a unique offense and different offense and an offense that Paul Johnson knows extremely well. You just need a little extra time. So that part's good. And then I think having a little time here in this part of the season mentally and physically helps out. Thank goodness we've had a little time. Now we're getting back in a team meeting here today and getting ready to go back to work.
Q. Frank, I know we talked about this a little bit this week. I'm curious, what has been the impact on your team of your announcement? Are you concerned at all about their focus? Do you think they're snapping back to football ready?
FRANK BEAMER: No. I think our football team showed a lot at Boston College. We were coming off, you could say, a distraction, but it was a tough, tough loss to Duke, overtime game. Played our hearts out. Duke did the same, but we lost. Then to go to Boston College and play the way we did, I think that made a statement about our football team. Now there's circumstances around this game that have changed a little bit, but the successful people in life, I believe, are the ones that handle the situations and can put that out of their mind and go take care of what they can control. So that's going to be our challenge right now is just take care of what we can control, and that's how we play against Georgia Tech. We've got to play extremely well to have a shot.
Q. What's the schedule been this week? I know the coaches said they were going recruiting Tuesday and Wednesday. Have you guys practiced yet? Or when will you practice?
FRANK BEAMER: No. We're going to get back in practice tomorrow. We've got a team meeting here today. We've got a staff meeting here in a few minutes. So we're all getting back and getting ready to roll here.
Q. To look at what the coaches around the ACC have said about you, and even today, there's not a bad word ever heard said about you by anyone and that you've always done things the right way. Just what your response is to that.
FRANK BEAMER: That probably means as much as anything. When you get out there and compete against guys every Saturday and your livelihood is on the line. The games mean so much, and then to respond with there hasn't been a bad word said and so forth, that means a lot. To me, when it's all said and done, I'm not sure how many people are going to remember the exact number of wins, but I think they'll remember how you did it and how you came across. That's what's really important to me right now.
Q. When you looked at knowing that the end of the season is when you decided that you're going to be done, to know that you have these games left, instead of just stepping down and being gone, just kind of what went into that decision to say that you wanted to stay throughout the season instead of just having a quick exit. What really stuck with you that you wanted to finish out the season?
FRANK BEAMER: Most people know how I would respond to that. They know, number one, I think there was difference of opinions going on. Any time you're in a public office, that's going to happen. I understand that, but I didn't want Virginia Tech to be divided. We've always preached, let's do this thing together and be in there together. That's how I wanted it to end up. And the other part is I think it gives our administration time to go find the next coach, and I want what's best for Virginia Tech. I really mean that. So I thought it was the right time to do it.
Q. Hi, Coach. I just want to ask you to look ahead to the Georgia Tech game on Thursday night. You and Georgia Tech have probably played the most Thursday night games in the ACC. I think you guys have won 20 games on Thursday night. Is it a different situation or different atmosphere? How different is it to play on Thursday than on Saturday?
FRANK BEAMER: Well, the schedule's different, number one. I think we've gotten used to that and kind of keep our week in order as far as how many days is it until the game. But I like it. You're the only game on in most cases, or one of two or three. If you can play well, it's great for recruiting. It's great for the university. I think, personally, I like being on that, and changing the schedule around is not that big a deal.
Q. This is just an observation from mostly watching these games on TV, but it seems like there's a more raucous home field advantage on a Thursday night than a Saturday afternoon. Is there anything to that?
FRANK BEAMER: Well, I know if it's played in Lane Stadium. I'm trying to get a hold of Paul and see if he'll come up here instead of going to Georgia Tech. No, they've got a great atmosphere there too. I think there is something to it. I think the students — it's a little inconvenient for your supporters, your alumni and so forth, but our guys, our alumni, supporters have always figured it out and got here and figured out how they're going to get back to work on Friday. So the fans around here have always been great in that regard.
Q. And just to take a little different tack, you got the off week to work with some things. I just wonder how you see the quarterback situation moving forward because you've used both guys the last couple of games.
FRANK BEAMER: I think both of them have a role in our offense. Michael (Brewer) is a guy that's got the experience, and last game, I think, showed the importance of him being back with us and what he brings to the table, his leadership. He's got all the right things. He can, I think, distribute the ball to some really good young receivers. Then Brenden (Motley), I've always said he's got real talent, and he has. He's a big guy that can run and throw as well. So I think trying to get them both involved, to a certain extent, will be how we go down the stretch here.
Q. There's a push from your fans online to try to get College GameDay to come for your final home game. Do you like that? Is that a distraction? Would it be an honor? What are your thoughts?
FRANK BEAMER: Any time a group like that comes to your campus, it's all good. I appreciate our fans trying to make that happen. I think they probably make their schedule out. I'm not sure they can change that. But we'd love to have them here. We'll treat them good if they decide to come.