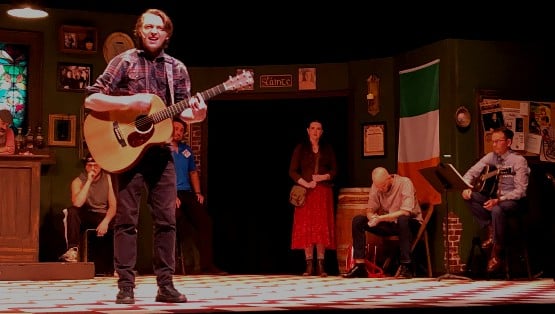 The characters of "Once," based on Enda Walsh's book, are unique and real.
And the music, written by Glen Hansard and Markéta Irglová, stands out as a character of its own on stage.
"I love the music, I mean that's a big part of it, but I'm also a sucker for a love story, and especially love stories that don't have a traditional love story ending," Director Matt Parrish, who lives in Staunton, said.
"Once" is Parrish's first musical as a director. His first time directing was "Misery" at ShenanArts last year.
Thirteen actors perform in "Once," which Parrish found easy to cast, but the show presented a unique challenge. Each actor in the production also plays an instrument, sings and dances on stage.
"It's a ridiculously multi-talented cast," he said.
The show's leading man, who is referred to only as "Guy," is portrayed by Drew Bastian. The heartbroken Irish songwriter is about to give up on his hopes of becoming a successful musician and even leaves his guitar in the street. Then comes along Czech immigrant "Girl" portrayed by Rebekah Bradley Ray, who plays piano and encourages him to continue writing and recording his music.
Lea Hedrick, who lives in Harrisonburg, is "Girl's" mother, "Baruska," and she prepared for the role by learning how to speak a Czech accent.
A veteran actor performing on stage since high school, Hedrick has performed in five productions at ShenanArts.
"I enjoy ShenanArts, as much as any of the Valley theaters," she said.
She said that "Once" is a beautiful show with "a fantastic group of ensemble players."
Jim Josephson, 54, began acting four years ago. He portrays the bank manager in "Once" who finances a loan for "Guy" and "Girl." He has appeared in Waynesboro Players' production of "Oliver," "Bright Star" at ShenanArts and was delighted to perform his first lead role in "The Wind in the Willows" at ShenanArts.
He prepared for his role by learning to speak with an Irish accent.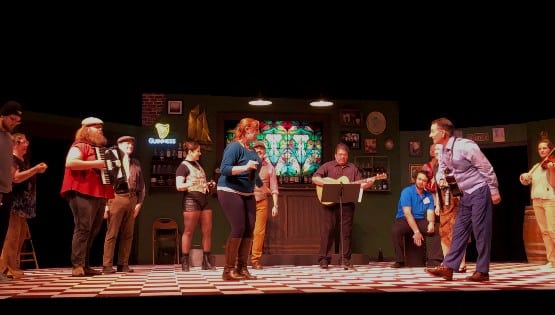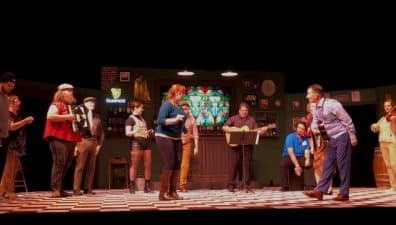 "There's a lot of kinds of love," Josephson, who lives in Stuarts Draft, said of what he hopes audience members take away from seeing the production. "And this is about a rare kind of love."
Parrish said anyone can relate to the show's story, because we all have experienced love and lost. He hopes the production makes audience members think of someone they have loved or love, even if it was just for the length of a song.
"I hope that the show makes them feel something," Parrish said.
"Once" will be performed September 29 and 30, October 1, 6, 7 and 8 at 300 Churchville Ave., Staunton. Friday and Saturday shows are at 7 p.m. and Sunday shows are at 3 p.m. Tickets are $19 per adult, $17 per senior and college student and $12 per child.
Related stories:
'Once': Tony Award winning musical is fall production at ShenanArts – Augusta Free Press