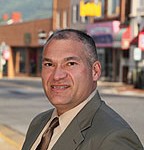 A "Fractious Faction"? Or just good politics? The News Virginian raised the issue in a story-editorial package in its July 1 edition, a year to the day that Tim Williams was elected by his peers on City Council to serve as mayor and head up what we all assumed then was going to be a hardline conservative city government.
But something funny happened on the way to the hardline takeover. I wouldn't say it was that the fiscal-conservative Williams changed colors overnight, as the NV seems to be suggesting, but rather that we have been able to get a fuller picture of where Williams stands with the shifting of ideologies on City Council from last year's city elections.
"I am limited government, lower taxes. That's my philosophy," Williams told NV reporter Jimmy LaRoue in an interview for today's front-page story. "I'm not anti-government, but I am pro-citizen, and I don't feel I've strayed from that at all. I know some people feel I've strayed from that, but I haven't strayed from that at all," Williams said.
I can back that up from my perspective on where Williams falls on the ideological fault line. He's much more in the political center than he had appeared to be even when he was running unopposed for re-election last spring. Running as an independent in a city where candidates on the right and left run as independents in deference to longstanding city tradition, Williams, a lifelong Republican, aligned himself with fellow Councilman Frank Lucente and candidate Bruce Allen to form the de facto Republican ticket in the May '08 elections, even endorsing Allen, the 2003 Republican nominee for clerk of court who also received the endorsement of Republican State Del. Steve Landes.
Prior to that, Williams and Lucente had formed an effective minority conservative bloc on City Council from 2006-2008 that had some success politically in keeping the center-progressive grouping of Tom Reynolds, Nancy Dowdy and Lorie Smith at least somewhat in check even with the numbers being what they were.
It stood to reason, then, that Williams, Lucente and Allen, dubbed "The Three Amigos" in the local press, would steer City Council hard to the right, the first piece of evidence to that effect being the sacking of former city manager Doug Walker due to what were said to be differences of opinion between the troika and the city manager on the future direction of the city.
It's hard to get a gauge on when exactly it was that the power trio began to drift apart from each other, and what it was that might have precipitated it. The NV in its editorial today noted the move by Williams to propose a pay increase for City Council members late last year as a key moment. I would agree and disagree in part. The paper's rendering hinted to the pay-raise issue as being an indication that Williams was moving away from his self-stated conservatism. I look back at that time and see more pure politics at play, remembering the run of letters to the editor engineered on behalf of Lucente and Allen distancing those two from the political fallout from the controversy over the pay-raise proposal.
I even said at the time that I didn't think it was wise of Lucente and Allen to be throwing Williams under the bus as publicly as they were doing it, because politics, well, politics is a weird beast, and you never know how what you're doing today can impact what you want to do tomorrow.
I have to wonder if the more emboldened Williams that we've seen in the wake of the pay-raise controversy is just a coincidence. Whatever the case, Williams has come out from under the shadows of Lucente and Allen in the time since, most notably siding with Dowdy and Smith on the city tax rate, voting with the center-progressive minority to keep the rate at 70 cents per $100 assessed value.
This isn't to say that Williams is now tending toward being a political progressive, or liberal, if you hew to the NV's characterizations of the Dowdy-Smith faction on City Council, even as that Dowdy-Smith-Reynolds grouping that had been in power through last July 1 had presided over a city government that slashed the property-tax rate 30 percent as the city economy nearly doubled in size from 2002-2008.
Williams is also not the hardline conservative that Lucente is or Allen might be, if he were to decide at some point in his tenure to speak for himself on the issues of the day.
It might be hard for the hardliners to get this given their tendency toward hardheadedness, but conservative doesn't mean not spending money. It means when you spend money, you do it wisely. That's how you run a business and how you run a government. As Williams told the NV, you have to "look at the whole picture."
I have to say, I was among those who publicly questioned the move to install Williams as mayor when it was first broached to me in a conversation with Lucente after the elections last spring. I can say now that I think Williams has clearly proven me wrong in that respect, and I think he's well on his way to joining the likes of Tom Gorsuch and Chuck Ricketts and Tom Reynolds among our more effective leaders of the past 30 years.
One thing you might notice when I mention him among that class of leaders – they all had a pretty good independent streak to their ways as well.
– Column by Chris Graham