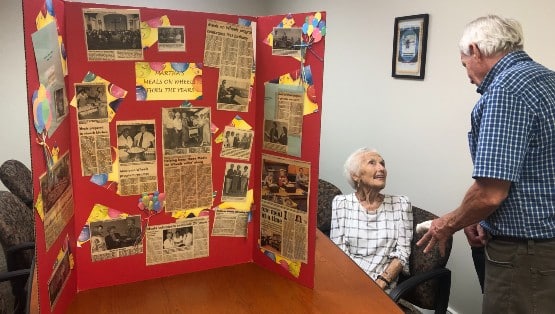 Emmanuel Episcopal Church on Frederick Street began preparing meals in the church for Staunton residents in 1973.
The effort was organized by Minister Jo Lotz and Martha Wilkerson. What would eventually be called Martha's Meals on Wheels was officially born on March 18, 1973.
"I think it has operated the very same way and been successful. And the community has worked with us," Wilkerson, who lives in Staunton, said.
They would feed anyone in need who lived within Staunton city limits.
Initially, 20 clients were served one meal a day every day Mondays through Fridays. Today, the program feeds 30 to 35 per day within the city limits, and meals are provided by Armstrong's Restaurant in Verona. The restaurant has prepared the meals for 20 years.
"Even during COVID, they didn't miss a single day," said Sally Crickard, Martha's Meals on Wheels program coordinator. The meal each day is Armstrong's daily special.
In 2019, the program fed 4,900 and last year fed 7,700. This year, the program is anticipated to feed 7,800. The need has increased since the COVID-19 pandemic and since the public health emergency ended and SNAP benefits were reduced.
"We are so thankful for the volunteers," Crickard, who lives in Augusta County, said.
The program has 60 to 80 volunteers. One volunteer has delivered every week since the program began 50 years ago.
"The volunteers are Meals on Wheels," Wilkerson said.
In the summer, Martha's Meals on Wheels purchases fresh veggies from Project GROWS to supplement meals during the week.
After serving six years on the board, Tom Compton will step down out of respect for board term limits. He will probably volunteer to deliver meals.
"It's been an honor. I've met some wonderful people and been associated with something that has meant a lot," Compton said.
According to Compton, no federal funding is used to support the program.
As the program looks into the future, Crickard said another route is necessary if enough volunteers are available and Armstrong's can accommodate.
"It's been a joy and a privilege to be with Meals on Wheels," Wilkerson said.
Intake forms for clients are available online. Anyone interested in volunteering may call Sally Crickard at 540-886-1219 between 10 a.m. and 4 p.m.
Donations are welcome by mailing a check to Martha's Meals on Wheels, P.O. Box 2354, Staunton, VA 24402.