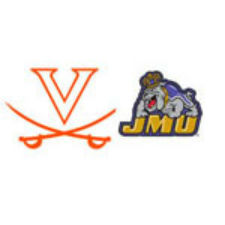 The No. 3-ranked UVa. baseball team racked up 16 hits while riding another strong pitching effort to a 13-2 victory over James Madison Tuesday in front of 3,112 fans at Davenport Field. Virginia broke a 1-1 deadlock with an eight-run third inning, and five Virginia pitchers combined to scatter six hits as UVa (12-3) cruised to the win.
The top third of UVa's starting batting order had a big day, as Branden Cogswell (Jr., Ballston Lake, N.Y.) and Daniel Pinero (Fr., Toronto, Ontario) each went 3-for-4, while Mike Papi (Jr., Tunkhannock, Pa.) homered twice and drove in three runs.
For the 14th straight game, Virginia gave up three runs or fewer. In his first college start, Conner Jones (Fr., Chesapeake, Va.) worked four innings, allowing a run and three hits while striking out two. He earned his first college win and improved to 1-0 on the year. Kevin Doherty (So., Laytonsville, Md.), Alec Bettinger (Fr., Woodbridge, Va.), Brett Lisle (R-So., Highlands Ranch, Colo.) and Austin Young (Sr., Mechanicsville, Va.) combined to allowed a run and three hits over the final five innings.
Aaron Hoover (0-2) took the loss for James Madison (7-9) after allowing six runs (five earned), five hits and two walks in 2 2/3 innings.
Papi put the Cavaliers on the board with a two-out solo home run in the first inning. JMU tied the game in the third when Chad Carroll hit a leadoff double and later came home on a groundout by Kevin Husum.
Virginia sent 13 batters to the plate in an eight-run third inning. Papi again got things going with a long two-run homer which cleared the bleachers in right field. It was Papi's ACC-leading fifth homer of the year and marked his first career two-home run game.
Nate Irving (Jr., Yonkers, N.Y.) hit a two-out RBI single to force Hoover from the game, but Aaron Hoover didn't fare much better. He promptly gave up a run-scoring single to Kenny Towns (Jr., Burke, Va.) to up the lead to 5-1 before Robert Bennie (So., Stroudsburg, Pa.) reached on an error which loaded the bases. UVa scored four more runs following the miscue, with Cogswell slapping a two-run single down the left-field line, and Pinero followed with another two-run single to left to stretch the lead to 9-1.
JMU scored a run off Doherty in the fifth inning on a two-out RBI single from Husum, but the Dukes managed just one hit over the final four innings.
The Cavaliers added three runs in the sixth inning on a two-run triple from Bennie, his first career extra-base hit, and an RBI single from Cogswell. UVa added one final tally in the seventh inning when Joe McCarthy (So., Scranton, Pa.) scored on an errant throw following a Robbie Coman (So., Lake Worth, Fla.) infield single.
The Cavaliers play host to Boston College this weekend (March 14-16) in a three-game ACC series.