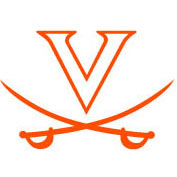 Senior forward Mike Scott scored a career-high 33 points and grabbed 14 rebounds to lead the No. 24 Virginia men's basketball team to an 83-77 victory over Seattle University Wednesday night (Dec. 21).
It was the second game of a two-game road trip to the Pacific Northwest for the Cavaliers. UVa opened the trip with a 67-54 win at Oregon on Sunday (Dec. 18).
The victory was the eighth in a row for the Cavaliers and improved their record to 10-1 on the season. It was the sixth consecutive loss for the Redhawks who now have a record of 2-8. The game marked the first time this season a UVa opponent scored more than 58 points.
The double-double was the second in a row for Scott, his fifth of the season and the 29th of his career, tying him for third on Virginia's career list with Scott McCandlish (1970-72). Scott was 12-14 from the field and 9-11 from the free-throw line in the game. He had 19 points and seven rebounds in the first half.
"He was in a zone," Virginia head coach Tony Bennett said of Scott. "His touch was great. He adds the versatility of going back to basket and post you up or shoot that mid-range jumper. He hitsome shots and kept us in it in the first half."
Sophomore guard Joe Harris scored 14 points for the Cavaliers, senior guard Sammy Zeglinski had 11 points and freshman guard Malcolm Brogdon added 10 points for Virginia. Harris was playing in front of a large contingent of fans from his hometown of Chelan, Wash.
Senior forward Aaron Broussard led Seattle with 29 points and eight rebounds. Sophomore guard Sterling Carter scored 17 points and had six rebounds, and sophomore forward Clarence Trent had 12 points for the Redhawks.
Seattle shot 57.7 percent (15-26) from the field in the first half and led 38-36 at the break. The Redhawks led by as many as eight points in the first 20 minutes, the last time at 32-24 with 5:13 left in the half. Virginia came back to tie the game at 36-36 with seven seconds left before halftime on a layup by Scott, but Seattle took the halftime lead when senior guard Cervante Burrell made two free throws with two seconds left in the half.
"First, credit Cameron (Dollar) and Seattle University," Bennett said. "They came out with incredible passion. That is not how they have been playing, in terms of their style of play. I think they decided lets go after them and speed up the game, and trap them, and their kids really were aggressive.
"We weren't ready defensively to start and they got easy baskets. They got second chance points and transition baskets. Without Mike Scott having that monster first half, they might have been able to separate to a point that would have been extremely difficult to get back in it."
UVa rallied in the second half and built a 14-point lead at 63-49 with 8:45 left in the game. Trailing 43-39 with 16:39 to play, the Cavaliers outscored Seattle 24-6 over a span of 7:54 to take the 14-point lead. Scott scored nine points in the UVa surge.
Seattle came right back and outscored Virginia 19-4 to take a 68-67 lead on a layup by Broussard with 3:30 left in the game. Broussard scored nine points and Carter eight in that run by the Redhawks.
A three-point basket by Zeglinski gave Virginia the lead for good at 70-68 with 3:20 left in the game and the Cavaliers made 11 of 14 free throws down the stretch to hold off Seattle. Brogdon made all six of his free throws during that stretch.
"That was impressive that he made those free throws," Bennett said of Brogdon's performance. "But what I was equally impressed with, in Malcolm's case, was he was one of our primary ball handlers. When he got open against the press, he broke the double team. He went and got it and usually made the right decisions. This is a new experience for him. Ithought what he did down the stretch, how he handled the pressure, was good."
It was the second consecutive game UVa came back to win after trailing at halftime. The Cavaliers shot 73.3 percent (11-15) from the field, including 40 percent (2-5) from three-point range, and 74.2 percent (23-31) from the free-throw line in the second half.
For the game Virginia shot 55.3 percent (26-47) from the field, including 36.4 percent (4-11) from three-point range, and 71.1 percent (27-38) from the free-throw line.
Seattle shot 46.0 percent (29-63) from the field for the game, including 36.4 percent (8-22) from three-point range, and 73.3 percent (11-15) from the free-throw line.
The Redhawks out-rebounded Virginia 32-31.
"You know you are going to face adversity throughout a season, and on the road certainly," Bennett said. "I probably could have called a timeout a little sooner. That might have been an error on my part. I like to save them.
"You have to handle adversity. We didn't do a great job with it, but there is a point where you say as a coach we need to get some stops, got to take care of the ball and have to come together. It is either going to happen or it is not. It came down to those guys on the floor. Itold them there is no trickery here. We are going to have to gut this one out or we are going home with a loss. They did enough to get the win."