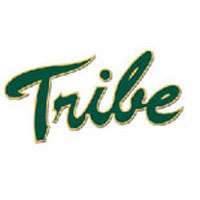 The No. 15 William & Mary football team extended its winning streak to four games and remained unbeaten at home with a thrilling 44-41 comeback victory against No. 9 James Madison at Zable Stadium on Saturday afternoon.
Junior Kendell Anderson provided the game-winning score with a 2-yard touchdown run with just 0:41 remaining, and W&M's defense sealed the victory when junior defensive end Peyton Gryder recovered a bad snap on the JMU's first play of the following drive.
W&M (6-2, 4-1) trailed by 11 points late in the third quarter but rallied back with touchdown runs by Anderson and senior Mikal Abdul-Saboor to take its first lead of the game, 37-34, with 7:24remaining.
Although JMU (7-2, 4-2) reclaimed the lead with a 1-yard touchdown run by Khalid Abdullah on the ensuing drive, W&M answered with the 12-play, 84-yard game-winning march – its third-consecutive touchdown drive of the half.
Anderson led the Tribe's rushing attack with 138 yards on a career-high 30 carries with three touchdowns. It marked Anderson's sixth-consecutive 100-yard effort as well as the 13th straight game in which a Tribe running back has reached the century mark.
Abdul-Saboor also posted three rushing touchdowns, while junior quarterback Steve Cluley completed 23-of-36 passes for 235 yards.
Defensively, senior free safety DeAndre Houston-Carson totaled a career-high 16 tackles with an interception, a sack, 1.5 TFL, a PBU and a blocked extra-point score. Senior defensive tackle Tyler Claytor equaled an NCAA record with two blocked extra points and had a third erased following an illegal block penalty on the return.
JMU raced out to a 21-9 lead in the first quarter with two offensive touchdowns that bookended a 35-yard pick-six by Raven Greene.
W&M's early points came on a blocked extra point-attempt by Claytor that was returned 70 yards by Houston-Carson, as well as a 26-yard touchdown run by Abdul-Saboor. Claytor also blocked an extra-point attempt on JMU's third score, which was also returned to the end zone by Houston-Carson, but the play was called back because of an illegal block. The Dukes then converted a 2-point opportunity.
The Tribe narrowed the margin to 27-23 by halftime with a 1-yard touchdown run by Abdul-Saboor and a 7-yard score by Anderson. During the stretch, JMU's Bryan Schor connected on a 6-yard touchdown pass to Ishmael Hyman, but Claytor blocked the extra-point attempt.
Although JMU struck first in the in the second half with a 1-yard touchdown run by Cardon Johnson, W&M found the end zone on its next three possessions for the exciting comeback victory.
Johnson led the Dukes with 134 rushing yards on 17 carries and a touchdown, while Abdullah found the end zone twice on the ground. Schor also provided two touchdowns (one passing/one rushing) and completed 17-of-27 passes for 227 yards.
W&M outgained JMU, 469-460, and dominated the time of possession, 38:46-21:14. The disparity was especially significant in the second half when W&M controlled the clock for 21:12.
The Tribe will return to action when it plays at Elon next Sunday atnoon.
– Courtesy TribeAthletics.com