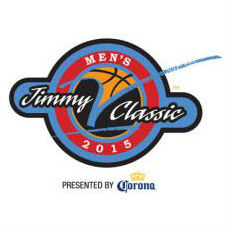 We've seen Cavalanches before. Never one that lasted an entire half.
#10 Virginia outscored #14 West Virginia 47-19 over the last 22:23 to erase a 12-point deficit in posting an impressive 70-54 win in the Jimmy V Classic Tuesday night.
WVU (7-1) led 35-23 with 2:23 left in the first half. Everything was going right for the Mountaineers, and wrong for the Cavs, who had committed 11 turnovers, four more than their season average for an entire game, and had allowed WVU to pull down nine offensive rebounds.
The Cavs (8-1) closed the first half on a modest 7-1 run that cut the deficit to six, and you had to feel good to just be down six considering how the first 20 minutes went overall.
Then came the second half.
UVA took its first lead since the opening minute on a three-pointer by London Perrantes that made it 42-40 with 13:03 left.
And the Cavs never trailed from there.
West Virginia, which had come in averaging 88.4 points per game, would score just 18 in the second half, shooting 30 percent (6-of-20) from the field.
Virginia shot a blistering 73.7 percent (14-of-19) in the second half and 62.8 percent of the game (27-of-43). The 'Hoos did commit a season-high 19 turnovers against the Mountaineers pressure, which had come into the game forcing a D1-best 23.4 turnovers per game.
Anthony Gill led UVA with 20 points on 9-of-11 shooting from the field and 12 rebounds.
Malcolm Brogdon had 14 points on 5-of-10 shooting. Perrantes, in his first game since undergoing an emergency appendectomy on Nov. 30, had 13 points on 5-of-6 shooting and four assists in 30 minutes on the floor.
Darius Thompson had 10 points on 4-of-7 shooting, his third consecutive double-digit scoring game.
UVA ended up outrebounding West Virginia 29-24.
The Mountaineers shot 40 percent (20-of-50) from the floor for the game, but was just 2-of-14 (14.3 percent) from three-point range.
Jaysean Paige led WVU with 16 points on 7-of-11 shooting from the field.
Virginia Team Notes
The Cavaliers won their seventh straight game to improve to 8-1
Virginia improved to 9-8 all-time vs. West Virginia
UVA improved to 6-7 all-time at Madison Square Garden
The Cavaliers are 15-21 against ranked opponents in the Tony Bennett era.
The 12-point first half deficit was the largest for UVA this season
UVA trailed (36-30) at the half for the second time this season
UVA shot a season-high 62.8 percent (27-43) from the field
Virginia Player Notes
London Perrantes (13 points, 4 assists) returned to action after missing two games due to an appendectomy
Malcolm Brogdon (14 points) moved up into 26th place on the all-time UVA scoring ledger with 1,291 points. He moved past Cory Alexander (1992-95, 1,286 points)
Brogdon has hit double figures in eight straight games
Anthony Gill had his fourth career double-double (1st this season) with a season-high 20 points and season-high 12 rebounds
Gill reached double figures in scoring for the ninth straight game this year and 12th straight over the past two seasons
Darius Thompson (10 points) extended his career-best double-­figure scoring streak to four games