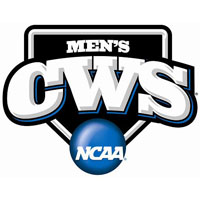 Virginia had the bases loaded and nobody out in the top of the 13th inning. South Carolina was the team dogpiling in the bottom of the inning.
Adam Matthews ran home from third after the second of two throwing errors by UVa. relief pitcher Cody Winiarski, and South Carolina advanced to the College World Series finals with a 3-2 win over the top-seeded Cavs.
Virginia (56-12) had loaded the bases with one out in the 12th before centerfielder Shane Halley, in as a defensive replacement and with one hit all season, hit into a double play on a 2-0 pitch by SC closer Matt Price (7-3).
Price somehow wiggled out of another bases-loaded jam in the 13th, this one with no outs, striking out Super Regionals hero Chris Taylor and getting John Barr, who had three hits on the night, to line into a double play.
Winiarski (6-4) came in relief of closer Branden Kline, who threw 107 pitches in five tense innings out of the pen. Brady Thomas led off the inning with a single, and was replaced on the basepaths by Matthews. Peter Mooney bunted back to Winiarski, who had time to get Matthews at second but threw the ball into center, leaving the Gamecocks with runners at first and second with no outs.
Robert Beary followed with a bunt that Winiarski fielded. He tried to cut down Matthews again, but the throw got past third baseman Stephen Proscia, allowing Matthews to scamper home.
Virginia had ace Danny Hultzen on the mound with an early 1-0 lead, and Hultzen was dealing at the outset, posting eight strikeouts through three innings. But UVa. coach Brian O'Connor lifted Hultzen, who was suffering from un undisclosed illness.
Kyle Crockett gave up a pair of runs in relief in the fourth but settled down to keep the Cavs close. Virginia tied it in the eight when Chris Taylor reached on an error and scored an out later on an error by Mooney on a ground ball off the bat of John Hicks.
South Carolina (53-14) will face SEC rival Florida (53-17) in the best-of-three CWS final beginning Monday night.