Game Notes: #3 Virginia hosts NC State on Sunday in ACC action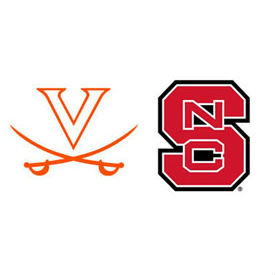 No. 3 Virginia (15-1, 4-0 ACC) hosts NC State (12-5, 2-2 ACC) in ACC men's basketball action on Sunday, Jan. 14. Tipoff at John Paul Jones Arena is set for 6 p.m.
For Openers
Virginia has a five-game winning streak vs. NC State.
UVA is first in the ACC at 4-0 and NC State is tied for seventh at 2-2.
The Cavaliers are riding a seven-game winning streak and are 4-0 in the ACC for the first time since starting 7-0 in 2014-15.
UVA defeated NC State head coach Kevin Keatts' former team, UNC Wilmington, in the first round of the NCAA Tournament last season.
As of Jan. 12, UVA ranks first nationally in scoring defense (53 ppg) and turnovers per game (9), second in field goal percentage defense (36.1%), seventh in assist-to-turnover ratio (1.59), fouls per game (14.5) and turnover margin (5.2), 10th in scoring margin (17.7) and 20th in 3-point field goal percentage defense (30.2%).
Broadcast Information
The Virginia-NC State contest will be televised on ESPNU and streamed on ACC Network Extra (ESPN3.com) and ESPN App, and broadcast on the Virginia Sports Radio Network, VirginiaSports.com and Virginia Athletics mobile app on iTunes or Android.
Live statistics will be located on VirginiaSports.com and the Virginia Sports app.
The Head Coaches
Virginia: Tony Bennett (Green Bay, 1992), 203-84 in nine seasons at UVA and 272-117 in 12 seasons overall.
NC State: Kevin Keatts (Marshall, 2011), 12-5 in one season at NC State and 84-33 in four seasons overall.
UVA Ranked No. 3 in Latest National Polls
UVA is ranked a season-high No. 3 in the latest national polls.
UVA has been ranked in the AP poll for seven straight weeks and has been ranked in the top 10 in each of the past two polls.
The No. 3 ranking is UVA's highest since Feb. 22, 2016 (No. 3).
Virginia is the fifth team in ACC history to move from unranked in preseason to the top 3, joining Miami (2012-13), Georgia Tech (2003-04), Wake Forest (1980-81) and North Carolina (1972-73).
UVA is the lone ACC team to be ranked in the top 3 in four of the past five seasons.
The Cavaliers received votes in the first three AP polls, snapping a streak of 64 consecutive weeks in the AP rankings since Feb. 3, 2014.
UVA was ranked in the top 10 in the preseason polls from 2014-16.
UVA in Ken Pom Efficiency Ratings
As of Jan. 12, UVA ranks Nos. 1, 2 and 32 in the KenPom.com adjusted defense, overall and adjusted offense efficiency ratings.
UVA is shooting 47 percent, 39.2 percent from 3-point range (2nd best in school history) and 75.9 percent from the free throw line (2nd best in school history).
UVA has shot 50 percent or better in seven games and limited its opponents to less than 50 percent shooting in all 16 games.
Last Time Out
Kyle Guy scored 22 points, De'Andre Hunter added 15 and No. 3 Virginia beat Syracuse 68-61 on Jan. 9.
Guy made five 3-pointers as UVA (15-1, 4-0 ACC) attempted a season-high 27 3s and made nine.
Devon Hall added 13 points, eight assists and seven rebounds for the Cavaliers.
Frank Howard scored 18 points to lead the Orange (12-5, 1-3), while Oshae Brissett added 16 points and Paschal Chukwu scored nine points and grabbed 16 rebounds.
The Orange shot under 40 percent against the nation's top scoring defense and managed just three assists on 23 baskets.
Virginia led 29-26 at halftime and pushed the lead to 44-35 when Ty Jerome made three 3-pointers in a span of two minutes and Guy made his fourth with

12:17

left. Virginia eventually led by as many as 14 and won its seventh in a row.
All-Time Against NC State
Virginia is 64-82 all-time vs. NC State in the series that dates back to 1912-13.
The Cavaliers are 10-0 in their last 10 regular-season games against NC State and 10-2 in their last 12 games including a pair of losses in the ACC Tournament.
UVA posted a 70-55 win against NC State last season and has limited the Wolfpack to 55 or fewer points in each game during its five-game winning streak in the series.
UVA has a seven-game winning streak against NC State at John Paul Jones Arena.
Tony Bennett is 10-2 vs. NC State as head coach at Virginia.
Last Time Against the Wolfpack
London Perrantes tallied his third career double-double with 16 points and 10 assists as then-No. 18 Virginia ended a four-game losing streak with a 70-55 win at NC State on Feb. 25, 2017.
Devon Hall added 18 points and matched a career best with nine rebounds.
Kyle Guy chipped in 19 points (5-7 3FG) as UVA shot a season-high 68.8 percent (11 of 16) from 3-point range.
UVA used a 15-0 run to gain a 35-21 halftime lead.
Ty Jerome started in place of Isaiah Wilkins (illness) and had a career-high four steals.
UVA held Wolfpack leading scorer and current Dallas Maverick point guard Dennis Smith Jr. to 13 points and forced the talented guard into five turnovers.
Getting Defensive
UVA has limited its foes to 53 points per game (2nd best in school history) and has held seven opponents to fewer than 50 points (UNCG, Austin Peay, Vanderbilt, Wisconsin, Savannah State, Hampton and North Carolina).
UVA has held 13 opponents to 60 or fewer points.
UVA has held 13 foes to less than 43 percent shooting.
The Cavaliers have held nine opponents to less than 30 percent shooting from 3-point range.
The Cavaliers are 71-2 when limiting their opponents to fewer than 50 points under head coach Tony Bennett (7-0 in 2017-18).
Bennett-coached teams are 96-3 when holding opponents to fewer than 50 points during his 12-year coaching career.
In 2016-17, Virginia led the nation in scoring defense (56.4 ppg) for the third time under Bennett.
Bennett-coached teams have led the nation in scoring defense four times (2008-09, 2013-14, 2014-15, 2016-17) and finished in the top-five nationally in eight of 11 seasons.
About the Cavaliers
UVA is led by tri-captains Devon Hall, Isaiah Wilkins and Jack Salt.
The announcement of Hall, Wilkins and Salt marked the first time in Bennett's 12-year head coaching career where he officially named team captains.
UVA has averaged 70.7 points per game (second most under Bennett) on offense, while yielding a nation-leading 53 ppg (second lowest in school history) on defense.
UVA has started Ty Jerome, Kyle Guy, Hall, Wilkins and Salt in each of its 16 games.
Guy leads the team in scoring at 15.4 points per game and has reached double figures in 13 games, including a career-high 29 points at VCU (11/17/17), 22 vs. Syracuse (1/9/18) and 21 vs. Lehigh (12/2/17)
Hall has averaged 11.9 points, which is 3.5 points higher than last year's average of 8.4 points.
Wilkins is averaging 6.7 points and team-highs in rebounds (7.4), blocked shots (1.6) and steals (1.4).
Jerome is averaging 9.8 points and Salt has chipped in 3.9 rebounds per game.
Redshirt freshman De'Andre Hunter (7.3 ppg) has reached double figures in three consecutive games, including a team-high 14 points at Virginia Tech (1/3/18).
Graduate transfer Nigel Johnson is averaging 6.1 points and Mamadi Diakite has added 6.1 ppg & 3.6 rpg.
Jay Huff (3.7 ppg) and Marco Anthony provide depth and fellow rookie Francesco Badocchi is expected to redshirt the 2017-18 season.
Home Sweet Home
Virginia is 161-40 (.801), including an 11-0 mark in 2017-18, in 12 seasons at John Paul Jones Arena.
UVA has a 13-game home win streak dating back to last year.
The Cavaliers finished undefeated at home (15-0) in 2015-16.
UVA is 123-24 (.836), including an 87-9 (.906) mark the past six seasons, at home under head coach Tony Bennett.
Virginia is 44-4 in ACC home games over the past six seasons.
UVA has won 11 or more home games for nine straight seasons.
On the Horizon
No. 3 Virginia travels to Georgia Tech on

Thursday, Jan. 18

. Tipoff at McCamish Pavilion is set for

8 p.m.

 The game will be televised on the ACC Network.