Five-time All-Star Fred McGriff joins Richmond Flying Squirrels Opening Night festivities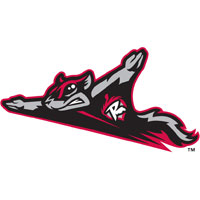 The Richmond Flying Squirrels announced that Atlanta Braves World Series champion and five-time MLB All-Star Fred McGriff will throw out the ceremonial first pitch on Opening Night, Friday, April 13 at The Diamond.
McGriff will partake in the Opening Night festivities that includes dueling fireworks to kickoff the ninth season of Flying Squirrels baseball. Group ticket packages for Opening Night are currently available by contacting the box office (info here). Individual game tickets for Opening Night and the entire 2018 season will go on sale at The Diamond beginning at 10 a.m. on Saturday, March 3 during Nutzy's Block Party & Fan Fest.
"Our fans have proven they have liked our first pitch celebrities, with eight consecutive sellouts on Opening Night," said Flying Squirrels VP Todd "Parney" Parnell. "We look forward to the 'Crime Dog' leading the way to our ninth! Fred McGriff will be a popular choice for Richmond baseball fans of all ages due to his stellar career."
McGriff's illustrious MLB career spanned 19 seasons, beginning in 1986 with the Toronto Blue Jays and ending in 2004 with the Tampa Bay Devil Rays.  The five-time MLB All-Star and World Series champion smashed 493 home runs and collected 1,550 RBI's during his extensive career. He led the American League in homers in 1989 with Toronto (36) and paced the National League with 35 round-trippers in 1992, garnering a reputation as one of the most reliable and feared hitters in the game. He currently is ranked 28th all-time in homers, tied with Hall of Famer Lou Gehrig.
Known by the nickname "Crime Dog," a moniker bestowed upon him by ESPN's Chris Berman (a play on McGruff the cartoon crime awareness dog), McGriff joined the Atlanta Braves on July 18, 1993 following a trade from San Diego. McGriff's presence helped guide the Braves to a 104-58 record and a first-place finish in the NL West.  The Tampa-native spent parts of five seasons with the Braves, including three consecutive All-Star seasons (1994-96) that featured a World Series championship in 1995. During the Braves World Series run, McGriff led the NL in games played (144) and hit .280 with 27 doubles and 27 home runs. He hit .438 (7-16) in the NLCS series win over Cincinnati and smashed two homers in the World Series to defeat the Cleveland Indians.
McGriff is also widely known for his commercials promoting Tom Emanski's Baseball Fundamentals training videos. According to Wikipedia, the commercials ran for over a decade on ESPN, making them some of the longest running commercials on television.