A single tweet from Elon Musk was enough to launch a new crypto star, named No Meme Token (NOMEME), creating a huge buzz among the traders. Elon has always been a big supporter of meme coins, including Dogecoin and Shiba Inu. Both of these tokens have played a huge role in creating the crypto myth, leading millions of crypto enthusiasts to dream about becoming obscenely rich overnight with one strategically placed investment. Now they have a new token on the market that is exploding and could potentially change their lives.
No Meme Token is exploding before our eyes and investors who manage to catch it before it reaches its peak stand to make a bundle.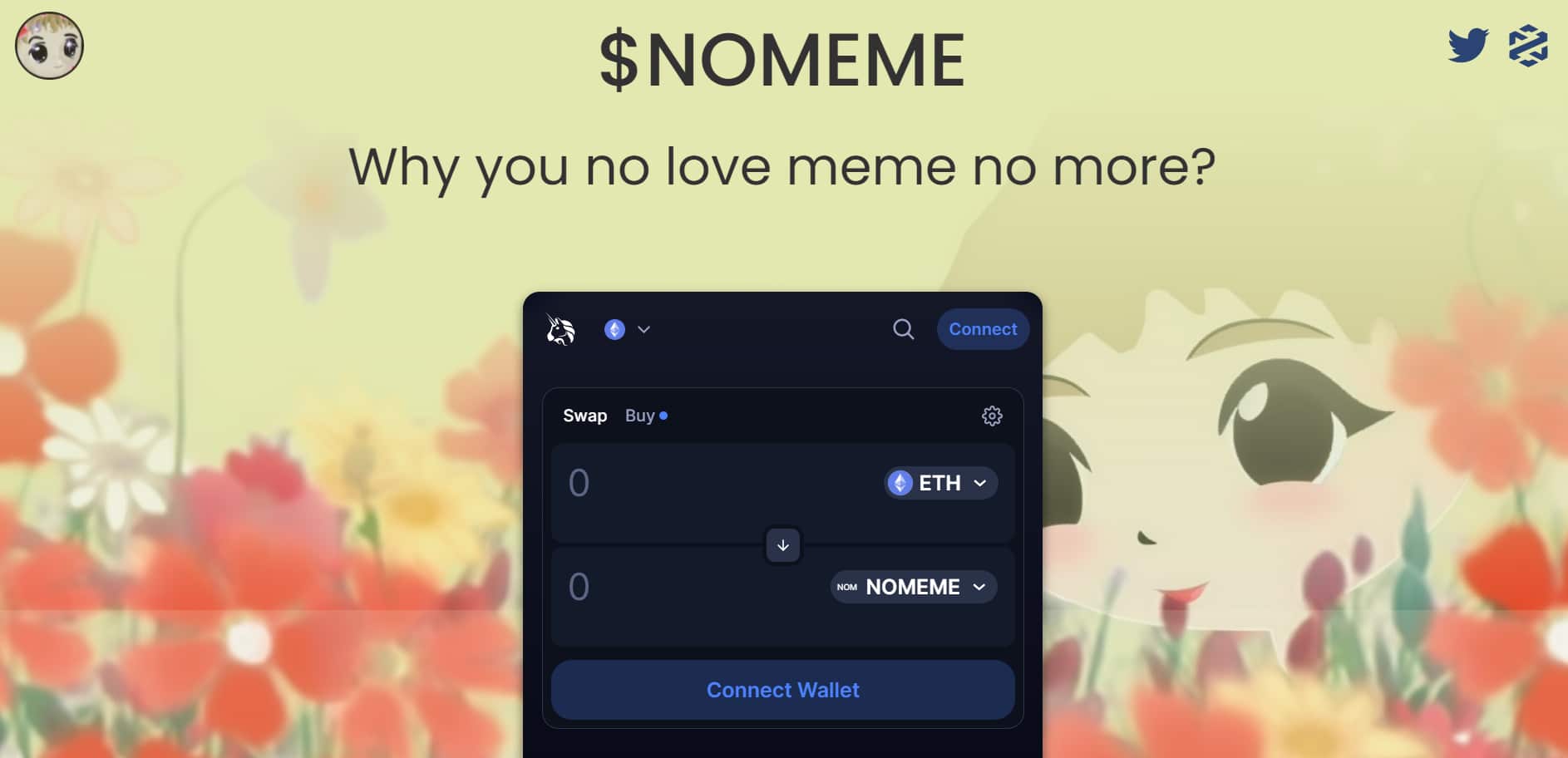 Elon Musk's Tweet Launches a New No Meme Token
The infamous Twitter owner tweeted a meme of the Milady NFT on Wednesday, causing an uproar among 140 million of his followers. The meme only read "There is no meme, I love you." Immediately, the Milady NFT collection almost doubled its value on OpenSea. The collection of 10,000 profile NFTs was trading at 3 ETH before Musk's tweet, jumping to 5.7 ETH after it.
Designed as comic characters, Milady NFTs are inspired by the subcultural fashion tribes of Y2K Japan, according to the developers. They were also quick on the uptake, retweeting Elon and adding a caption of their own: "Sometimes I get scared but then I remember. I am Milady. I have already won. I am loved. I am powerful. I am divine. I love you." The exact nature of the relationship between Musk and Milady isn't yet clear, but the huge impact his tweet had on the value of these NFTs can't be denied.
This isn't the first time a controversial billionaire has influenced the crypto market with his tweets. His shenanigans with Dogecoin have earned him a certain reputation on the crypto market, as well as several complaints and full-blown SEC investigations, as well as a $258 billion racketeering lawsuit. None of those stopped Musk from changing the Twitter logo to Shiba Inu last month in another effort to influence the market trends, causing Dogecoin to surge 30% in just two days.
The now infamous Musk's tweet has brought another meme coin on the market, ironically named No Meme Token. A group of enthusiasts took advantage of the situation and launched the token mere hours after the tweet appeared. As far as we can tell, this is the first time that any cryptocurrency was inspired by a single tweet. That doesn't seem to bother the NOMEME crowd, as its value surged almost 700% almost immediately after the launch.
— Elon Musk (@elonmusk) May 10, 2023
https://platform.twitter.com/widgets.js
No Meme Coin Outperforms Pepe Causing Traders to Buzz
Pepe coin (PEPE) is currently the most valuable meme coin and one of the hottest items on the crypto market. In the first week of May, a previously unknown token soared more than 8,000%, causing mayhem on the market. Pepe peaked at a $1.63 billion market cap and daily trading volume of an incredible $1.67 billion. The surge was short-lived though, and Pepe is already crashing, down 60% from its peak. The 24-hour trading volume plummeted to $480 million, causing major concerns for a host of smaller investors, left holding the bag.
On the other hand, No Meme Token is surging, drawing an almost vertical graph on the crypto charts. As the token is just days old, not much about it is known, except the fact that it is a classic meme coin, without any real-world use or affiliation with any crypto platform. However, that doesn't mean it can't be a viable investment option. In fact, it is one of the best opportunities on the market right now,
nder the condition you grab it before it peaks out. FOMO from missed Pepe opportunity is kicking in hard and people are scrambling to get on the NOMEME bandwagon while there is still time.
What You Need to Know About No Meme Token
As we write this, there are still not many facts known about the No Meme Token, which isn't surprising considering that the token is launched just days ago. Here are some of the things we have learned so far:
No Meme Token is caused by Elon Musk's tweet in support of the Milady NFT collection. For many people, this is an immediate turnoff, as Elon's reputation has taken quite a hit in the last year, but ignoring him may be a mistake. Musk's support for tokens like Dogecoin in the past has made quite a few people millionaires and this may be a similar opportunity. Regardless of your (and ours, to be honest) opinion of the man, it could be a huge mistake to disregard his influence on the crypto market, as witnessed by NOMEME's 700% surge. In other words, don't let your dismay of Musk lead you astray and miss out on this amazing investment option. And make no mistake, No Meme Token is a rare opportunity for smaller traders to make a bundle on the crypto market. As long as you manage to buy NOMEME before its peak, you can stand to profit significantly from it.
Unlike many other modern meme coins like AiDoge and Tamadoge, No Meme Token isn't associated with any platform or app. That makes it a meme coin in the original sense of the term, with its value driven purely by the support from its fans and community and the hype they create. It may seem superfluous, but that can be a powerful force that will make the NOMEME price explode and possibly send it to the Moon. In that case, early investors will reap some massive ROI, regardless of NOMEME's status as meme coin.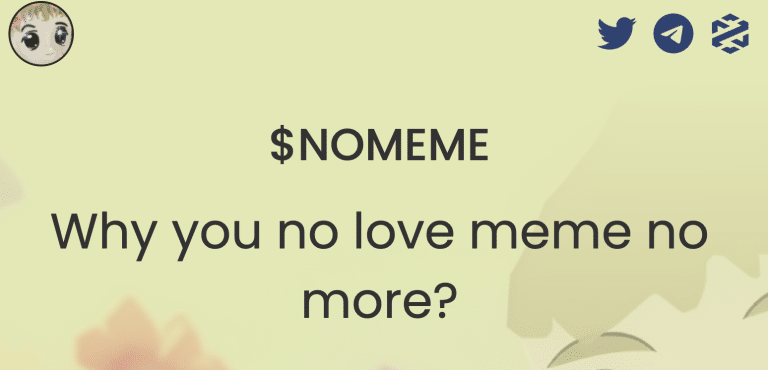 Conclusion
While Pepe is crashing, No Meme Token is on the rise, offering a second chance to investors who missed out on previous opportunities. Surging 700% in just 24 hours, NOMEME is pumping hard and it would seem that the sky is the limit for this incredible meme coin.