Sports
Carr lifts Morgan State to 58-56 win over Norfolk State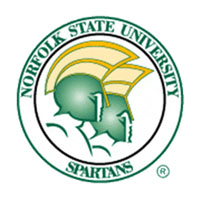 Phillip Carr posted a double-double of 29 points and 12 rebounds, and Kyle Thomas made a shot with less than a minute to go to give Morgan State a 58-56 win over the Norfolk State men's basketball team on Wednesday night in both teams' MEAC opener.
In a contest that featured 13 lead changes, including seven in the second half, both teams had chances to win. It was the Bears, though, who had the momentum late in the game. The Spartans did not lead for close to nine minutes until junior Zaynah Robinson got a bucket with less than a minute left for a one-point edge. The Bears responded on the other end.
Robinson broke a four-minute scoring drought for the Spartans with a 3-pointer from the left wing with 3:18 left. He then made another trey from almost the same location less than a minute later to tie the score at 54-54. On the other end, Carr sank 1-of-2 from the line with 1:02 left, but Robinson answered with a drive to the hoop for two for a 56-55 lead with 43.6 seconds left.
Kyle Thomas, however, made a jumper from beyond the right elbow with 30.1 seconds left to put the Bears ahead by one again. That's when NSU got the ball back with a full shot clock. But it was not to be, as NSU had two decent looks at the basket in the last possession. Both clanked off the rim, and Carr made 1-of-2 from the free throw line with 1.4 seconds on the clock.
The Spartans still had a chance down by two with 0.9 on the clock but could not get a desperation shot off while inbounding the ball.
Robinson and senior Jonathan Wade each scored 13 points to lead the Spartans. NSU shot 40 percent from the floor while holding the Bears to 33 percent. A total of 19 turnovers, along with a 3-of-17 effort from beyond the arc, hurt the Spartans.
A 5-of-12 second-half shooting performance from the free throw line in the second half also did the Spartans no favors.