2023 UFC Picks & Predictions – Our Expert MMA Expert Picks – Free Picks!
In some ways, correctly picking UFC fights doesn't seem too difficult as you only need to correctly pick one winner from two opponents. However, there is a lot of thought and nuance that goes into making UFC picks each week.
Our team of experts put together a comprehensive betting guide to the UFC, below. Here, you will find out how to approach making the most thought-out, best UFC predictions and give yourself the best chance at winning your next UFC bet.
The Latest Expert UFC Picks Today
The UFC is the most popular MMA promotion in sports today. They have partnered with ESPN to live stream events just about every weekend. Check back here to get the most up-to-date betting information on UFC, including how to predict the next scheduled UFC fight night or PPV.
What are UFC Picks? UFC Picks Explained
Simply put, UFC picks refer to the process of selecting the correct outcome within the context of a particular UFC fight. The most common UFC pick is who will win the fight. However, additional UFC picks include the method of victory and over/under total rounds.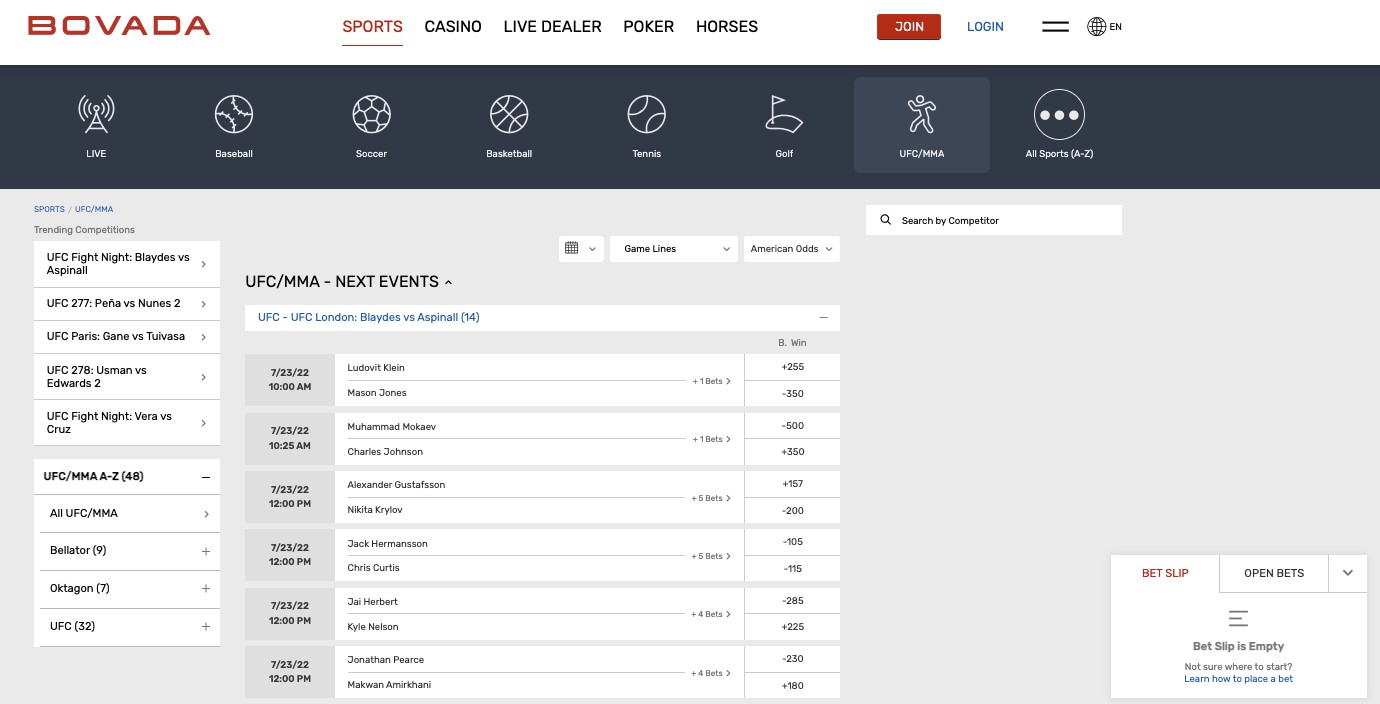 UFC picks are fairly simple relative to other sports as you are just relying on choosing one outcome, in most cases. Whereas with sports such as basketball or football, there are scores and spreads to consider, which aren't considered in any of the above UFC prediction types.
Augusta Free Press UFC Expert Picks & Predictions
In this section, we'll dive deeper into the various types of UFC predictions you can select at online sportsbooks and betting apps, including how to read the bet types and what to consider before making your wager.
UFC Moneyline Picks
Perhaps the most straightforward UFC pick you can make is choosing the moneyline bet for any given UFC fight night fight or PPV event. Here, you just need to correctly predict who you think will win the fight and they can win by any means.
Oddsmakers will indicate who they think will win by adjusting the odds accordingly. Negative odds indicate the favorite and positive odds indicate the underdog. When deciding on your UFC prediction be sure to factor in the current moneyline odds as well as the nuances within the matchup such as fighting style, strengths, and weaknesses of each fighter, recent performances, and recent injuries.
UFC Prop Picks
One of the most lucrative UFC betting picks at sportsbooks are UFC prop picks. Prop picks, or prop bets, are bet types that predict an outcome in exact detail. For example, sportsbooks will list prop bets such as what exact round a fighter will win the fight in (e.g. Conor McGregor to win in Round 3 by KO/TKO).
Because prop bets are so precise, they oftentimes yield higher payouts depending on the exact nature of the bet. If you are considering making a UFC prediction related to a prop bet be sure to do thorough research and consider the risk is higher for these types of wagers.
UFC Method of Victory Picks
Another lucrative UFC pick is the method of victory pick. UFC predictions that involve the method of victory are bet types that allow you to choose how you think a fighter will win the match, which is a more difficult type of UFC prediction relative to the moneyline bet as it requires an exact outcome to occur.
Method of victory betting options includes a fighter to win by KO/TKO, submission, or decision. Like prop bets, be sure to understand that the risk is greater with these bet types and you should consider how oddsmakers are favoring each outcome.
UFC Parlay Picks
UFC parlay picks are when you choose multiple wagers or outcomes and combine them into one betting ticket. In order for the betting ticket to be graded a winner, each bet must win. In other words, if one of your picks doesn't happen, you will lose your entire parlay bet.
Parlay picks in the UFC are difficult, especially if you add underdogs as underdogs typically win about 30% of the time in the UFC. Consider the betting odds and how many picks you make before finalizing your parlay pick and just know that the payouts are larger but the risk is also greater relative to a moneyline bet.
UFC Over/Under Picks
Over/Under UFC picks are fairly simple just like moneyline bets. With over/under picks, you are choosing whether or not you think a fight will end before or after the listed round total by the sportsbook.
For example, if the over/under is 3.5 rounds you must bet that the fight will end before 3.5 rounds or after (over) 3.5 rounds. Odds will be listed accordingly by oddsmakers who determine the most likely outcome. One thing to consider before making an over/under pick is that the championship fights are 5 rounds and undercard bouts are 3 rounds. Be sure to pay attention to this detail before making your pick.
Explore Our Sportsbook Reviews
UFC Picks and Parlays
UFC picks and parlays are essentially synonymous with one another. Oftentimes bettors choose to make more than one UFC prediction, in which case they choose to combine them into one bet slip in order to win more money. Because parlay bets combine multiple picks, the payouts are much larger and it's not uncommon for bettors to win large sums by correclty picking the correct outcomes for two or more UFC fights.

For instance, a UFC parlay may include a combination of moneyline bets and/or a combination of over/under bets. More specifically, betting Conor McGregor to win @ -110, Kamaru Usman to win @ -110, and Israel Adesanya to win @ -110 all in one ticket would yield a higher payout versus as the odds increase due to more than one outcome being required for a winning bet slip.
Before your next UFC parlay be sure to look at each fighting matchup, including their recent performances, fighting styles, recent injuries, and how the oddsmakers view the moneyline odds for the individual fights.
How we Make UFC Picks and Predictions
Instead of arbitrarily making UFC predictions our team of experts thoroughly reviews all available information relevant to each UFC fight. What is that information? Below, we list out the main criteria we consider when making UFC picks.
Study Form
First and foremost, our experts study up on each fighter and their current form. We'll look at recent fight trends, betting trends, and how each fighter performs against the various fighting styles present with the UFC to identify strengths and weaknesses ahead of their next UFC fight night matchup.
Assess Injuries
Another important factor our experts consider is recent or lingering injuries. MMA is different from other sports as there isn't a formal injury report to review, thus, our experts rely on journalists and sources to understand how healthy each fighter is ahead of their fight. Oftentimes, fighters do their best to hide injuries so this information-gathering step is crucial — if there is injury information available we'll do our best to find it.
Review Previous Fights
Before making UFC predictions our experts do their due diligence by reviewing select previous fights that are available to view online. By doing so, our team can see how fighters react in certain situations and determine if they've improved over time to better understand how they will do in their next fight.
Monitor Odds
Lastly, our team of experts constantly is looking at UFC betting odds to see how professional oddsmakers are changing betting lines leading up to fight night. Additionally, we'll look back at the accuracy of previous odds if/when the information is available.
Where to Find UFC Expert Picks
If you're looking for the best UFC picks made by experts, you've come to the right place. Here, our team constantly makes UFC fight night picks and UFC predictions each and every week. Additionally, we'll help you choose the best sportsbook to place your UFC bets, including betting sites with free bets and welcome bonuses for new players.
Along with our expert picks, you may also browse Twitter for information related to UFC fight night picks, such as injury reports, picks from ex-fighters, and/or breaking news related to big PPV events.
Best UFC Betting Sites
Now that you have all the necessary information to make the most informed UFC picks for events moving forward, you'll need a go-to sportsbook. We've put together a list of the best UFC betting sites, all of which offer competitive odds on MMA events such as UFC fight night.
Explore Our Sports Betting Guides
FAQs
What is the favorite and underdog pick in UFC?
Which UFC fighter pick is the most popular?
What is the best UFC fight night pick?