The Latest Boxing Odds – Compare the Best Boxing Odds & Lines
Let's talk about boxing odds 2023. But first, "everyone has a plan until they get punched in the face". Buster Douglas, a 42:1 underdog caused an epic upset back in 1990, knocking Iron Mike Tyson, the then undisputed champion of the world (and author of the above quote) to the canvas in the tenth round.
More recently, Kid Galahad took on Kiko Martinez in November 2021. Galahad, the reigning champion, was a massive favorite heading into the much-anticipated featherweight face-off but was stopped in his tracks by 35-year Martinez in the sixth round. The night's odds? -1200 Galahad, +750, Martinez. 
Long story short, while boxing odds are a guiding light to the best picks, come fight night, it can go any which way. In this short guide to boxing odds 2023, we'll analyze some of the biggest bet types, show you which sportsbooks have the strongest boxing betting lines, and list out the steps needed to sign up and bet at leading online boxing sportsbooks. 
How do Boxing Odds Work?
Understanding pro boxing odds and what the numbers mean is key to analyzing the action and making the best possible decisions on the night. Luckily betting odds for boxing are universal and pretty straightforward once you know how to differentiate between a favorite and an underdog. After that, it's all about getting to grips with bet types and fighter statistics. 
Explaining Boxing Odds
In order to accurately explain how betting odds in boxing are calculated you'll need to know which fighter has been listed by the sportsbook as a favorite, and which fighter has been marked as a long shot or underdog. 
Boxing odds are defined by positive and negative numbers. Let's say that Fighter 1 has been given -400 odds. The minus in front of the number indicates that he/she is a strong contender and a favorite to win the fight. Fighter 2, with +300 boxing odds has been marked as the night's underdog with the plus sign in front of the number indicating a higher potential to lose the fight.
Fighter 1, with -400 boxing odds has a 4 out of 5 chance of winning the fight and whoever bet on him/her will be paid out 4 to 1 if the bet goes in their favor. For example, if you placed a $100 bet on Fighter 1, you'll make $125, where you'll get back your $100 stake and make an additional $25 profit. Remember that betting on the favorite will always reward smaller returns. 
Fighter 2 with their +300 standing boxing odds has a 1 in 4 chance of winning and a 3 out of 4 chance of losing. So, if you were to place a $100 wager on fighter 2 to win, you'll make $400, where you'll get back your initial $100 bet along with an additional $300 in profit. Remember, while betting on the underdog is riskier, it pays out much higher returns.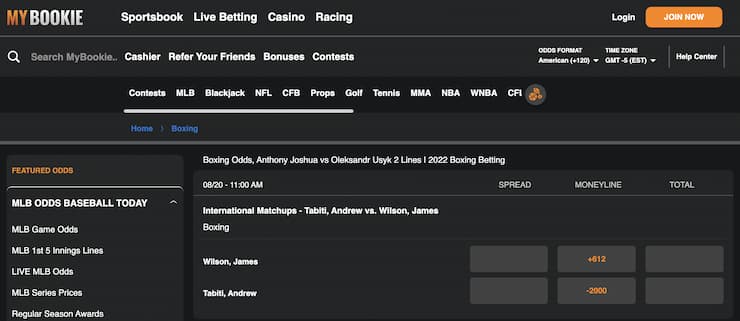 How to Read Boxing Lines
Regardless of the bet type, boxing odds follow the same guiding structure. From moneylines and parlays, to over/unders or prop bets, the night's boxing odds will always be calculated and listed as positives and negatives. 
In betting odds boxing, the minus sign in front of the number (i.e, -300) is assigned to the boxer most likely to win the fight (the favorite). A plus sign in front of the number (i.e, +220) is assigned to the boxer regarded as the least likely to win the fight (the underdog). 
Using a $100 bet, the fighter with a minus sign is considered the favorite and the number next to it shows how much you'll need to bet in order to win $100. Moreover, the fighter with the plus sign is considered the underdog and the number next to the symbol indicates what you'll stand to win higher on a successful bet. 
Types of Boxing Odds Available
Essentially, betting odds in boxing indicate the probability of a bet placed on a fight either winning or losing. They also indicate the amount of money you'll stand to win on a successful wager, according to the night's fight and the bet type used as buy-in. Below are the most common types of boxing odds available at leading US sportsbooks. 
Moneyline
Popular across most major sports lines, moneyline bets are simply bets made on which boxer will win the fight. moneyline bets adhere to the above betting structure (the American betting structure), where odds of various sizes are placed on the night's favorite vs underdog. 
Moneylines can be subdivided into 2-way and 3-way bets. A 2-way moneyline accepts wagers on either fighter A or B winning, however, if the result is a draw the wager is returned as a push. With a 3-way moneyline, odds are placed on either fighter A or B winning, as well as the possibility of a draw, also known as a split draw. 
| | |
| --- | --- |
| Fight  | Odds |
| Oleksandr Usyk | -300 |
| Tyson Fury | +250 |
| Draw | -140 |
Fight Outcome 
In a fight outcome or method of victory, you not only need to predict which boxer will win the fight but also how they will win it. Bookmakers will run these wagers according to an American betting structure with boxing odds posted and revised continuously in the buildup to a high-profile pay-per-view fight.  
The most common fight outcome bets include points by KO, where a fighter is unable to get up before the count of 10, as well as points by TKO, where a fighter is unable to continue the fight. Another fight outcome could be a disqualification, but this method of victory is rare and bookmakers seldom run boxing odds on this outcome.  
| | |
| --- | --- |
| Kell Brook by KO | -150 |
| Lewis Crocker by stoppage (TKO) | +270 |
Over/Under 
An over/under bet runs odds on how long a fight will last. A bookie will run bets on whether a fight will run over or under a specific round. Punters will analyze the listed boxing odds and place wagers either betting in favor of the fight running over time or finishing sooner. 
So, looking at an example, a fight is scheduled to go over 8.5 rounds at +110, where you'll either wager that the fight will continue into the 9th round (over) or wager that the fight will end in the 7th (under). With over/under betting American odds prevail, as they do with moneyline. 
| | |
| --- | --- |
| Over 8.5 Rounds | +110 |
| Under 8.5 Rounds  | -120 |
Parlay Boxing Odds
Common to all major sporting lineups, a parlay runs boxing lines on two or more fights, where if you land a winning pick across all fights, you'll be rewarded. Parlays are some of the riskier bets as you need to predict accurately across multiple bouts. However, they also reward some of the highest payouts, especially when wagering a stake on underdog positions. 
Parlays aren't usually presented as standalone boxing odds, rather you'll comb through the sportsbook, find the fights you'd like to place a wager on, add them to your bet slip and choose the parlay option when initiating the bet. Most sportsbooks will then automatically calculate what you stand to make (or lose) in relation to the night's standing boxing odds.
| | |
| --- | --- |
| Fight  | Odds |
| Tyson Fury to beat Anthony Joshua (TKO) | -130 |
| Deontay Wilder to beat Andy Ruiz Jr  (KO) | +120 |
| Canelo Álvarez to beat Gennady Golovkin (TKO) | -120 |
Round Betting 
Popular in most major sportsbooks, round betting is subdivided into two categories. The first format will run moneyline odds on which group of rounds a boxer will win the fight in. For example, if Mike Tyson is pitted to win through rounds 4-6 at – +600, you'll get $600 on a  $100 winning bet. 
The second format dictates which specific round a fighter will win in. For example, Tyson Fury is pitted to win in round 7 at – +1500. You'll place your $100 wager and if he does just that, you'll win $1,500 outright.
| | | |
| --- | --- | --- |
| Round Bet TKO Prop | Stanionis | Crawford |
| Rounds 1-6 | +240 | +160 |
| Rounds 7-12 | +350 | +210 |
| Rounds 2-4 | +450 | +900 |
Prop Bets 
Finally, boxing props bets are special bets that wager outcomes on different pre-fight, in-fight, or occasionally post-fight features or circumstances. Bookmakers will more often than not post a range of different options where you'll need to make specific choices on given outcomes. 
Some of the more common examples of boxing prop bets include wagering on whether the fight will go the distance, whether or not there will be a points deduction, and what the number, style or method of punches thrown vs. punches landed will be, etc. Prop boxing odds are varied and can include somewhat "lighter" wagers like fighter robe color, entrance music or anything else the bookmaker can think of.
| | |
| --- | --- |
| Canelo Álvarez will land the first punch | -120 |
| Tyson Fury vs. Anthony Joshua to go the distance | -240 |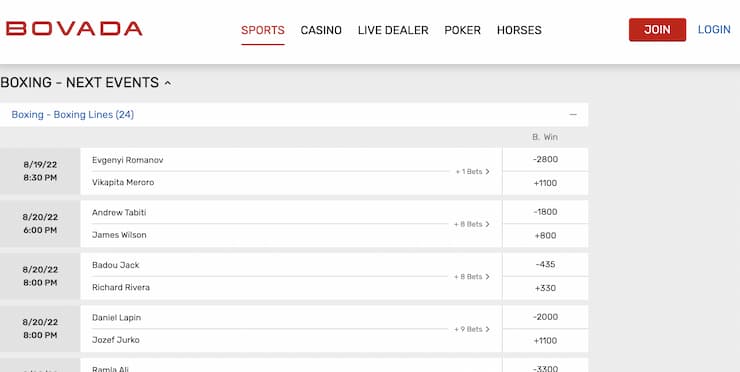 Explore Our Sportsbook Reviews
How to Sign Up and Find the Best Boxing Odds
Now that you have a high-level overview of 2023 boxing odds, how to put them into practice and which bet types to pair them off with, it's time to open an account, put your knowledge to the test and start combing through leading boxing odds with the best online sportsbooks. Rest assured, the signup process is quick and simple. 
Using BetOnline as an example, visit the site homepage here. Locate and click the green "Join" button in the top right-hand corner of the screen. This will redirect you to an online  registration form

Next, you'll need to fill in a few personal details to register online, including your name, email address, date of birth, mobile number, ZIP code and the country you're logging in from. Once done, click "Create My Account" at the bottom of the form. After confirming your account via an email link, you can move through to the deposits or cashiers page. 

Click the green "Cashier" button to the right of the main toolbar. From there you'll be able to make your first deposit. Choose the relevant deposit amount and the payment method from the dropdown list provided. 

When adding your banking details in the space provided, remember to include the relevant bonus code in the space provided. Once entered and confirmed you'll be able to start redeeming your welcome bonus on all the best boxing odds and/or other sporting lineups.

Confirm your deposit and wait for your funds to reflect in your player account. Depending on the method, funds can take anything from a few seconds to an hour to reflect, with cryptocurrency options being the fastest clearing method by far. 

With your account activated and your funds in place, it's time to make your first bet. Click the "Sports" button on the top of the homepage. This will take you to the BetOnline sportsbook where you'll be able to browse 50+ local and international sports betting markets including boxing odds and bet types. 

Browse through all the biggest current and upcoming boxing odds, and find a fight with lines that suit your wagering specifications. Select your bet and confirm it by adding it to your bet slip. Then sit back, relax and wait for the results. You can also head off and check in again later when you navigate over to your bet slip history. 
The Best Sportsbooks for Boxing Odds
Having rated and reviewed hundreds of leading betting sites, we narrowed the search down to ten top contenders for boxing odds in 2023. These 10 sites (listed below) are known for having some of the best bonuses, and banking methods in the biz, as well as leading features, core mobile integration, as well as a range of different bet types and markets. 
Explore Our Sports Betting Guides
FAQs
How do you read boxing odds?
What does +500 odds mean in boxing?
What are the odds on boxing?
What do Fighting odds mean?