Sports
Baltimore Orioles: Is Adley Rutschman already the game's best catcher?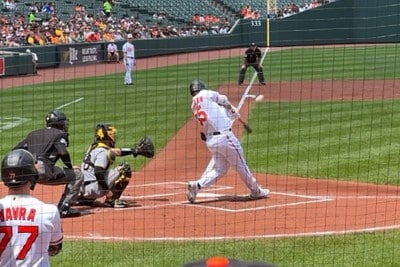 Baltimore Orioles GM Mike Elias made his first selection as the new face of the organization in 2019 a switch-hitting catcher named Adley Rutschman.
Rutschman has succeeded at every level of the minor leagues before getting the call to Baltimore in early May, and he has become arguably the best hitter on a team that sits just one game out of a playoff spot.
Rutschman's impact on the team and re-energized fan base is easily documented. When Rutschman joined the big-league club on May 14, the team's record was 16-26, and the O's were a full 10 games out of the last wild card position. Since then, the Orioles are 41-22. Saturday night in an electric Camden Yards the Orioles attracted over 41,000 fans in a 6-3 win over Pittsburgh.
Attendance at Oriole Park has been over 30,000 on five occasions since Rutschman has been behind the plate. OK, three of those crowds came with games against the New York Yankees, but ticket sales have been trending up for the last two months.
Last summer I had the opportunity to do a brief interview with Rutschman while playing for Bowie of the Double-A Eastern League.
On a blazing hot afternoon in Richmond, Rutschman went through a rigorous running, stretching, throwing routine before coming over to the sidelines for the interview. From just watching, I was exhausted when he arrived.
Rutschman said all the right things.
"I just want to put in the work, do the small things that all add up," Rutschman said.
From watching his workout, it was easy to see his words meant something.
Rutschman had a less than spectacular start to his Major League career, batting under .200 for almost the first month. His defense, however, has been outstanding since Game 1. Last season, Orioles catchers led MLB in passed balls, almost wearing a path from home plate to the backstop.
Rutschman has played fewer than 65 games in his Major League career and has also appeared in the designated hitter spot in a handful of starts. To date he has five home runs and 19 RBIs. It's Rutschman's work behind the plate that's drawing most of the early praise.
Steve Melewski, a broadcaster with the Orioles television network, MASN, said that Rutschman has easily gained the confidence of the entire Baltimore pitching staff.
"The pitchers rarely shake him off. They trust him. He studies hitters and knows tendencies," said Melewski.
Despite struggling at times this season at the plate, plate discipline is his biggest offensive strength. His 12.9 percent walk rate establishes himself as one of the most disciplined hitters in baseball.  And when Rutschman swings at pitches, he generally makes contact.
But back to the defense. The man reason Rutschman was all but a lock for the number one pick in 2019 was his elite catching skills. And since arriving in Baltimore, Rutschman has displayed talents well beyond his age of 23.
Framing is the ability of a catcher to get a higher strike call for his pitcher than the pitchers statistics indicate. From watching some of Rutschman's games on television its quite evident how skillful he is at framing. Some of the pitches are clearly outside the strike box, but his smooth and quick pulling the pitch into the zone is almost undetectable.
Recently manager Brandon Hyde moved Rutschman to the number two slot in the batting order after the All-Star break. Since then, he has seven doubles and 15 walks in sixteen Oriole games.
Rutschman's power has not yet developed, but I believe that will likely develop as he gains experience at the big-league level and overcomes his struggles from the right side of the plate.
Against Richmond last summer, Rutschman homered from the left side of the plate and doubled from the right, but there's a big difference from the Eastern League and the American League East. Homers were a strength for Rutschman at Bowie, hitting 18 in 80 games. The lefty/righty split has been a problem in the majors.
Many switch hitters, early in their careers, often have significant difference in power from each side of the plate. Maybe it's a result of how they get more at-bats as a lefty than right. But if it just takes some extra work in the batting cage and more at bats against southpaw pitchers, then Rutschman's numbers will improve.
From watching his pregame workout in Richmond, it's obvious the work effort and motivation is there. It's simply game experience that's lacking. As an Oriole fan, it's going to be a lot fun watching him gain that experience.