#2 Virginia grits out 59-55 win at Florida State to remain perfect in ACC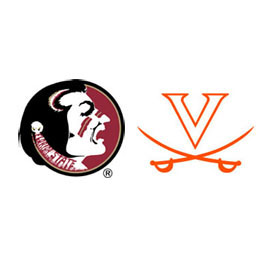 #2 Virginia rallied from a 10-point halftime deficit, holding Florida State without a field goal for the final nine minutes, in rallying to a 59-55 win over the Seminoles on Wednesday.
UVA (23-1, 12-0 ACC) has now won 15 straight games, and with #1 Villanova's 79-75 loss to St. John's, the 'Hoos are poised, with a win at home against Virginia Tech on Saturday, to rise to the top spot in the national rankings for the first time in 26 years.
Win streaks and rankings were the furthest thing from anybody's mind early as FSU (17-7, 6-6 ACC) led by as many as 11 in the first half, and 32-22 at the break.
UVA shot just 34.6 percent from the floor in the first half and scored 22 points on 30 possessions against the ACC's 12th-best defense, but the defense kept things close, with the 'Noles going scoreless from the field in the final 5:54 of the first half.
The Cavaliers came out on fire in the second half, hitting nine of their first 15 shots, the final one of that stretch a Ty Jerome breakaway layup that put Virginia on top 44-43 with 9:58 left.
UVA would lead by as many as six, at 55-49 with 3:38 to go, on the second of two free throws by Mamadi Diakite.
Florida State would hang around at the foul line, getting as close as two on two different occasions, the second on a pair of free throws by M.J. Walker with 10 seconds left.
De'Andre Hunter, who had just four points on a night in which he was saddled by foul trouble, hit both ends of a one-and-one with nine seconds left to push the lead back to four.
Braian Angola missed a pair of threes in the final seconds.
Virginia shot 44.8 percent from the floor in the second half, and connected on five of its 10 three-point attempts, while holding FSU to 31.8 percent shooting in the second half.
Florida State started the game 4-of-5 from three-point range, but shot just 2-of-15 from downtown the rest of the way.
Devon Hall led UVA with 17 points on 5-of-11 shooting, including 3-of-4 from three-point range, in 39 minutes.
Ty Jerome had 15 points on 7-of-14 shooting in 39 minutes. Kyle Guy chipped in 13, shooting just 5-of-19 from the floor, in 38 minutes.
FSU had one player in double figures, Walker, with 10.
Team Notes
Virginia improved to 23-1 and 12-0 ACC
The Cavaliers' 15-game winning streak is their longest since starting 19-0 in 2014-15
UVA has had five 11-game or more winning streaks under Tony Bennett
Virginia has started 12-0 in ACC play for the first time since starting 12-0 in 1980-81
Virginia limited its 23rd opponent to less than 50 percent shooting (FSU – 40%)
UVA is 7-1 on the road, including 6-0 in ACC action
UVA has an ACC-leading 32-19 road mark in league play over the past six seasons
UVA is 24-24 all-time vs. Florida State
UVA ended a two-game losing streak against Florida State
FSU led 32-22 at halftime, marking UVA's largest halftime deficit (3 at West Virginia)
FSU's 11-point lead (29-18) marked UVA's largest deficit this season (8, two times)
FSU's 32 first-half points marked an ACC high vs. UVA this season
UVA's 22 first-half points tied a season low for UVA this season (22 at Wake Forest)
UVA had 15 points off 11 Florida State turnovers
Player Notes
Devon Hall (17 points) reached double figures for the 10thtime in the last 11 ACC games
Ty Jerome (15 points) reached double figures for the sixth time in ACC play
Kyle Guy (13 points) has reached double figures in 21 games
Guy extended his 3-pointer streak to 24 games, most for a UVA player since Sean Singletary's 26-game streak (2006-07 season through 2007-08)