VMI Football: 2019 spring practice enters second half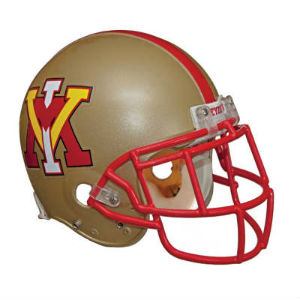 This week marks the midway point for 2019 VMI Football spring practice. The Keydets hit the field this Tuesday for the eighth of 15 practices after conducting their first extensive spring scrimmage last Saturday at Delaney Field.
Tempo and takeaways set the tone for last weekend's scrimmage with the "Air Raid" offense operating at a full throttle pace while the defense proved opportunistic producing three turnovers over the 60-play scrimmage.
"I like the effort and energy our players have been playing with," said head coach Scott Wachenheim. "It's been very fun to coach spring practice. We'll get back to the film and see how some guys competed. Saturday was practice seven and we have eight more to get better."
Defensive lineman Jordan Ward pounced on a loose football on the first play of the scrimmage to get the defense going and later defensive back Caleb Tucker picked off a pass and defensive lineman Warren Dabney recovered a fumble late in the morning.
Offensively, quarterbacks Reece Udinski and Chance Newman produced similar passing numbers with Udinski completing 9 of 13 passes for 93 yards and a touchdown while Newman completed nine of 14 attempts for 98 yards.
Wide receiver Michael Jackson was a favorite target of the quarterbacks and finished the day with six receptions for 62 yards. Kris Thornton, who led the Keydets receiving corps last year, gathered in a 19-yard toss from Udinski into the left corner of the end zone on the last play of the scrimmage.
Senior Alex Ramsey led all ground gainers with 56 yards rushing on five attempts and Chima Kpaduwa and Korey Bridy added touchdown runs of 20 and one yards, respectively.
The defense was bolstered by defensive lineman Jarrod Richmond who logged a tackle for loss and a pass breakup while sacks were generated by Austin Barrette, Eliott Brewster, and Dabney. A.J. Smith also broke up a pass attempt on the afternoon.
"I was really impressed with the way the offense ran the ball," said Wachenheim on the opening scrimmage. It's the best we've run the ball in a long time. Alex Ramsey had his pads down and it was good to see Tyain Smith back out here and the offensive line coming off the ball. Defensively, I really liked the way we got turnovers and the way we kept playing. We have some good experience on the defensive line and Coach Kuntz is doing a good job coaching them up and we're going to try to be proactive on defense and we want to dictate the pace and get after them and make it hard for the offense to block."
Practices will be held on Tuesday and Thursday on each of the next two weeks with a second scrimmage set for Saturday, April 27 at 9:30 am.
Comments