UVA football coach Bronco Mendenhall talks Georgia Tech: Monday Presser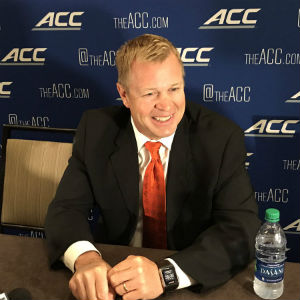 BRONCO MENDENHALL: I really like my team. I like the progress they're making. I like their effort, their preparation, their resiliency, their mindset and just their progress.
So I'm encouraged. I think we played a pretty complete game, especially all things considered with injuries and where we were in the season. I thought our offense was more diverse than we had been in terms of touches and different players being able to contribute.
Really good to see Joe Reed be able to not only score special teams-wise, but offensively. That added element is something we've been hopeful for and looking forward to for a long time. I would love to see Joe complement Olamide [Zaccheaus] and Hasise [Dubois] and Bryce [Perkins] and Jordan Ellis, Evan Butts. That becomes more powerful and dynamic of an offense to stop. The point production certainly was effective.
Defensively the turnovers on the one fourth down stop, which I always count as a turnover. I thought those were critical. De'Vante Cross in kind of his debut I thought did a really nice job. Tommy Christ in his debut battled hard as well.
So the players that were filling in I thought it was a nice starting point to for them. I also thought both Juan [Thornhill] and Brenton Nelson, while not being 100%, they tried really hard and helped our team.
Our punting game was effective. I think field position especially, and us pinning Liberty the number of times we did creating long fields for them, in addition to our kick returns. Certainly the field position was won through special teams.
Collectively a lot to take from that game. Still things to work on in terms of consistency. Defensively the first half especially with adjusting and fitting some of the runs that Liberty was using, so that took us a little bit of time to get to the second half to correct.
But overall a really good game and a nice launch point for the final two ACC games going into Georgia Tech on the road this week.
Q. Is it especially important this week that the scout team offense gives the defense a good look because this offense is so unusual in the ACC, and also you have some more options I think now to run that quarterback role that Hayden Mitchell did last year. Have you decided who is going to get the call with that?
BRONCO MENDENHALL: So the first part of the question, yeah, it's critical. I'm not sure there is any offense of preparation or scout team that's capable of doing that in the country. If you remember a year ago, I think Scott Frost was playing quarterback for Central Florida to try to prepare them.
Again, I'm not sure it's possible to ever replicate it or simulate it. But some years it's better than others, and, sometimes late in the year especially, the challenge is greater as you start running out of linemen and just simply football players for the preparation that it takes to be ready for an opponent.
So we're still considering who might be in that role this year. Again, I think however many years I've been a head coach I think we've played the option every year over that entire span. I've had pretty good success. We'll do the best we can to simulate that look through kind of the tried and proven methods over time with the existing resources we have.
Q. You've mentioned that you've faced the option since back in New Mexico State against Air Force. You say it's the most difficult offensive scheme for you to prepare for?
BRONCO MENDENHALL: I'm not sure I can say it's the most difficult. I would say maybe it's the most difficult within the time frame you normally have and with the resources you normally have to prepare for it.
I heard a statistic the other day. I think Georgia Tech has played in 20 of 22 bowl games — or bowl games 20 of the last 22 years. That would lend credibility to your question, that most teams aren't quite able to prepare well enough within the time frame given to be able to have consistent success. The option teams, over time, the preparation model usually tilts in their favor enough to allow them to play post season consistently.
Q. Obviously we don't see Georgia Tech employ the forward pass very often, but [Taquon] Marshall threw a long touchdown pass last week. How do you make sure your defense doesn't get lulled to sleep defending the run and give up that long pass?
BRONCO MENDENHALL: Yeah, it's always a challenge for any pass-team primarily that then chooses to run. Sometimes those work well, and for teams that run almost exclusively, when they throw it it's a surprise. You do the best you can to take away what a team does primarily, and then you do your next best to address their complements. That's what we'll do with this one.
Q. Obviously you've had success against Georgia Tech's option. Did you learn anything from the Navy game?
BRONCO MENDENHALL: Yeah.
Q. Why was there such a difference?
BRONCO MENDENHALL: There was really a valuable takeaway. Again, I love playing option football just because, again, the way I frame it to my team it's an occasion to rise to; it's a challenge; it stresses you in about every way. That's where growth happens, not only for individuals but teams.
So, yeah, the Navy game helped us in so many ways. Their version, even though Kenny Niumatalolo is a Paul Johnson protege and understudy, doesn't mean the schemes were identical or were they identical in that game.
Then unique set of circumstances with our team having the first chance to play post season, and just kind of where the mindset was as I was working to help us prepare and develop. So I would say not only were there some subtle scheme changes, but there were certainly some mindset and cultural things we're working through as we build the program. I think the combination of both those really was about equal in the terms of outcome.
The last point I think I'll make is when you play an option team you certainly have to score. It's better if you're able to maintain possession of the ball and score. So one of the biggest contributing factors for that game, if we're talking about the post season a year ago, was our inability to hold onto the ball, to move it with any effectiveness, time of possession and points.
When and if you're going to beat an option football team the complementary nature of how you play the game has to be in place. Can't just be one side or the other. In that game we didn't have a strong showing from any off our sides. But when you consider if you are going to have a model to beat an option football team, it has to be offense, defense and special teams. It cannot be one-sided in my opinion.
Q. Jeff was asking you about the scout team. I'm curious, because of your numbers on the defensive line in particular, how do you balance working on cut blocks versus you can't afford to lose anybody?
BRONCO MENDENHALL: Yeah, it's really challenging, because if you lose players in practice, practice is not as important as the game, but if they're not prepared for the game that's usually one, two, three or four series before you figured it out and sometimes that's too late in terms of points.
So, yeah, over the years we've developed a lot of unique ways to practice that we think helps us prepare. It's not perfect, but to address just what you're talking about. It takes a lot of innovation and simulation without injury, but we can't afford one more player to go down at defensive line, and certainly they have to be ready to play for this game.
So, yeah, we have looked at methods in the past for how to do it, and through the policy manual and all the records we've kept there are some answers in there, and hopefully they'll be effective.
Q. In terms of the way some of those young defensive lineman of come long, kind of bad timing to suddenly throw triple option at them, but what have you seen from the development of some of the younger guys, Tommy [Christ], etc?
BRONCO MENDENHALL: They're developing. So basically Tommy Christ and Jordan Redmond and Aaron Faumui, and I'll put Dylan Thompson in that mix even though he is a grad transfer. He hadn't played much. He's still learning and adjusting to our culture and the expectation and effort.
Really you have Eli [Hanback] and the other four who are at similar places, and this is I would say close to where Richard Burney was a year ago as he moved from tight end. So it'll be a trial by fire for all of them in terms of their first look at option football. That's a lot to be learned.
Q. You mentioned scheming defensively to stop primarily a team's strength, and then kind of secondarily paying attention to what else they could do. Have you guys been slow to adapt to that at times this year? Liberty ran a lot when that wasn't what you guys were anticipating.
BRONCO MENDENHALL: I think we were effective in identifying exactly what was happening each play and what needed to be corrected. Sometimes then it takes players' experience level and concentration to then take the feedback and apply it the very next play. And so there was very little adjustment schematically that happened at halftime that didn't happen after the first series.
It did take time for the players that were corrected to then adjust and apply. It took about a half before they did.
Q. And you mentioned the time of possession thing. When Georgia Tech played at Virginia Tech, Virginia Tech scored in three plays on one drive, five played on their second drive. At the end of Georgia Tech's second drive they had run like 27 plays to Tech's 8. The defense was already kind of gassed. With your numbers, how important will like third down be in this game?
BRONCO MENDENHALL: Yeah, it's not only third down, but it's fourth down. You really have to consider when you play option football that every drive a four down and every field was is four down territory. If you don't frame it that way then the mindset of your team can be affected when they think they made a stop on third and they go for it and get it.
And so the wear and tear of the ups and downs of normal third down stop against option football, you have to consider fourth down, third down. When you make that transition and take that matter of fact, it gives you a better point of reference.
If your offense scores quickly, great that you get points, and especially if you get points early. It doesn't mean option teams can't come back from deficits. I think that's a myth. It makes it harder, but they certainly can.
However, points and time of possession is the ideal when you're playing option football, and then your special teams and where the opponent starts with the ball. All of that's a collective.
In my experience, the best way to have success against option football isn't just — and usually the focus is on just the defense. That's one of the two thirds. The other two thirds I think are rarely talked about enough. The defense is given disproportionate value and the other two thirds actually control more of outcome than what we consider in those games.
Q. Brenton Nelson went from walk-on to ACC defensive rookie of the year. He had the big fourth down break up the other night. Has his role changed this season in the secondary with Quinn gone? Has he elevated his game this year?
BRONCO MENDENHALL: Yeah, Brenton has elevated his game. I would say what was remarkable or impressive about his performance on Saturday was just simply that he practiced a little on Thursday; was in a walking boot the entire week. Basically performed and performed well with very little practice, which based on a year ago it took every bit of practice for every play all week long to then get some level of consistency in the game.
So the maturity is certainly helping, his production is helping. We had to have a strong performance from him as well as Juan. And I wasn't sure Brenton would play at all. And that helped Devonte to be surrounded by those two knowing Joey was out.
Q. Coach, along the same lines, you lost Dillon Reinkensmeyer as well as Gerrik Vollmer in that game. What are the status ask can we get an update on Joey Blount as well?
BRONCO MENDENHALL: Joey Blount I don't know yet, and I have no report. Dillon Reinkensmeyer had a concussion in the game. He's going doing through protocol. That's varied in protocol. Some players take weeks; others take days. Usually that's tied to the number of concussions they've had. Not always, but usually. So Dillon we'll wait to see.
Yeah, and then immediately after, Gerrik Vollmer goes in and has a knee injury. I don't know yet what his status is as well, so that led us to put Jake Fieler at center and then shuffle the offensive line.
So the offensive line is not yet to the point of our defensive line, but when you lose two players at the same position in the same game, unique challenges.
Again, it's not just Virginia football. There are other programs. Again, it's week No. 11. That's kind of part of what happens. One more reason why the redshirt rule is a fantastic rule and still might not be enough to address roster size and student-athlete well-being in terms of when you consider now 12 games and then possible conference championship game and then possible bowl game.
So it was a step in the right direction. I'm not sure it might have moved the needle as far as we all would've hoped. It just reinforces the idea, roster size matters.
Q. Rob Snyder is a guy who you would talk about a lot, coaches, but we wouldn't get to see prior to this year. How is he kind of developed now that he's getting this experience?
BRONCO MENDENHALL: Yeah, Rob is currently performing and moving and grading at a level that exceeds that of his peers. He has a really natural feel at the inside linebacker position. He's where he's supposed to be when he is supposed to be there with the capability of finishing plays a lot.
So that's been one of the real bright spots down the stretch is having a player play well at inside linebacker, and consistently, who wasn't really on the radar and has now become and has emerged as someone hard to imagine playing without him now. Really a bright spot.
Q. How much did you miss him against Pitt?
BRONCO MENDENHALL: A lot. He's a really effective tackler with really good instincts developed over time. Really nice focus on where his keys, and against nontraditional run teams — Pitt, Georgia Tech — where you put your eyes is really important. He just happens to have developed over years of practice and to where it's become instinctual and he's consistent. Certainly we missed him and certainly glad he's back for this week.
Q. Some of your best players are from Georgia. What does this game mean from a recruiting standpoint?
BRONCO MENDENHALL: Means a lot. Georgia or Atlanta is in our footprint. Footprint is an area we consider a primary recruiting area. It's not the far away in terms of driving. Certainly about an hour flight, hour and ten minutes, which we love. We have a strong following, as well as the coaches in that area as well as players, they have strong interest in Virginia. There is huge momentum being gained there. We can sense it, we can feel it, and the results are certainly starting to show that.
So ACC wins in general, yeah, they certainly are important because of just the conference championship. But when you win, and especially if you win on the road, that makes a real difference to recruits and coaches and fans in those areas in terms of expanding your brand and carving niches out in our opponents's territory.
Q. You mentioned the redshirt rule. I wanted to ask you about your approach to Brennan [Armstrong] and how it works. How different is it with a quarterback as opposed to some of the other positions?
BRONCO MENDENHALL: I would say the quarterback is a completely different position. Requires completely — a very distinct and differentiated style of management and usage, especially in program building. If you don't manage your quarterback right you can't stay on track timetable-wise. That one position affects outcome more than any other.
We've seen enough from Brennan not only in games, but especially in practice where we certainly want his year — we want him here as long as we can. So at that one position, because Bryce has remained healthy, thank goodness, has allowed that to happen. It's not only how well Bryce is playing and consistently, but that's allowing now for the transition eventually to Brennan and our depth to be established there for the program to be healthy at a position that means probably more than any other.
Q. You talked about winning a bowl game being really important. Is there more value for Brennan in all those practices and getting ready and going into a bowl game than maybe a spot series in a regular season game from a development standpoint?
BRONCO MENDENHALL: That's a really tough question. I don't think anything truly simulates the game as much as we try, so I would love to have a series or two or a quarter or two. I would feel better if that could happen. The reality is with as close of — as much parity as exists in the ACC, as hard as those games are to win and the chance barring injury that you can just substitute another quarterback in it, most likely is not going to happen.
So you do the best you can through practice. That'll have to be enough, which it's a good trade with Bryce healthy and the way he's playing.
Q. With Bryce Hall leading the country in PBUs and passes defended, what have you seen from other teams in terms of shying away or trying to challenge him, and what in your mind makes him a really good player?
BRONCO MENDENHALL: Interestingly enough, I would say week in and week out he's not the targeted side, nor is he the targeted player. Liberty took the exact opposite approach. They had a very strong receiving core and chose — and maybe just simply by concern for pressure or their quarterback getting hit or the possible turnovers, appeared they wanted to run the football and keep the game manageable. And then if they threw, there is more risk and volatility, which is what happened with the three interceptions. Turned out to be exactly maybe what they were trying to prevent.
But when they did throw it, surprising probably to Bryce, myself, and everyone else, it went to him; a player that was returning back to their roster. And so, he's consistent in terms of what he contributes. There is not a player on our team at any position, nor would there be more than probably four or five that I've ever coached that are more diligent in their preparation than him.
He literally between classes, he's there as if it's a job. There is notebooks and preparation and food. He finds a spot and he sets up camp and he's there every minute he's not in class. His preparation is exemplary. He's demonstrating No. 1 what I would love to have our entire team and the culture to be like of how important the games are and what it takes to be exceptional. He's giving a real story and a model for what that looks like.
Again, in my entire being an assistant coach and a head coach, I can't think of more than four that are equal to the investment he's making in his preparation.
Q. A little bit bigger picture question. How would you describe the evolution of your defense from the time you first got into this business, through your time at BYU, and now here. What principles have stayed the same and what have you had to modify and adapt for the kind of player you can get here in Virginia?
BRONCO MENDENHALL: Yeah, pretty broad question. I prefer aggression. I prefer effort. I prefer pressure. I prefer a dictatorial style just in general. I love hearing the game as well as seeing just fierce competitive spirit.
As I start in the profession, my first job was as a defensive coordinator right out of college at Snow Junior College. It was pressure oriented. Then Northern Arizona, which was pressure oriented and almost all man coverage from press.
Then it was Oregon State with Rocky Long, which was pressure and innovation, getting the most out of players that were usually overmatched and having success.
To Louisiana Tech as a different style; little bit more matchup zone based just for a nine month period.
Back with Rocky again for innovation and creativity and effort all mixed together in a unique delivery.
To BYU, which was, again 3-3-5 oriented until I realized we would not be able to have enough defensive backs recruited there that would be sustainable, so it shifted to 3-4 and kind of Dick LaBeau's influence under pressure and an aggressive and unique style with a 3-4 delivery rather than 3-3-5.
And then coming to UVA, the adaptation over a three-year period in base 3-4, which is the install, which was year one, to then all of the offshoots that have happened off that by the personnel.
So we have up to three, sometimes four different personnel packages per game versus what personnel the offense puts in the game to try to give our existing roster the best chance versus their identity out of that personnel group.
So, yeah, we've gone to great lengths to play different styles of defense. So there is 3-4, there is 3-3-5, there is 4-2-5, and sometimes others all in the same game. So the volume — we had a recruit that just visited, and I think his comment was, 'This is not a dumb guy's defense' in listening to the vernacular and the identity changes and trying to keep up with it. It's true, but it's also UVA, which it fits perfectly. These are bright, talented, smart kids, and we ask a lot of the them from a cognitive standpoint. I like that.
That was a long answer, wasn't it?
Q. Several coaches have said after games this year kind of how Bryce Perkins goes is how you guys go in many ways. He's not every week been spectacular, but when he's been good he's been really good. He seems to have an incredible amount of confidence to almost be cocky running the ball. Like you guys aren't going to catch me when he's scrambling. He seems to have really good ball security and just a remarkable amount of patience when he runs the ball to wait for things to develop. How would you assess what he's done for you guys this year and where all that comes from?
BRONCO MENDENHALL: Yeah, what he's done for us, we ought to just say it like it is: He's helped us win seven games and he's the primary catalyst for that. Our culture certainly has improved. Our depth has improved. Our recruiting has improved. Our execution has improved. But without Bryce at that position, I don't think we see the results that we currently have in year three without his skillset.
His skillset simply means that plays that have not been executed necessarily very well, his ability to create and make something out of nothing consistently and repeatedly gives us a chance to manage the game. Then when we do block and when we do execute at a high level and he's able to play the position within the system, then that's even better.
So he's been able to help us progress within the core of what we want to do, and his ability to create outside of that helps us win. As he goes, certainly our team goes. It's easy to see.
Q. When you talk about the culture change, how important has it been that he's elevated himself to kind of a captain's status and he arrived here with no knowledge of what the culture was, kind of what you discovered against Richmond. He had no background in any of that. He just kind of brought his own expectations. How important has that been?
BRONCO MENDENHALL: Yeah, one of the things I've noticed about our grad transfers, like offensive lineman, or in this case a transfer from a junior college, is they come with an urgency and a very different timetable of what they want to do and when they want to do it.
I like that. Some of the players that had been in our program over time as we inherited, their timetable and urgency just wasn't quite the same. As players were added, not only as transfers, but as junior college transfers, and then first-year players where we played 17 of them last year and still have a really young roster, we're bringing players into play.
The urgency of who we bring is really important when you have your quarterback come as a transfer with the clock ticking. I remember a comment. I was speaking at spring socials, and one of the comments in a negative way was, 'When are you going to get done playing rent-a-quarterbacks', because we had Kurt Benkert and now this one. Without those two this program wouldn't have been turning as quickly now in back-to-back bowl years and a winning season, et cetera.
The urgency of them and the preparation and excellent recruiting of finding the right kids to lead at that position, I think it's been really imperative. So to answer your question and try to summarize it, the urgency they come with helps them adjust and adapt to the culture, because in a way, if they don't, what are they going to do? This is kind of a last stop after they transfer.
They come wanting to contribute, wanting to learn, wanting to adapt. Bryce's personality has just made all of that with poise and with grace and effortless because it's who he was anyway.
Sometimes we miss in terms of the personality. With Bryce, it was just an absolute perfect fit. Everyone sees the on the field, but his influence, as you mentioned, and I think it's fair, raising himself to captain status, the team knows that and they would probably acknowledge the same thing.
Q. Tim Harris, he's got the NFL measurables and people might say he hasn't lived up to the hype or expectations. What have you seen from him in the time you have been with him and specifically this season?
BRONCO MENDENHALL: Yeah, I would say that that's fair and accurate over his career of not measuring up and having the measurables. What I will say is about the last five weeks. He'll receive my strongest endorsement for anyone that wants a really good player at corner with now a competitive, fierce mindset, a strong work ethic and the production to go with it.
So it's been really fun. I'm so happy for him. He's really done a nice job of becoming just a diligent and determined and more durable football player.
Q. You mentioned the urgency for a grad transfer. Is that — what flipped for Tim? Was it just, Hey, my time is running out?
BRONCO MENDENHALL: You know, I'm not sure. That would be a great question for him. But he does trust us and he's really good about receiving feedback and wants to know what he can do better. He's taken that to heart. There has been some really brutal fact hard conversations. Simply, Tim, if it remains like this, this will not happen — talking about his goals, dreams, aspirations or even helping our team.
Sometimes that can cause any of us to become discouraged and despondent. He went just the other way, and that has made him a very productive player and essential to what we're doing.
And remember, Darrius Bratton was ahead and playing really well, so to have kind of earned the nod over Darrius over this time, that's been very challenging because we really think Darrius is a good player. So I think the story you're talking about with Tim has been one of the most gratifying to this point of the season, seeing that start to turn and emerge I would say about the last five weeks.
Q. Frustrating though that it took this long?
BRONCO MENDENHALL: You know, not necessarily. Who and what's happening now, it's like I don't remember the other part. I don't think it does any good.
Q. You've talked about it's no problem being transparent about your goals. There are still some out there.
BRONCO MENDENHALL: Totally.
Q. Do you permit conversations among the players about winning the Coastal? Obviously the focus is on Georgia Tech. Do you welcome that?
BRONCO MENDENHALL: We usually on Monday when I talk to the team, kind of addressing the past game and then framing the next game. There have been weeks where I've shown the standings and then shown our mission, our goals, and that's part of my job is reframing and acknowledging.
Yes we want to win the Coastal. We're part of the ACC and we want to win the conference championship. You don't win that unless you win the Coastal. To be able to talk about that sincerely and honestly in year three in week 11, how could I not talk about it? I believe we can win as many games as we truly want to. That's what I believe.
Yeah, we have a great chance to play another ACC opponent and battle and we have a chance to win the game. I won't talk any further than that, but that's what our team knows. They certainly know that they're going to have to be exceptional and play and prepare really well and win two if they want to contend for the conference championship. They'll need help from other teams as well.
After we said all that, good. We play Georgia Tech and the option, and any minute now we're not talking about that it's going to hurt us. So we acknowledge it, address it, get it all out there, and then turn the switch. It's only now Georgia Tech.
But to not acknowledge it, I don't think it's realistic or fair for anyone. Better just to say it, frame it, and then, okay what's it going to take, and then dial back into that.
Q. At the risk of making you bristle, there are people on Twitter — even in this room — that say, Why would you want to win the Coastal to play that monstrosity that is Clemson?
BRONCO MENDENHALL: Well, for those that have kind of been paying attention along the way, we like hard things as a football team. I love hard things to the point where I chose to leave home and family and travel across the country, find 14 others maybe crazy enough to come with me, and take it on.
That's what exactly what we want. You can't get to where you want to go until you go through whatever you chose to call an exceptional football team. How do you truly know until you play? I would like nothing more than to truly know and then learn and apply whatever I need to learn and apply after that.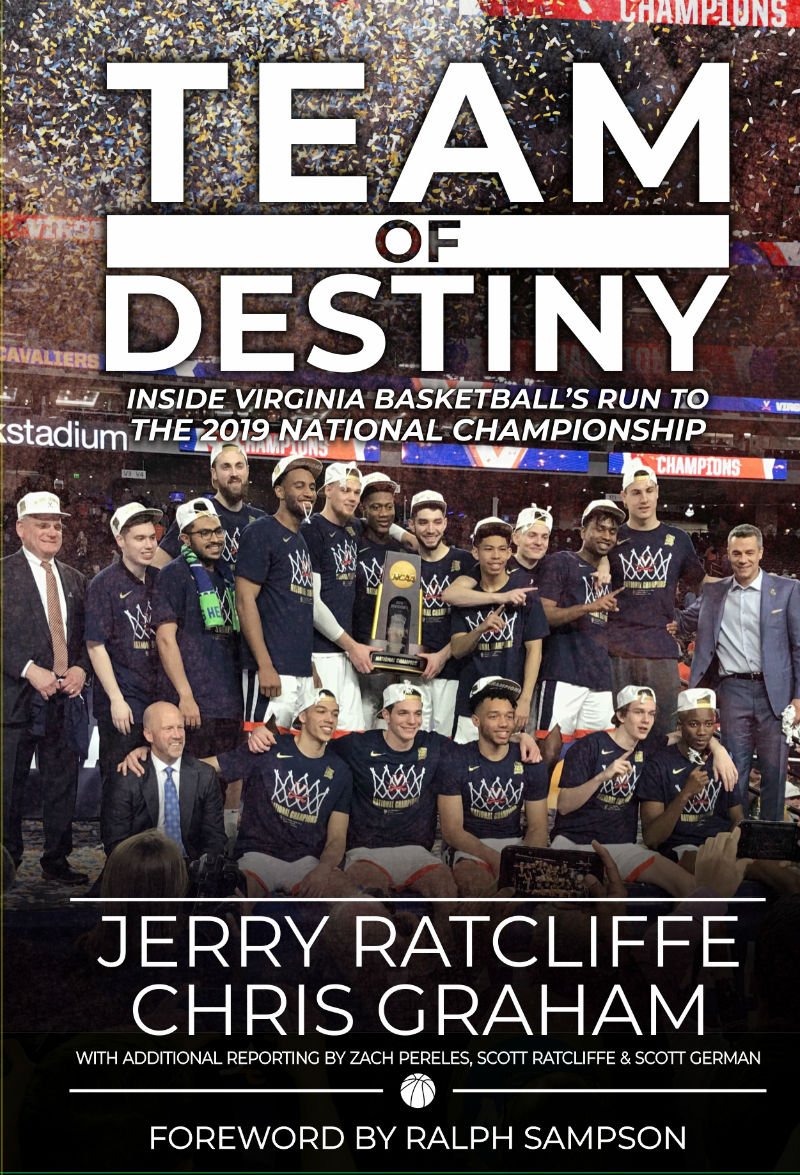 Team of Destiny: Inside Virginia Basketball's Run to the 2019 National Championship, by Jerry Ratcliffe and Chris Graham, is available for $25.
The book, with additional reporting by Zach Pereles, Scott Ratcliffe and Scott German, will take you from the aftermath of the stunning first-round loss to UMBC in 2018, and how coach Tony Bennett and his team used that loss as the source of strength, through to the ACC regular-season championship, the run to the Final Four, and the thrilling overtime win over Texas Tech to win the 2019 national title, the first in school history.

Related Content
Shop Google