Staunton woman held after lengthy pursuit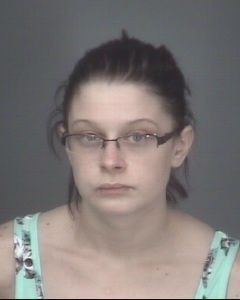 A Staunton woman is being held after a pursuit that began in Greenville and continued into the city of Staunton. Jessica Leigh Regis, 26, faces multiple charges after the pursuit, which began around noon Tuesday.
A deputy with the Augusta County Sheriff's Office was dispatched to the Pilot Travel Center in Greenville for the report of someone who was believed to be having a psychological emergency. The original complainant advised that a female had approached her, holding a pair of scissors, and asked for money.  The female, later identified as Regis, then attempted to take the complainants sunglasses from her head before returning to her vehicle, which was described as a white Saturn.
Regis left the Pilot prior to the deputy's arrival, but was spotted on Route 11 near Interstate 81. When the responding deputy attempted to stop Regis, she refused to comply. Regis, travelling north on 11 at low speeds while being pursued, approached the city limits of Staunton.
Staunton Police and troopers from the Virginia State Police took over the pursuit from there. Regis led them on a chase through the area of Springhill Road, Churchville Avenue and West Beverley Street.
The suspect vehicle ultimately stopped on the 70 block of Lincoln Lane after stop sticks were deployed.
Regis was arrested and charged with reckless driving, felony eluding law enforcement, attempted felony assault with a vehicle, and driving on a suspended license.  Additional charges from the Augusta County Sheriff's Office include armed robbery, felony eluding, and two counts of assault on a law enforcement officer.
Comments