Salem turns back the clock in 5-2 win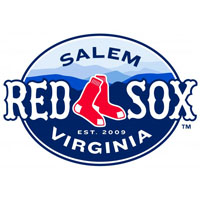 The Salem Buccaneers turned back the clock Saturday night and defeated the Wilmington Blue Rocks 5-2 at LewisGale Field. Salem has taken the first two games of the three-game set.
The night got off to an electrifying start when Michael Kopech struck out the Blue Rocks in order in the top of the first inning. The right-hander would strike out the first six batters he faced on the night, and faced the minimum through four innings.
The Buccaneers (70-47, 27-21) gave him a pair of runs of support in the bottom of the third against Corey Ray. Danny Mars hit a slow roller to third base for an infield single, and Mike Hill threw the ball away up the right field line allowing Deiner Lopez and Bryan Hudson to score, giving Salem a 2-0 lead.
Kopech pitched into the sixth inning, but was removed after loading the bases with no outs. Bobby Poyner (3-1) allowed two inherited runners to score on groundouts, tying the game at two.
The flame-throwing starter finished the night by striking out a career-high 11 batters, and yielded just two hits and two walks. He struck out the side in three separate innings. Kopech has recorded 28 strikeouts in 16.0 innings in his three August starts, and overall he has fanned 60 batters in 38.1 innings.
Salem regained the lead in the bottom of the sixth against reliever Jake Newberry when Deiner Lopez scored Jordan Procyshen on an RBI single to put the Bucs up 3-2. Newberry (3-1) struggled in the seventh, though he was not helped by a pair of Wilmington errors.
Nick Longhi singled home Rafael Devers, and then a walk to Jayce Ray and an error on a Procyshen bunt attempt loaded the bases. With the infield drawn in, Lopez hit a groundball to Samir Duenez at first base, who threw home, but the throw was wild and Longhi scored to put Salem ahead, 5-2.
Jamie Callahan shut down the Blue Rocks 1-2-3 in the top of the ninth inning to seal his fifth save of the season.
By collecting 11 hits for the second straight night, Salem has recorded double-digit hits in five consecutive games at LewisGale Field. During that stretch, they have scored 48 runs on 79 hits and are a perfect 5-0.
The Red Sox complete their series with the Blue Rocks Sunday afternoon at LewisGale Field. First pitch is scheduled for 4:05 pm. Salem sends lefty Matt Kent (8-6, 3.97) to the mound, while Wilmington counters with Glenn Sparkman (1-0, 4.50). For tickets and more information, call (540) 389-3333 or slide to www.salemsox.com/tickets.
Comments