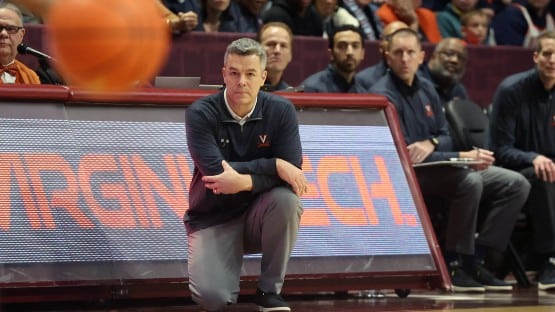 Need to worry about the D
Virginia Tech shot 50.9 percent, got 18 makes at the rim, and was 4-of-7 from three in the second half, in its 74-68 win over fourth-ranked Virginia on Saturday.
The Hokies scored their 74 points on 63 possessions, 1.175 points per possession, in the win.
Four of Virginia's last five opponents have scored over a point per possession, dating back to the Cavaliers' 78-68 win over Virginia Tech two weeks ago.
Over that span, the D is allowing opponents 1.031 points per possession.
Virginia is still second in ACC games in adjusted defensive efficiency, per KenPom.com, allowing 0.988 points per possession on the defensive end in conference play.
What we're seeing in this latest stretch isn't going to cut it.
Vander Minus
The insertion of Ben Vander Plas into the starting lineup at the five spot three weeks ago injected new life into the offense, but we may be getting to the point of diminishing returns.
BVP's individual numbers have been down over his past four – 4.3 points, 5.5 rebounds and 2.8 assists per game, on 31.8 percent shooting, and a cumulative plus/minus of +19 (the team is +27 over its last four).
This with Vander Plas putting up a goose egg – zero points, 0-of-4 shooting, with five rebounds and two assists in 29 minutes – in the loss at Tech, with a plus/minus of -4.
Has the new lineup hit a wall on the offensive end?
The insertion of Vander Plas was done to try to open up the floor to create driving lanes for the guards to get into the paint, to create shots there or on the perimeter for open shooters.
And for the first five times out with Vander Plas as the lead guy at the five spot, UVA averaged 1.217 points per possession on the offensive end.
Success.
This week, though, in the 67-62 win at Syracuse, and then the loss on Saturday at Tech, it seems like Jim Boeheim and Mike Young figured some things out.
UVA has averaged just 1.063 points per possession over its last two games.
The three-point looks that had been falling of late – Virginia had been shooting 41.4 percent from three in its last six coming into Saturday – didn't in Blacksburg.
Virginia was 6-of-18 from behind the arc – 33.3 percent – in the loss.
Young, in particular, on Saturday, had success with the strategy emphasizing packing the paint to make it harder for Virginia to get good shots at the rim or clean kickouts on dribble-drives.
Virginia did get plenty of looks at the rim on Saturday – 27 for the game, 17 in the second half – but only converted 15 of them (55.6 percent).
Coming in, Virginia had been converting 61.2 percent of its shots at the rim.
As far as the kickouts to shooters, Virginia only had 14 assists on its 25 made baskets on Saturday (56.0 percent).
In the win over Tech in JPJ last month, UVA had 19 assists on its 29 baskets (65.5 percent).
The season average is 67.5 percent, which ranks second in the country.
Some of the dropoff on Saturday was just shots not falling, but more of it appeared to be Tech forcing tough shots with its defensive strategy.
Gardner continues recent resurgence
Fifth-year senior Jayden Gardner had 20 points and 10 rebounds in the loss on Saturday, building on his recent stretch of solid play.
Gardner's minutes had been diminishing with the emergence of freshman Ryan Dunn, but in his last three, the 6'6" grad student is now averaging 17.7 points and 8.0 rebounds in 27.7 minutes, and shooting 59.5 percent from the floor.
Dunn, in his last three, has logged a total of 34 minutes, with 10 points and eight rebounds over that stretch.
McKneely's parking brake: Still on
Freshman Isaac McKneely was 3-of-4 from the floor, the miss coming on an odd basket interference on a dunk in the first half.
He was 2-of-2 from three, so he had eight points on four shots.
Tony Bennett told iMac to take the "parking brake" off ahead of the first game with Syracuse on Jan. 7, and he went out that day and scored 12 points on 4-of-7 shooting from three.
Since that day, the freshman is averaging 8.8 points per game on 54.5 percent shooting from the floor and 58.1 percent shooting from three.
As for that parking brake: he's averaging 5.5 shot attempts per game over the last eight.
Prior to being advised to take the parking brake off, iMac had averaged 5.1 shot attempts per game.
Shoot the ball more, kid.