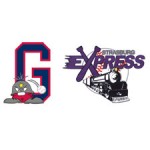 Caleb Powell gave up two runs in eight innings, and Mike McClellan hit two home runs, and the Waynesboro Generals improved to 10-1 with a 6-2 win over Strasburg Saturday night at Kate Collins Field.
Powell (2-0) gave up a run in the Strasburg first, but then settled down from there, giving up just three hits in an efficient outing, throwing 86 pitches, 66 for strikes.
"You don't have to worry as much with the wood bats about home runs. They're not as likely. So you can just reach back and throw the ball," said Powell, a sophomore at Austin Peay.
You don't have to worry, that is, when McClellan, at least Saturday night, is at the plate. The Columbia State junior's first homer of the game, in the third, stretched the Waynesboro lead to 5-1. His second longball of the night, leading off the sixth, pushed the lead to 6-2.
Powell was in control from that point, giving the Generals eight innings before handing the ball to North Georgia sophomore Benjamin Peters, who pitched a scoreless ninth to finish things out.
Waynesboro hosts the Harrisonburg Turks Sunday night at Kate Collins Field.
More online at www.WaynesboroGenerals.net.