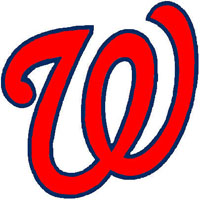 The Washington Nationals seven-game losing streak is over, but it didn't end without some late drama.
Jayson Werth lost a fly ball to left in the sun with two outs in the ninth, turning the likely final out into a Jonathan Villar triple, and had trouble with a Scooter Gennett pop-up to short left before hauling it in and preserving the Nats' 3-2 win at Milwaukee.
The W ends the Nationals' gruesome western road at 3-7. Washington (44-32) returns home Monday to begin a three-game series with the New York Mets (40-34), who are three games back of the Nats in the National League East.
Stephen Strasburg (10-0, 2.90 ERA, 1.06 WHIP) was scratched from his scheduled start for the second straight time on the road trip, and was placed on the disabled list retroactive to June 16, meaning he will miss at least one more scheduled turn on the mound before being eligible to return on Friday.
Tanner Roark (7-5, 2.96 ERA, 1.22 WHIP), pitching on normal rest with the Nats enjoying an off-day on Thursday, was solid in seven shutout innings, allowing seven hits, walking one and striking out seven.
The game was scoreless into the seventh, when backup catcher Jose Lobaton (.194/.296/.290, 1 HR, 4 RBI) hit a solo homer to get Washington on the board.
Clint Robinson (.233/.294/.397, 3 HR, 14 RBI) added a two-run shot in the eighth.
Milwaukee scored in the bottom of the eighth on an RBI groundout by Jonathan Lucroy, and pulled closer in the ninth on a solo homer by pinch-hitter Martin Maldonado.
Shawn Kelley (3 saves, 5 holds, 0.90 WHIP, 2.60 ERA) held on to record the save.
Washington will send out Joe Ross (6-4, 3.11 ERA, 1.26 WHIP) against the Mets' Noah Syndergaard (8-2, 2.08 ERA, 0.99 WHIP) on Monday.