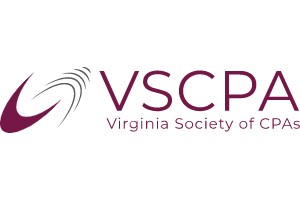 The Virginia Society of Certified Public Accountants has released four free resource guides for nonprofit organizations to celebrate Virginia CPA Week which runs from Sept. 19-25.
The VSCPA's nonprofit resource guides were most recently updated by the not-for-profit team at Newport News-based firm PBMares. Topics include budgeting, income tax issues, responsibilities and risks, and auditing.
The VSCPA offers the guides to the public as a free resource, along with a find a CPA directory that can help connect nonprofits and taxpayers with CPAs in their areas. The VSCPA also provides experts who can speak on money management and financial literacy to nonprofits, schools, civic chambers, and more.
"We're happy to release guidance for nonprofits as part of Virginia CPA Week this year," said VSCPA President & CEO Stephanie Peters, CAE. "For decades, we've provided free resources for the Commonwealth's citizens to help them navigate financial issues. Who better than CPAs to provide nonprofits with the basic information they need to properly run their organizations?"
CPAs are innovative and strategic advisors who play a vital role in the fiscal health and economic growth and prosperity of Virginia, and this commemorative week highlights the CPA profession's important contributions to Virginia citizens and communities. CPAs across the Commonwealth (and those who count on them) will use the #CountOnCPAs social media hashtag to build awareness of the significant importance of CPA services.
The free resource guides are online at www.vscpa.com/nonprofit-resources
For more information on Virginia CPA Week, visit www.vscpa.com/CountOnCPAs
To learn about CPA services and search for a CPA in your area, visit www.vscpa.com/FindaCPA