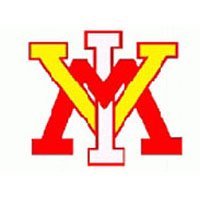 Jordan Tarsovich threw out the potential tying run at home on a bizarre ninth-inning play, helping the VMI Keydets survive a late rally and defeat the Presbyterian College Blue Hose, 6-5, in Big South baseball action Saturday afternoon at Gray-Minor Stadium in Lexington, Va.
With the bases loaded and no outs in the Presbyterian (10-13-1, 3-2 Big South) ninth, Taylor Edens relieved Travis Thomas for VMI (12-9, 3-2 BSC). Jay Lizanich grounded into a fielder's choice back to Edens that saw a runner erased at home. The next hitter, Brad Zebedis, hit a bloop into right field that Brandon Angus dove for, but saw kick off his glove and roll slightly toward the right field foul line. Billy Motroni scored, but Tarsovich, running from his second base position, grabbed the loose ball in short right field and fired it to catcher Matt Winn, who blocked the front of the plate and tagged Nate Chong sliding in for the second out.
Motroni was ejected in the ensuing argument at home plate, and Edens retired Cam McRae on a long fly ball to center field to end the game and preserve the VMI victory.
Connor Bach got the victory for the Keydets, as after opening with 5 1/3 no-hit innings, he finished with 6 1/3 strong frames of work. He surrendered two runs on two hits, walking five and striking out seven. Edens picked up the save, his second of the year, while Chandler Knox dropped to 4-2 with the loss for Presbyterian. Knox was charged with five runs, all earned, on nine hits.
At the plate, David Geary went 3 for 3 with two RBI to lead the Keydets, while Josh Worthley chipped in a 2 for 4, two RBI day in his first collegiate start. Motroni was 2 for 4 to pace PC.
"I was proud of the way Connor Bach threw," said VMI head coach Marlin Ikenberry. "He did a great job. Offensively, Josh Worthley and David Geary had big at-bats for us today. I was pleased with the way our guys competed to the end in one of the craziest finishes I can remember in college baseball. The game-changing moment was Jordan Tarsovich's throw home in the ninth. It was a big day for VMI athletics, with basketball winning a postseason hoops game and us winning a conference series on Saturday."
VMI jumped ahead early for the second straight day, scoring three runs in the first. Angus singled with one out and stole second one out later. Cameron Walter and Eric Mayers then walked and Worthley followed with a perfectly placed bloop single, just beyond the reach of PC third baseman Jacob Midkiff and into short left field to score two runs. Geary followed with a single to left, scoring Mayers to give the Keydets a 3-0 lead.
That lead grew on the fourth, when Geary singled to lead off the inning and, one out later, stole second base. Will Malbon then drove him in with a RBI single, making it 4-0, VMI. The Keydets added on in the fifth on a Geary RBI double that scored Winn, but Worthley fell rounding third base and was unable to score on the play. That nearly cost the Keydets later in the game, but VMI took a 5-0 lead into the seventh.
The Blue Hose got on the board in that inning, when Brandon Paul led off with a single. Weston Jackson grounded into a fielder's choice and moved to second on a wild pitch. After a walk to Midkiff, Rian Ellis relieved Bach and induced the second out of the inning on a fly ball to right. Motroni, however, hit a bounding ball over the bag at third for a two-run double to put PC on the board, 5-2, and Chong followed with a bloop double to cut the lead to two, 5-3.
The Keydets got a run back in the eighth on an RBI groundout by Angus, but PC rallied in the ninth against Thomas. Midkiff reached on a fielding error to start the ninth and pinch-hitter Tyler Weyenberg walked. Motroni followed with a bunt single to load the bases, and Chong walked to force in a run and bring Edens out of the bullpen for the dramatic final moments.
With the win, VMI won its third straight conference game for the first time since April 20-24, 2012.
VMI baseball will return to action Sunday for the series finale against Presbyterian College. Game time is set for 1 p.m.