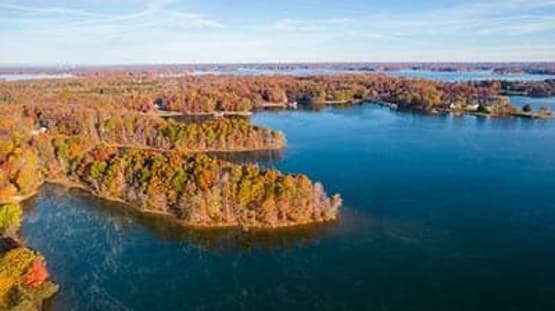 Lake Anna is No. 1 for the second year as the best place to buy a vacation home in the United States.
The coveted place is attributed to the clean and calm freshwater landscape of Lake Anna, which provides plenty of choices for water sports, including jet skiing, power boating and fishing.
In the last year, 69 percent of bookings in Lake Anna were for three nights or more. Lake Anna is a popular long-weekend destination in the U.S.
One of the largest freshwater inland reservoirs in the Commonwealth, Lake Anna covers 13,000 acres in Louisa, Spotsylvania and a small portion of Orange counties. The vacation spot is accessible to Fredericksburg, Washington, D.C. and Richmond.
In 1968, the North Anna Damn was formed by Virginia Electric and Power Company, now Dominion Virginia, from farmlands. The damn would cool the nuclear power generating plants.
In the mid-1970s, homes began to built along the shore of Lake Anna. Now more than 120 communities thrive in America's No. 1 vacation spot. The median home sale price is $405,500. Annual gross rental revenue is $64,121.
"With moderate median home sale prices and a cap rate (annual rate of return on investment) of 10.32 percent, Lake Anna, Virginia, continues to top our list of best places to buy a vacation home in the U.S.," Daned Kirkham, Senior Director of Real Estate at Vacasa, said. "Lake Anna presents several unique opportunities for buyers: It's located halfway between two major cities, Fredericksburg and Richmond, and is close enough to D.C. to capture long weekend travelers. Within the past 12 months, 69 percent of bookings were for three or more nights, signifying that travelers are indeed selecting this location for long weekends and extended-stay travel. The lake has both private and public access — the private side providing exclusivity to vacation rental guests. The beauty of summer and fall make it an appealing destination for outdoor enthusiasts and repeat visitation."
Related stories:
Virginia's Lake Anna ranked no. 1 for vacation homes – Augusta Free Press