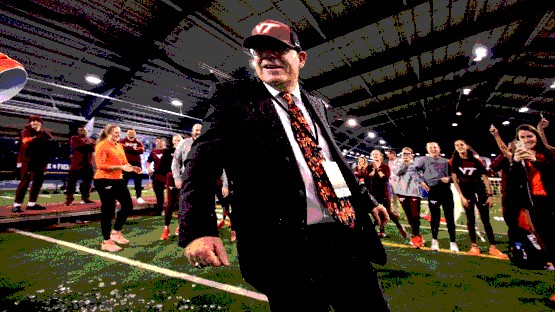 Dave Cianelli announced Thursday his intention to retire as the director of track and field and cross country at Virginia Tech at the end of the 2024 outdoor season.
Cianelli has coached 74 NCAA champions, including 20 at Virginia Tech, 490 All-America honorees, 373 individual conference champions, 32 World Championship qualifiers, and 22 Olympic qualifiers.
His Tech teams won 21 ACC team titles in indoor and outdoor track and field and cross country in his 22 seasons at the helm.
"I would like to thank Jim Weaver and Tom Gabbard for giving me the opportunity to come to Virginia Tech back in 2001," Cianelli said. "Thank you to Whit Babcock and Chris Helms for supporting our program during the past nine years. Our program would not have attained the level of success it has enjoyed without these four individuals."
"Coach Cianelli is one of the most successful coaches in the history of Virginia Tech Athletics," Virginia Tech director of athletics Whit Babcock said. "He is the consummate professional and his leadership ushered in an era of sustained excellence for our track and field programs.
"Dave's illustrious career is filled with championships and national honors. However, he would be the first to tell you the relationships he builds with his student-athletes and coaches is what he cherishes the most," Babcock said.
The Virginia Tech dynasty continued in 2023 with the men's and women's teams winning both ACC Indoor Track and Field Championship titles.
The men's team picked up their third-straight team title with 110.5 points, and the women claimed their second-straight title with 93 points.
At the end of the 2024 outdoor track and field season, Cianelli will hand the program over to 1992 Virginia Tech alum Ben Thomas, who returns to his alma mater as a three-time USTFCCCA National Assistant Coach of the Year, having most recently won back-to-back indoor honors for the Oregon Ducks' success during the 2020 and 2021 seasons.
Thomas earned his first national award during his time at Virginia Tech following the 2017 season, becoming the first ACC assistant to ever win the award.
Thomas is also a 10-time USTFCCCA Regional Assistant Coach of the Year.
"Coach Dave Cianelli has written one of the greatest rags to riches stories in NCAA track and field history in his 22 years at Virginia Tech," Thomas said. "I was fortunate to be on his first staff at Tech. We had a few scholarships, not many resources, and some young talented assistant coaches. To be part of the program's 21 ACC Championship team titles, countless ACC individual titles, national champions, and All-American performances, has been one of the greatest joys of my professional career.
"To take the reins from Coach Cianelli, I will truly be walking in the shadows of a giant in the history of track and field coaching. I am grateful for Virginia Tech's trust in me to be the next director of track and field and cross country."