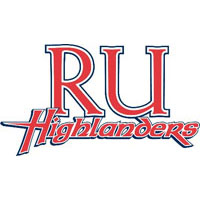 Students lined the exterior of the Dedmon Center starting early afternoon for the opportunity to watch their Highlanders face the visiting Virginia Tech Hokies.
In the new configuration of the Dedmon Center, seating capacity is 3,500, yet RU officials announced over 4,000 in attendance, and standing room opportunities were being found 30 minutes to tip off as the crescendo of volume began once Tech stepped on the court for warmups.
The volume was so loud that it drowned out the speeches in the Highlander Club room as Doug Day was addressing season ticket holders and donors prior to having his jersey retired.
On a night that Radford celebrated the three-point shooting prowess of Day, the team could not find success behind the arc, shooting a paltry 3-of-20. The Hokies gave Buzz Williams the first road victory of his career, winning 74-65 behind a balanced scoring attack as four Virginia Tech players were in double digits, lead by Seth Allen's 17.
Although the three wasn't falling, Radford came large in the paint, scoring 42 of its points and outrebounding Tech 39-33. RU power forward Brandon Holcomb filled the lane and the stat sheet recording a double double with 13 points and 11 rebounds on the ACC foe.
Cameron Jones led the Highlanders with 6-of-13 shooting, scoring 16.
The energy level was high from the host fans, but Radford started flat. having more turnovers than buckets made at first media timeout being down 12-2, and Virginia Tech extended its lead to 28-8 just 10 minutes into the game.
The Highlanders tried to rally to end the half, getting as close as a 12-point deficit, but Allen's aggressive drives to the basket coupled with Virginia Tech's stingy D, Radford ended the first half down 41-27.
Virginia Tech quickly extended its lead back to 20 to start the second half, but Radford nibbled away until finally getting within six under the three-minute mark with a three-ball and converted turnover by Cameron Jones.
However the offensive deficiencies from the first 30 minutes of play were too much to overcome.