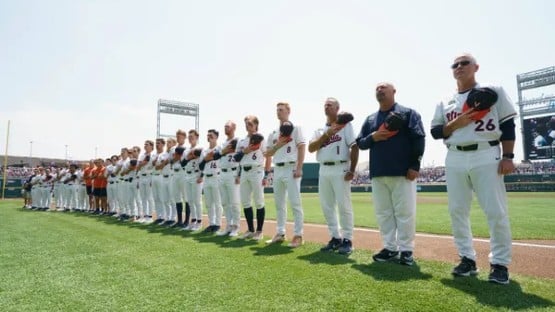 You forget that Virginia Tech, which didn't even make the NCAA Tournament this year, was ranked higher in the 2023 preseason polls – at 16th, four spots ahead of Virginia at 20.
I remind you of that to make this point: that this Virginia team overachieved to get to the College World Series.
Losing two straight one-run games in Omaha stings, but this team accomplished a lot just by getting here.
"We just fell a little bit short in Omaha. Two one-run losses certainly hurts," coach Brian O'Connor said after the 4-3 loss to TCU on Sunday that ended UVA's season.
"I feel for our guys because they've had a terrific year," O'Connor said. "That said, we didn't win, and that's our goal, to win here in Omaha and give us a chance to win a national championship. And we certainly fell short of that."
That's classic O'Connor, who made that point all week, that just getting here, which is a lot, isn't enough.
This was Virginia's sixth appearance in the College World Series since 2009, and this year's trip is the first that didn't see the Cavaliers win at least one game.
The 6-5 loss in Game 1 on Friday is on O'Connor, who had lost confidence in his bullpen as the season wore on, but covered for that in the postseason by extending his starters, riding Nick Parker, Connelly Early and Brian Edgington for 41 of the 54 innings that it took Virginia to get through the first two weekends of the NCAA Tournament.
For reasons known only to O'Connor, he went back on that in Game 1, lifting Parker after six innings and 90 pitches on Friday night, taking him out with a 4-1 lead and still needing to get nine outs from that bullpen that he didn't have confidence in to close out #2 Florida.
The Gators, predictably, went to town on the Virginia bullpen, particularly lefty reliever Jake Berry, who was tagged for four runs, three on long solo homers, two of those in the ninth inning, which started with UVA trying to close out a 5-3 lead, and ended with a Florida walk-off sac fly.
If Friday's loss was on Oak, Sunday's loss was about execution, or lack thereof, on the field, and numerous little things that added up over the course of the nine innings.
"I hate losing either way, whether it's by one or five, but the one-run games always comes down to, a lot of times, a big pitch, like I said, a clutch hit there maybe in the ninth to tie the game, and other opportunities," O'Connor said.
Virginia opened with two base hits on the first five pitches of the game from TCU starter Sam Stoutenborough, who got Jake Gelof to ground into a fielder's choice that scored a run, then started mowing down UVA hitters.
The Cavaliers wouldn't get their next base hit until a seventh-inning solo homer from Ethan Anderson.
"We had too many 1-2-3 innings offensively. We just weren't competitive enough in our approach in those at-bats," O'Connor said, crediting Stoutenborough for executing his game plan to keep Virginia hitters at bay with off-speed pitches.
"Our approach of hitting the ball the other way, that's what you have to do against somebody like that because he's executing, and we, too many times, rolled over ground balls and just didn't get quality swings on the ball to put innings together to put pressure on them," O'Connor said.
TCU, on its end, executed its game plan to make Early work deep into counts. The lefty, who pitched into the seventh inning in Virginia's 8-3 Charlottesville Regional clincher over ECU on June 4, then went a full seven in the 14-4 win over Duke in Game 2 of the Super Regionals, needed 101 pitches to get through five innings on Sunday.
"I thought Connelly Early gave us a nice start," O'Connor said. "They had a good approach against him in the first inning, probably as good as we've seen all year. That's a credit to them. He grinded, kept us in the game, gave us a chance to win."
Early grinded enough to keep the game at 2-1 through five, at which point O'Connor decided to go with the guy he would have preferred to be his Game 3 starter, Brian Edgington.
The move didn't pay off. Edgington, who put in five perfect innings in the June 2 win over Army to open the postseason, and went the distance in the 12-2 win over Duke in the Super Regional clincher last weekend, got touched up for two runs on five hits in two and two-thirds innings on Sunday.
One of the runs should have an asterisk beside it, though. Centerfielder Ethan O'Donnell misplayed what should have been an eighth-inning flyball out into an RBI double that allowed TCU to score what would be the eventual winning run.
Again, it was the little things – Early not being able to get quick outs, the Virginia hitters rolling over off-speed pitches, a misread and then a bad route on a fly ball.
It didn't help that Virginia's big boppers in the middle of the order, Jake Gelof and Kyle Teel, both projected first-round picks in next month's MLB Draft, were a combined 0-for-14 this weekend.
"I'm disappointed for them that they didn't get a chance to play deeper in this and for the two of them to really show their ability here in Omaha," O'Connor said. "That said, the careers that those two guys had are right up there with some of the best that we've had in my tenure here. Jake Gelof has broken so many offensive records, home run records, RBI records. We wouldn't be sitting here today without him. And Kyle Teel was just a really, really special, talented player.
"The results didn't show in these two games the impact that those two young men have had in our program and their entire careers, but especially this year, and certainly they will be missed. But the way they performed in our uniform teaches the younger players what the standard is for success in our program, and for that, I'll be forever grateful to them for their contributions wearing our uniform," O'Connor said.
For the millionth time, this one hurts, but they all hurt.
Credit to this group for outplaying preseason expectations, for working through that 5-7 April rough patch to earn the #7 national seed, for rallying from a Game 1 loss in the Super Regionals to thump Duke by a combined 26-6 in Games 2 and 3 to punch their ticket to Omaha.
"It doesn't diminish what this team accomplished," O'Connor said. "To have 50 wins and be playing here in Omaha again speaks to what they're made of and their talent and the type of program that we have. We'll regroup and look to build and be back here as soon as we possibly can."