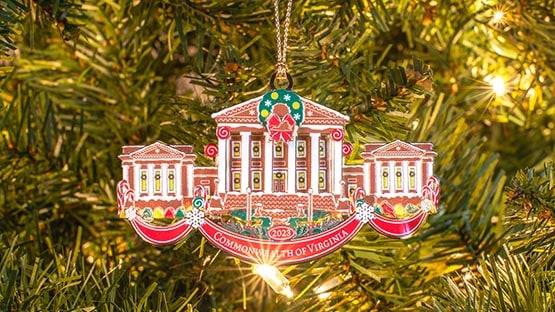 The Virginia Museum of History & Culture has unveiled its official Virginia History Christmas ornament for 2023.
The ornament features a whimsical, holiday interpretation of the Capitol of Virginia depicted in gingerbread, icing and candy.
The Capitol of Virginia has been home to the Virginia General Assembly since 1788. The central portion of its current structure was built using plans provided by Thomas Jefferson, who took inspiration for the design from the Maison Carrée, an ancient Roman temple in Nîmes, France, that he observed while serving as United States Minister to France in 1785.
The Commonwealth's executive and judicial branches moved into the building in 1789, with the General Court and Supreme Court of Appeals meeting there until 1840.
Two wings, added on the east and west side of the structure, were completed in 1906. The east wing is now home to the House of Delegates, while the Senate of Virginia occupies the west wing.
An underground extension was completed in 2007 as the Commonwealth and the nation marked the 400-year anniversary of the Jamestown settlement.
"Our annual Christmas Ornament provides a keepsake of Virginia History that we hope captures the spirit of the season, and helps Virginians celebrate the present while remembering the past," said Michael Plumb, Vice President for Guest Engagement at the Virginia Museum of History & Culture.
The Virginia History Christmas Ornament has been a tradition at the Virginia Museum of History & Culture since 2018.
Past ornaments have included the Virginia-made Kline Kar and a magnolia wreath with an assortment of Virginia historical symbols.
The 2023 ornament may be purchased at ShopVirginiaHistory.org/2023Ornament.