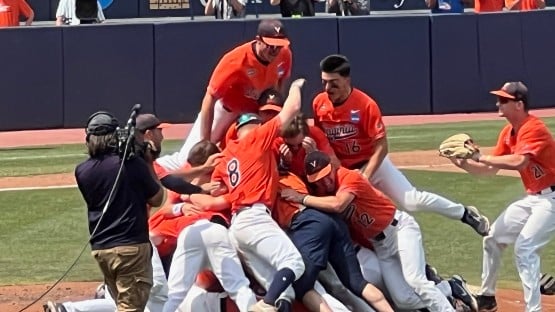 Virginia is on its way to its sixth College World Series, and second in three years, after pasting Duke, 12-2, in Sunday's decisive Game 3.
The Cavaliers (50-13), the #7 national seed, will face the #2 national seed, Florida (50-15), in the opener of the College World Series next weekend.
The other two teams in the four-team, double-elimination bracket with UVA and Florida are TCU (42-22) and the winner of the Oregon-Oral Roberts series that, at this writing, is tied at a game apiece.
Virginia had to rally from a 5-4 Game 1 loss on Friday, and did so emphatically, winning 14-4 in Game 2 on Saturday, then getting out to a 5-0 lead in the second inning to take control early in Game 3.
Duke (39-24) did get back into it, briefly, cutting the lead to 5-2 in the top of the sixth with a two-out, two-run homer from Jay Beshears.
UVA answered with a four-spot in its half of the sixth, getting an RBI single from Jake Gelof, a run-scoring fielder's choice from Kyle Teel, and then a massive two-run blast over the concourse in right field off the bat of Ethan Anderson, his 14th homer of the season, that pushed the lead to 9-2.
Virginia tacked on extra insurance with RBI hits from Ethan Anderson and Teel in the seventh, then capped the scoring with a solo homer from Anthony Stephan in the eighth.
Leadoff man Griff O'Ferrall was 4-for-5 on the day, including knocking in a run with an RBI single in the second that keyed that five-run rally.
Ethan O'Donnell was 3-for-4 with two RBI.
Brian Edgington (9-3, 3.47 ERA) went the distance for Virginia, giving up two runs on nine hits, striking out 11 and walking one on 114 pitches, 80 of which went for strikes.
Edgington, usually the #1 starter for UVA coach Brian O'Connor, had struggled in his regular-season start against Duke, a 17-5 Virginia loss on April 28 in which he was charged with six runs on eight hits in six innings of work.
Aside from the flyball homer by Beshears, he was in command all day long, in stark contrast to the day-long struggles for the Duke pitching staff.
Duke coach Chris Pollard, who said "we've got their number," referring to Virginia and Game 3, on his way out of the media room after the loss in Game 2 on Saturday, used nine pitchers on the afternoon, to varying degrees of ineffectiveness.