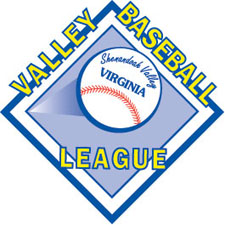 Harrisonburg outfielder Shane Billings was voted the Valley League Most Valuable Player among league administrators and media representatives. Charlottesville's Hayden McCutcheon was voted the Pitcher of the Year.
Billings and McCutcheon were among 32 players voted to the All-Valley League teams, including 16 on the First Team and 16 on the Second Team. Harrisonburg led all teams with seven players (one to the first team and five to the second team). Notably, second baseman Josè Carrera, Covington (Manhattan College), earned his second consecutive first team All-League selection.
Billings led the Valley League with a .418 batting average in 39 games played. In 153 at-bats, he collected 64 hits, 6 doubles, four triples, two home runs, and 15 RBIs. The outfielder from Wingate University added 45 runs, 19 walks and 21 steals. In addition to finishing first in batting average, he led the league in hits, runs, and tied with fellow first team selection Carrera for steals. He had the highest league on-base percentage (.483), was second in slugging average (.549) beyond first team shortstop Bradley Jones, and third in OPS (1.032). He helped the Turks to a division-winning and league-best record of 29-13.
In 12 regular season appearances, including seven starts, McCutcheon went 3-1 with a 1.74 ERA in 46.1 innings pitched. The right-hander from College of Charleston struck out 58 and walked just 14 while limiting opponents to 31 hits and 9 earned runs. He was second in the league in strikeouts and was ranked fourth among the top regular starters in the league in ERA.
2015 Valley League Most Valuable Player: Shane Billings, Harrisonburg (Wingate University)
2015 Valley League Pitcher of the Year: Hayden McCutcheon, Charlottesville (College of Charleston)
2015 All-Valley League First Team
C – Jonathan Corbitt, Covington (Lynn University)
1B –Austin Edens, Staunton (Samford University)
2B –Josè Carrera, Covington (Manhattan College)
3B –Drew Johnson, Strasburg (Cedarville University)
SS – Bradley Jones, Charles Town (College of Charleston)
OF – Shane Billings, Harrisonburg (Wingate University)
OF –Zac Carter, Winchester (Freed Hardeman University)
OF –Andrew Seigel, Aldie (Concord University)
DH – Nathaniel Maggio, Winchester (University of Tennessee)
UT – Weber Pike, Aldie (University of South Carolina, Columbia)
SP – Corey Sessions, Front Royal (Davenport University)
SP –Hayden McCutcheon, Charlottesville (College of Charleston)
SP – Steven Ridings, Charles Town (Messiah College)
SP – Jake Perkins, Staunton (Ferrum College)
RP—Daniel Johnson, Charlottesville (Charleston Southern University)
RP – Cody Strayer, Covington (Shawnee State University)
2015 All-Valley League Second Team
C– Spencer Levine, Winchester (Florida International University)
1B– Esteban Puerta, Woodstock (Florida Atlantic University)
2B– Steven McLean, Harrisonburg (Baylor University)
3B– Tyler Straub, Harrisonburg (University of Texas, San Antonio)
SS– Sean Visconti, Winchester (Palm Beach Atlantic College)
Utility–Greg Lambert, Front Royal (Southern Illinois University-Carbondale)
DH–P.J. Harris, Charles Town (Alabama State University)
OF–Storm Edwards, New Market (North Carolina State University)
OF–Jared Baker, Harrisonburg (Oklahoma City University)
OF–Drew Small, Front Royal (Butler University)
SP–Reid Van Woert, Aldie (St. Bonaventure University)
SP–James Ziemba, Harrisonburg (Duke University)
SP–Matt Hartman, Harrisonburg (University of Arizona)
SP–Brock Hunter, Strasburg (Coastal Carolina University)
RP–Devin Gould, Staunton (Longwood University)
RP–Frankie Romano, Waynesboro (Stetson University)