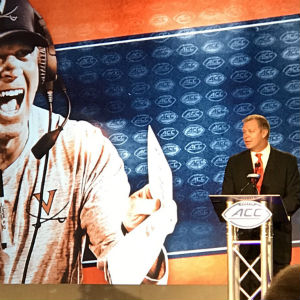 BRONCO MENDENHALL: We're anxious to continue ACC play, this time going back on the road after a good performance by our team against Miami, and so we're hopeful to carry the momentum and improvement our program is making and carry is forward into our next game. So I'm glad to take questions.
Q. You guys have handed to running backs 110 times this year, and 102 of those have gone to Jordan Ellis. I know you always talk about his conditioning, but how is he holding up and what kind of an impact do you need him to have in the second half of the season?
BRONCO MENDENHALL: Yeah, he's holding up really well conditioning-wise. We just barely came off the practice field, and he just never seems to get hurt or tired. His conditioning, there's a reason that he's at the highest level in our strength and human performance categories and standards, and we need him to continue just as he is, all the way until the season is over. So that's what we're counting on.
Q. Malcolm Cook, having him back, what does that do, and how has he looked so far in practice?
BRONCO MENDENHALL: Yeah, Malcolm is returning to full health. He's not 100 percent recovered, but just having him available in that last game was critical, as we had an injury to Rob Snyder during the game, and so at an already thin position, it allowed us to at least manage and get through the game, and as he's returning to full health, it'll just keep getting better and better in terms of the impact he can have.
Q. And is Snyder back and available now?
BRONCO MENDENHALL: Yes, mm-hmm.
Q. You mentioned Monday Coach Cutcliffe's reputation for coaching offense and teaching quarterbacks, but it seems that Duke's most marked improvement the last two years has been on the defensive side. As you have evaluated tape, what have you seen that they are doing so much better on that side of the ball?
BRONCO MENDENHALL: Well, I like their scheme, first of all, so the position they're putting their players in I think is very good. They're coached very soundly fundamentally. They played with intensity and effort and aggression. But they're also poised and disciplined. I just think they're getting quality instruction, and their system now is allowing players that have been recruited to Duke to have their best chance for success, so I think the scheme matches their personnel, and they're coached really at a high level.
I'm impressed from what I've seen, and acknowledging and liking great defense and good defense, I started paying attention when we came into the league, and I think they just keep getting better.
Q. Statistically it's the linebackers who jump off the page. Giles-Harris and Humphries specifically. Are those the ones that jump off the tape?
BRONCO MENDENHALL: Not necessarily. So they're strong and very productive, meaning that they're really consistent and they make lots and lots and lots of plays. But they're really just a component of the front seven and the collective 11, which just has players doing their jobs consistently and unified and coordinated at a really high level. But they're really good tacklers and they're active, and so I would say they're the leaders of the group, and certainly they're noticeable, but the collective 11 I think is the strength of the unit.
Q. I've been getting a lot of questions about the sequence at the end of the game, taking the points off the board. I've been telling people it was to avoid a kickoff but I'm not sure. Have you done that before? Just kind of talk about that a little bit.
BRONCO MENDENHALL: No, I haven't done it before. I've never had that exact situation. But pretty simply by taking points off the board, there wasn't going to be any more football, and we guaranteed the win. If we leave the points on the board, there's still time left and a chance to play the game, so by taking points off the board, it guaranteed our victory really with no risk, and so that's what I did and why.
Q. Talk about Daniel Jones. You played against him last year down in Durham. What do you see getting ready for him this year?
BRONCO MENDENHALL: Well, he's a quality quarterback with size and strength and intangibles, physical intangibles that come with strong production. He's being coached and has been developed by one of the best offensive minds and quarterback coaches that there is, and his play reflects it. So I think he's a very good player who's helped his team get to be 5-1, and that's really record, talks a lot about quarterback performance. I don't think you get to 5-1 without strong quarterback play, so I'm impressed.
Q. I know a lot of coaches don't look ahead, but you guys beating Miami last week, you're basically still in the Coastal Division talk to go to Charlotte. Do you try to keep your players not thinking about that and try to get them focused on one game at a time?
BRONCO MENDENHALL: Certainly. It's every team's goal to win their division and really at the halfway point there's very few teams that are eliminated from contention. The best chance to reach any of those goals is to play well the next week, which is where our focus is.
Q. You mentioned getting Rob Snyder obviously back and Malcolm coming back. From an injury standpoint, where are you with some of the other guys that you've lost? Do you have any others that are becoming available —
BRONCO MENDENHALL: Nope, no, we're the same, so no difference from our game against Miami other than, again, Rob and Malcolm's status, which we just talked about.
Q. Are there any takeaways from last season when you got off to a 5-1 start and struggled down the stretch?
BRONCO MENDENHALL: Not necessarily. A few just key manifestations is ACC is long and grueling and difficult. It stresses roster depth and quality, and those two things really are manifest, so our roster is becoming deeper, but it's not significantly deeper. The ACC stretch is coming up, which is a huge test, and so really those things were the two key factors in our season.
Q. A little bit of a touchy question. I understand the need for safety, but you're seeing a lot of defensive players being ejected for targeting, and they can't really change the angle when the running back changes their angle. Do you have any thoughts on that?
BRONCO MENDENHALL: So you broke up there about halfway through the question, so I didn't hear the full question.
Q. Does the NCAA need to change a little bit and look at time and space when we're talking about targeting?
BRONCO MENDENHALL: Oh. Well, it's tough. There are hits that I think are ending up being targeting that I don't think are intentionally designed to be targeted by a defensive player, so there are some of those happening, and then there are certainly others that are clearly targeting, and everyone on the field and in the stadium knows that. I think it's still a work in progress. I still think it has possibilities to be improved. I'm talking about the rule for its intent, which is player safety. So I don't think it's perfect yet.