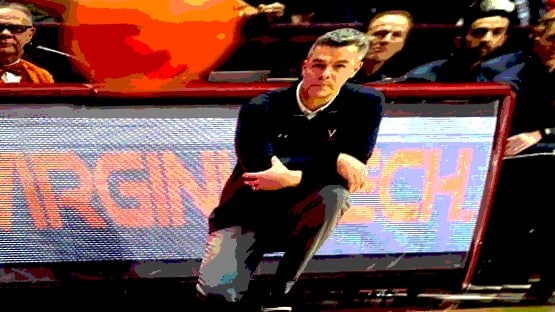 With a fresh slate of scholarships available for the class of 2024, Tony Bennett and the Virginia men's basketball staff are hoping to make a few lasting impressions on upcoming fall visits from some of the most talented players in the country.
Priority target Kon Kneuppel, a sharpshooting wing from Wisconsin Lutheran in Milwaukee, added a few stops on his personal fall tour of college campuses, announcing visits to Marquette (Aug. 28) and Wisconsin (Sept. 12) to coincide with trips to Alabama (Sept. 8), UVA (Sept. 14) and Duke (Sept. 15).
Listed at 6-foot-5, 205 pounds, Kneuppel previously said he would prefer to make his choice after his visits and prior to his final season at the high school level.
He would be UVA's highest-rated prospect of the Bennett era — he's ranked No. 9 nationally by On3, No. 15 by Rivals and No. 21 by 247Sports. On3 and Rivals have him listed as a five-star, while 247 rates him as a four-star.
Kneuppel, who was in attendance at John Paul Jones Arena for the Wahoos' overtime win over the Blue Devils last season, would have a few Wisconsin connections at UVA in Bennett, incoming transfer sophomore Andrew Rohde and redshirt freshman Leon Bond III.
Regarded as the best shooter in his class, Kneuppel was the top scorer on the Nike EYBL circuit, pouring in over 22 points per contest across the four regular-season sessions.
There doesn't seem to be a clear favorite for Kneuppel's services heading into the fall, so it could very well come down to which school wows him the most while he's in town on his visit.
There's also a trio of talented 2024 forwards — Matthew Hodge, Jacob Cofie and David Punch — with visits to Charlottesville planned for this fall.
Hodge is a 6-8, 200-pounder from St. Rose HS in Belmar, N.J., and was teammates this summer with UVA first-year redshirt guard Christian Bliss and 2025 recruit Darius Adams with the PSA Cardinals on the AAU circuit (in case you missed it, Bliss recently decided to reclassify to 2023 and is officially enrolled at UVA for the fall semester).
His father, Odell Hodge, had a standout career at Old Dominion in the mid-90s, and remains close friends with Wahoo associate head coach Jason Williford.
Hodge is currently rated as a three-star prospect, but as his stock continues to rise, that status could certainly change to a four-star by this time next year. Rivals has him ranked as the No. 22 small forward in the country in the '24 class; On3 has him at No. 34 at that position; 247 has him at 39. He's ranked No. 128 overall in the latest 247 composite.
He recently trimmed his list to 10 schools: UVA, ODU, Maryland, Pitt, Penn State, Villanova, Xavier, Seton Hall, Marquette and Alabama.
Hodge, described as a versatile, athletic, two-way forward who can knock down the long ball and defend every position on the floor, has already made official visits to ODU and Villanova (the Wildcats are considered one of the early frontrunners) and will be visiting Xavier and Penn State next week, then will stay on the road in September for a few more visits (Marquette on the 7th; Maryland on the 14th; Virginia on the 21st).
Hodge, who was born in Belgium, revealed in a recent interview with Pro Insight that UVA was one of his three "dream schools" growing up, along with Villanova and Duke. He said in another interview that receiving an offer from the Hoos was "special," and "an honor."
He's had a longstanding respect and admiration for Bennett and his system. Hodge said his goal is to play in the NBA, but added that he wishes to pursue a degree first.
If he ultimately winds up wearing the orange and blue, it could end up being a package deal of sorts. His little brother, Jayden, a guard in the class of '26 who also played with PSA, said he'd definitely be drawn to whatever school his big bro is playing for, should that school show interest — stay tuned.
Meanwhile, Cofie will be visiting on Sept. 8 (the weekend of the UVA-JMU football game). He's a 6-9, 225-pound big man from Eastside Catholic HS in Sammamish, Wash.
He's rated the 14th-best power forward nationally by Rivals; No. 22 by On3; No. 25 by 247. Cofie, who's regarded as the top player in the state of Washington by the latter two recruiting services, is ranked 88th overall in the 247 composite.
Cofie, who has already made official visits to Washington and Oregon, is in no hurry to make a decision regarding his future home, and plans to announce a list of finalists in the next few months before committing in the spring.
Despite gaining a ton of attention from West Coast schools, Cofie, who also holds offers from UConn and Ohio State and is being courted heavily by Florida, insists that being so far away from home would not have any impact on his college choice, should he end up elsewhere.
Cavalier assistant Ron Sanchez, who's back on Bennett's staff after spending the past few seasons as head coach at Charlotte, has been the lead guy in terms of Cofie's recruitment.
The most recent scheduled visit was announced by Punch, who will be on Grounds on Oct. 20. He has trips lined up for Penn State, NC State, TCU and Virginia Tech next month, followed by a trip to Xavier on Oct. 13 prior to his final stop in Charlottesville a week later.
The Texas native checks in at 6-7, 205 pounds, and is also touted as an athletic, high-energy forward. He's known as a solid rebounder as well, and was included in analyst Jamie Shaw of On3's top 10 rebounders in the class of '24. Punch put up 13 points and 9 boards per game during the Peach Jam last month, picking up second-team honors in the process, and was offered a scholarship on a Zoom meeting with the entire Virginia staff soon thereafter.
He will be transferring to Dynamic Prep in Dallas for the upcoming season, and plans to come to a decision in January or thereabouts.
On3 has Punch penciled in as a four-star prospect and the No. 17 power forward in the country, while 247 rates him a three-star and the 23rd-best player at his position. Rivals has yet to rank him.
With Bliss' scholarship being moved up a year, the Hoos are hoping to land at least one, if not two of the aforementioned recruits in the coming months. Depending on how it all shakes out, the next few weeks could prove to be one of the more crucial recruiting stretches in terms of the future success of the program. Now, it's up to the staff to prove to these young men why they should make UVA their future home.