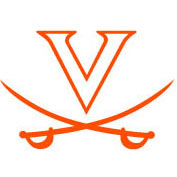 The Virginia baseball team notched an 8-5 victory over Marist Tuesday evening at Davenport Field. Chris Taylor (Jr., Virginia Beach, Va.) and Keith Werman (Sr., Vienna, Va.) each posted three hits for the Cavaliers (10-5-1).
The teams will play again at 5 p.m. Wednesday at Davenport Field.
Virginia starting pitcher Branden Kline (Jr., Frederick, Md.) worked 6.0 innings, allowing five runs (two earned), eight hits and two walks while striking out five. Austin Young (So., Mechanicsville, Va.) tossed 2.1 scoreless innings, and Justin Thompson (Sr., Danville, Va.) worked out of a jam in the ninth inning to record the final two outs and pick up his second save.
Marist starter Rich Vrana (0-1) worked into the fourth inning in taking the loss. In 3.0 innings he gave up seven earned runs, eight hits and three walks.
UVa finished with 14 hits, as Derek Fisher (Fr., Rexmont, Pa.), Reed Gragnani (Jr., Richmond, Va.) and Colin Harrington (Jr., Johnstown, Pa.) each recorded two hits. Alec Petrone had three hits for Marist (3-6).
Virginia needed just three batters to score the game's first run, as Taylor and Harrington hit back-to-back singles to start the inning, and Stephen Bruno (Jr., Audubon, N.J.) grounded into a double play to bring Taylor home.
Marist took advantage of a pair of UVa errors to score four times in the second; only one of the runs was earned. With one out Pat Welsh doubled and he moved to third when Bruno committed an error on a Mark Stuckey grounder. Mark Brennan was hit by a pitch to load the bases, and Petrone ripped a double to the right-field corner to score a pair. Jake Berry grounded out to score Brennan before a Bruno throwing error enabled Petrone to cross the plate.
UVa came right back with four runs in its half of the second. Fisher led off with a single, and one out later Branden Cogswell (Fr., Ballston Lake, N.Y.) was hit by a pitch. Werman loaded the bases with a bunt single, and Taylor then lined a two-run single to left-center. Harrington advanced the runners with a sacrifice, and Bruno followed with a two-run double to left to give UVa the lead back.
Fisher led off the third inning with his first college home run, a line shot just over the right-field wall.
The Cavaliers tacked on a run in the fourth on a Gragnani RBI single to score Harrington, who walked to lead off the inning. Marist got that score back in the sixth on consecutive two-out singles by Petrone, Berry and Zach Shank.
UVa got the run back in its half of the sixth as Jared King (Sr., Radford, Va.) walked with two outs, stole second and scored on a Gragnani single up the middle, pushing the lead to 8-5.
Marist loaded the bases with one out in the ninth inning, but Thompson came on and got Welsh to line out to second base and Stuckey to hit a lazy fly ball to center to end the game.