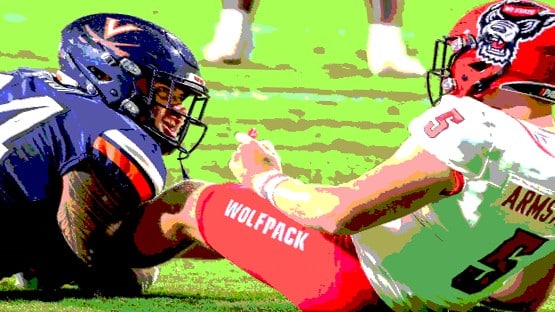 Brennan Armstrong, two years removed from his record-setting season at Virginia, is out as the starting quarterback at NC State.
"It's clear that we need a spark on that side of the ball, and MJ Morris is going to take over as our starting quarterback. He is ready to lead the offense," State head coach Doeren said at his weekly press conference on Monday. "Plans sometimes need to change. The time is now because it's what's best for our team. MJ's excited for the opportunity lead the football team. I do believe that he's ready."
Armstrong has struggled, to say the least, to make the transition at State after three years as the starting quarterback at UVA, where he holds a number of single-season and career passing records.
The sixth-year senior is averaging 194.2 passing yards per game and completing 58.8 percent of his passes, with five TD passes and six INTs, and a 112.5 passer rating.
His struggles have been a big reason that the Pack, picked fourth in the ACC in the preseason, with hopes that they could sneak into the ACC title picture if one of the programs ahead of them would falter, is just 3-2 through five games, with a dispiriting 13-10 loss to Louisville on Friday night the latest setback.
In that one, Armstrong was 13-of-25 for 112 yards and two INTs, with 61 yards on the ground.
Armstrong, back in 2021 at UVA, Armstrong averaged 404.5 passing yards per game and completed 65.2 percent of his passes, with 31 TDs and 10 INTs, and a 156.4 passer rating.
That was with Robert Anae, now the offensive coordinator at State, running the offense at Virginia under Bronco Mendenhall.
After Mendenhall stepped down, new coach Tony Elliott hired Des Kitchings to install a pro-style offense that Armstrong and veteran receivers Keytaon Thompson, Dontayvion Wicks and Billy Kemp didn't take to in 2022.
BA, in the 2022 season at Virginia, averaged 221.0 yards per game, with a 54.7 percent completion rate, seven TDs and 12 INTs.
The thought was that reuniting with Anae at State would get Armstrong back on track with where he'd been in 2020 and 2021.
Turns out, not so much.
"This is the right time to do this for the football team," Doeren said Monday. "For what this team needs, it needs a spark and I do believe MJ can be that for our offense. But let me make this clear, changing the quarterback, everyone has to be better. This isn't throwing Brennan under the bus and pinning it on him. It's the opposite. It starts with me, and I own that. Everyone has to be what changes."