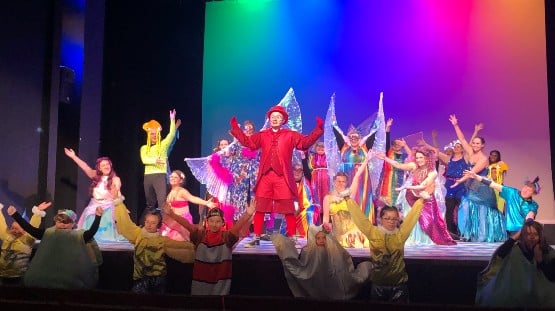 The story and characters in this month's production at The Wayne Theatre may appear to behave differently than in previous shows.
Most of the characters in this month's production live under the sea, and one of them wants to be a part of the world of humans.
The Wayne will bring to the stage the story of "The Little Mermaid."
"I think exploring identity is important," said The Wayne Theatre Artistic Director Leslie Larsen, who directed this month's production. "And exploring self-discovery is something I think that everyone, no matter how old they are, they go through that."
The Wayne's production approaches Ariel's father differently than the 1980s cartoon by bringing tenderness to his character, who is portrayed by Waynesboro High School Choir Director Jeff Ryman.
Forty-two actors will bring "The Little Mermaid" to the Waynesboro stage.
"One of our largest casts in a very long time," Larsen said.
Larsen said she hopes that, first of all, the audience has a great time when they see the production, which is intended for individuals of all ages to enjoy. But she also hopes the production encourages them to think of how they relate to their own journey of self-discovery and how they fit in their own lives. And if you do not fit in, then what do you do?
"And, that's what I really love about Ariel's journey. She leaves her world. She changes species to chase after a dream," Larsen said.
Merab Yeomans has been seen before on The Wayne Theatre stage as one of the urchins in "Little Shop of Horrors." For the next two weeks, however, she will bring Ursula to the stage in all her octopus-ness and villain glory.
"She is big shoes to fill," Yeomans, who grew up in Stuarts Draft and lives in Staunton, said. "There are a lot of things about her where it's like 'why is she the way she is and why does she do these things?'"
She spent time preparing for her role by unraveling Ursula's story with Larsen, and pinpointing how she became the villain of "The Little Mermaid."
"What does being an octopus do to the character?" Yeomans said. "How does she walk and stand and talk, and all of the little details?"
She has seen the 1980s Disney cartoon, but not the new movie.
"[Ursula is] such a fun character to play," Yeomans said.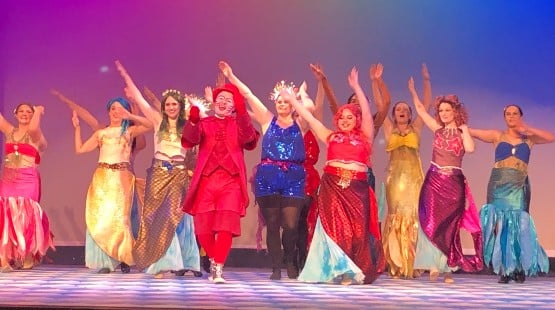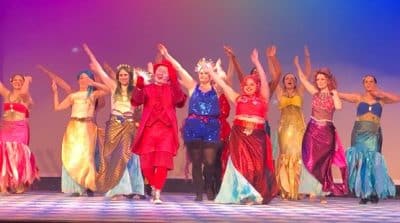 She added that when you play a villain, it is important to analyze the character's behavior and learn lessons from them.
"It's kind of tricky playing a villain because I'm not somebody who relates to a lot of things that she has been through," she said. Villains are often not perceived with compassion for why they became who they are.
For example, Ursula is an octopus, but the rest of her family, including her brother, King Triton, are mermaids. Yeomans had to work out for herself how that would have an impact on Ursula's life.
"She's very misunderstood," Yeomans said.
Following Disney's recent take on "The Little Mermaid" with a Black actress portraying Ariel, Chloe Rogers of Charlottesville makes her Wayne debut. She previously performed in "Twelfth Night" at UVA and "Into the Woods" at Live Arts.
To prepare for her role as Ariel, Rogers said she thought a lot about what she would do if she were 16 years old again and in Ariel's situation.
"I feel like I forgot what's it like to be a teenager," Rogers said, so she watched current television shows about teenagers. "OK, so I understand everything now."
In other performances, Katey Hallock will bring red-haired Ariel to the stage. Hallock was previously seen in "Little Shop" and also performed in ShenanArts' production of "Newsies." She watched the 1980s cartoon and the new movie.
Rogers hopes audience members take away from the production inspiration to always go after what you want.
Hallock said she hopes audience members get a new look at the story: the classic story of family and friendship and love.
"The Little Mermaid" will be on stage August 18 to 20 and August 25 to 27. Tickets are available online.