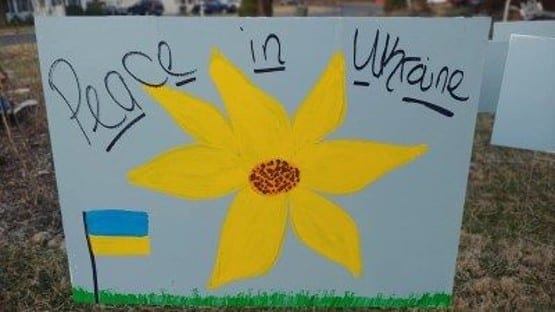 A three-day international workshop in late August was the first step for a project that will rebuild schools in Ukraine.
Ukrainian and European architects, educators, ministers and project donors attended the workshop in Kyiv, which was organized by Ukrainian urban bureau Big City Lab.
More than 3,000 schools in Ukraine have been damaged by the war with Russia, and more than 300 destroyed.
The program will expand nationwide with five building concepts of typical Soviet-era schools, and reconstruction is expected to allow the schools to reopen in September 2024.
"Together with the Ministry of Education and Science we have developed a strategy for education transformation. It involves lots of changes, starting with the approach to teaching, shifting perception around the teaching profession, and reconstruction of educational facilities. We want to transform the system and ensure that children want to go to school," said Mykhailo Fedorov, Vice Prime Minister for Innovations, Development of Education, Science & Technologies — Minister of Digital Transformation of Ukraine.
Big City Lab CEO Viktoria Titova said that a list of schools for priority repairs was created after analysis by local authorities.
"Finally, the selected schools will have principals that align with the project values, are open for cooperation and have the potential to become strong partners for scaled up projects all over Ukraine," Titova said.
Architects will develop concepts for the new schools based on in-depth research conducted by Ukrainian urban specialists. Research draws on student focus groups, discussions with school principals and in-depth interviews with education experts.
"Today, our country is fighting for us and our future. The future of our children. The reconstruction and rebuilding of our cities, infrastructure, housing and, especially, schools should be guided by the buildbackbetter principle. Our children and the next generations deserve a better world and a comfortable and friendly environment for a better education," Natalia Yemchenko, SCM's Director of Public Relations and Communications and member of the supervisory board of Mariupol Reborn, said.
Mariupol's Mayor Vadym Boychenko said schools are not just about education. They create a place of power for children.
"This is what we had been doing over the past few years in Mariupol before the full-scale war began. This is what we will be doing after our victory. I thank the government for the quality transformation of the education sector. Together we can create new opportunities for our children," Boychenko said.