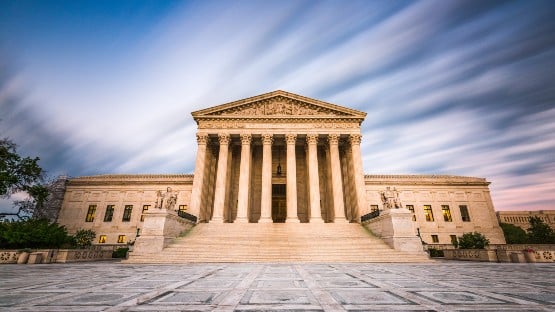 The bought-and-paid-for Republican Supreme Court issued another tortured ruling on Thursday, this one rolling back Clean Water Act protections for wetlands.
The ruling in the case styled Sackett v. EPA limits Clean Water Act protection for wetlands to those with a "continuous surface connection" to other "Waters of the United States," which will remove federal protections for the majority of the nation's wetlands.
Previous rulings from non-Trump-majority high courts had protected any wetlands with a "significant nexus" to Waters of the U.S., and for decades the Clean Water Act has covered wetlands that are "adjacent" to those waters.
In Sackett v. EPA, the court found that a landowner did not need a federal Clean Water Act permit to fill in a wetland lacking a "continuous surface connection" to a water body flowing into Idaho's popular Priest Lake, which provides important cutthroat trout habitat.
"We are disappointed with the Supreme Court's ruling. The court has severely eroded a 50-year national commitment to clean water, and misses the obvious point that wetlands are often connected to streams through subsurface flows," said Chris Wood, president and CEO of Trout Unlimited.
"For 50 years the Clean Water Act has been instrumental in revitalizing and safeguarding drinking water sources for people and wildlife, wetlands for flood control, and habitats that sustain our wildlife heritage," said Jim Murphy, director of legal advocacy for the National Wildlife Federation. "Federal protections that don't depend on local politics or regional polluter influence are essential to vulnerable and disadvantaged communities nationwide.
"The court's ruling removes these vital protections from important streams and wetlands in every state. We call on both Congress and state governments to step in, plug the gap, and protect our threatened waters and the people that depend on them," Murphy said.
The ruling is the latest in a decades-long debate over which streams, rivers, and wetlands should be protected by the Clean Water Act. In 2015, the Obama administration approved a Clean Water Rule, which would have confirmed protections for small "ephemeral" and "intermittent" streams, headwaters, and wetlands.
That rule, though, was blocked by the courts, repealed by the Trump EPA, and briefly replaced with the Navigable Waters Protection Rule, which offered weaker protections for small streams.
In findings published in a peer-reviewed journal, Trout Unlimited showed that half of all waters in the contiguous United States would have been unprotected under the Trump administration rule.
The Biden administration EPA finalized a new rule in March, which reinstated Clean Water Act coverage for millions of miles of streams and millions of acres of wetlands.
Today's Supreme Court ruling will almost certainly lead to more confusion and litigation in the coming years over the Clean Water Act, the revised Waters of the U.S. rule, and protections for wetlands and streams.
"The ruling is a victory for muddy thinking, and directly compromises the stated purpose of the Clean Water Act—to make our rivers and streams more fishable, swimmable, and drinkable," Wood said. "It is critical that the Biden administration continue advocating for a 'Waters of the U.S.' definition that is rooted in science and ensures protection of the small streams and wetlands that provide clean water for people, communities, businesses, farmers, and fish and wildlife."