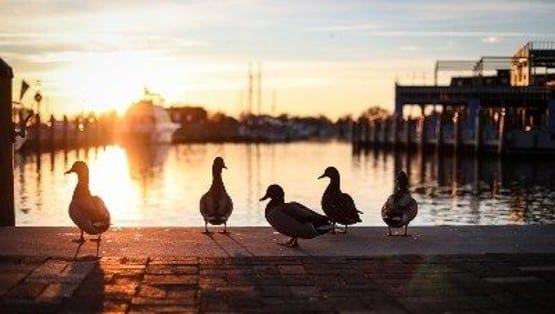 The Chesapeake National Recreation Area would be a land-based, 21st Century park and unite the new and existing National Park Service sites and trails.
U.S. Sen. Chris Van Hollen and Congressman John Sarbanes, both of Maryland, introduced the Chesapeake National Recreation Area Act to create the Chesapeake National Recreation Area (CNRA).
The area would also unite partner parks to increase public access to the Chesapeake Bay and create a national park-worthy visitor experience for all to enjoy.
A July 2022 public opinion poll one year ago revealed profound support for National Park Service status for the Chesapeake, with 83 percent of Maryland, Virginia and Washington, D.C. respondents in favor. A congressional working group was formed in June 2022, and draft legislation was shared in November 2022. Hundreds of public comments were submitted.
"There is only one Chesapeake Bay, and everyone deserves a chance to experience its wonders. Working together to create a Chesapeake National Recreation Area would expand public access to the largest estuary in the world, bring economic growth to nearby communities, and help the National Park Service, native Tribes, and Chesapeake watermen interpret thousands of years of impactful history. Introducing legislation is the next step to make the dream of this park a reality," – National Parks Conservation Association (NPCA) President & CEO Theresa Pierno said.
Rappahannock Tribe Chief Anne Richardson said the Bay "has nourished Indigenous people both physically and spiritually for more than 10,000 years. The Chesapeake National Recreation Area would help educate our young people about the long-standing connection between the Chesapeake Bay and American Indians and ensure that the bay's plants and animals, which are so essential to the sustaining power of life for everyone, are protected while preparing our next generation of leaders for the future."
Retired National Park Service Director Bob Stanton said the NPS serves as one of the nation's foremost storytellers and stewards.
"The Chesapeake National Recreation Area would allow all of the American people and our international visitors to learn about our country's history and how the Chesapeake Bay has been the landscape of Indigenous history, European exploration, colonialism, independence, slavery and freedom," Stanton said.
The Bay is an unrivaled natural resource and national treasure, according to Sarbanes.
"By designating a unified National Recreation Area for the Chesapeake Bay, we are elevating the regional stories that shaped our nation's history, promoting the spirit of stewardship across the watershed, investing in our economy and protecting the Bay for future generations. I am grateful to the thousands of individuals who have engaged with us over the last several years to help shape this legislation to reflect the priorities of Maryland residents and communities across the watershed. I look forward to the continued collaboration of federal, state, local and private partners as we work to pass this legislation," Sarbanes said.
Van Hollen said that the idea to create the CNRA has been discussed for more than 40 years.
"But today we're moving that vision one big step closer to reality. After two years of working together with folks across the Bay – from residents, to environmental advocates, to local officials in Maryland and Virginia, to those who make their living from the bounty of the Bay — today's introduction of bipartisan Chesapeake National Recreation Area legislation is a significant milestone toward bringing greater national recognition and opportunities to the Bay we cherish," Van Hollen said. "We're grateful to the thousands of individuals who shared their thoughts with us on how to make the original proposal even stronger. This feedback not only helped us make sure this bill responds to community needs, it also revealed deep, diverse, and widespread support for what we seek to accomplish by creating this CNRA. We'll be working hard to get this bill passed in order to mobilize sustainable federal support for Bay restoration, generate more prosperity for those whose livelihoods depend on a vibrant Bay, spotlight its unique story and place in American history, and encourage greater public access to and enjoyment of everything it has to offer."
Co-sponsors include Sens. Ben Cardin of Maryland, Mark Warner, and Tim Kaine of Virginia and U.S. Reps. Don Beyer of Virginia, Gerry Connolly of Virginia, Steny Hoyer of Maryland, Glenn Ivey of Maryland, Jennifer McClellan of Virginia, Kweisi Mfume of Maryland, Eleanor Holmes Norton of D.C., Jamie Raskin of Maryland, Dutch Ruppersberger of Maryland, Bobby Scott of Virginia, David Trone of Maryland and Rob Wittman of Virginia.