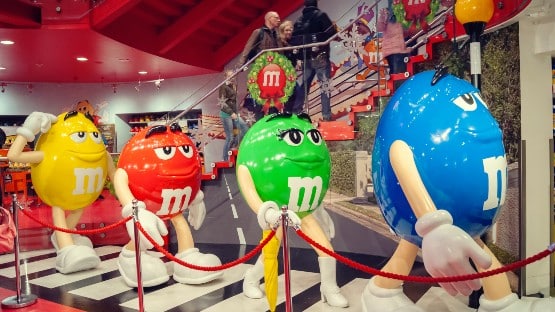 I, for one, and this may just be me, but I don't find the M&M's spokescandies, in any way, sexy.
There, I said it.
Among those who differ with me on this: Fox News weirdo Tucker Carlson.
Carlson, putting the limp-dick energy to "melts in your mouth, not in your hand," has been railing at the candy company for making the spokescandies in its commercials "deeply unappealing and totally androgynous, until the moment you wouldn't want to have a drink with any one of them."
He actually said that.
You know, because who doesn't fantasize about plying one of those sexy M&M's with a Zima and, you know, letting things happen from there, amirite?
Carlson, of course, is playing all this up not as an odd chocolate fetish – we can only imagine the endless orgasmic moaning and groaning emanating from the palatial Carlson estate at Halloween – but rather another one of his stupid culture wars.
"Bet you didn't think M&Ms were pushing intolerance, but they were, they've been changed," Carlson said. "You're seeing those changes on the screen. The green M&M, you will notice, is no longer wearing sexy boots. Now she's wearing sensible sneakers. Why the change?"
The effort here, according to Carlson, was to make the candies go "woke."
I wish I was making this up.
"That's the goal. When you are totally turned off, we've achieved equity. They've won," Carlson said.
It'll be alright, big fella; Easter is around the corner.
What you and that oversized chocolate Easter bunny do is between you and that oversized chocolate Easter bunny.