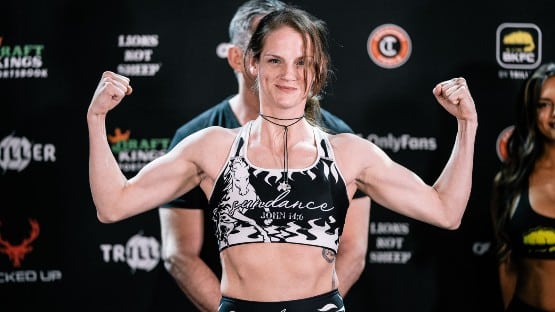 Sydney "Sundance" Smith is the #4 contender for the Bare Knuckles Fighting Championship world strawweight title after her May 12 upset of then-#2 contender Andy Nguyen.
It was a career-defining win for Smith, 31, an Augusta County native who has been making her way in the rough and tumble world of MMA for going on a decade.
Everyone who watched was impressed with Smith's bare knuckles debut.
Except, that is, for Smith.
"Honestly, the win for me, I wasn't happy with it," Smith said. "Um, you know, after the fight, we came out and, you know, I told my corner, I was, like, I was frustrated with the fight, you know, I felt like it wasn't a good fight for me. I've been out of the cage for a year, you know, and I really wanted a war. So, I just kind of walked away more frustrated than anything."
Smith dominated the five-round fight, which she won by decision, landing 61 punches to Nguyen's 26, though Nguyen did score the fight's only knockdown.
By and large, Smith was frustrated by Nguyen's lack of engagement in wanting to mix it up, which forced Smith to have to hunt and peck her way from the outside.
Smith was worried that the plodding pace of the fight might make it hard for her to get higher-profile fights down the road.
"It took me a while, like days, to really to like really feel decent about the win," Smith said. "Honestly, it really took, like, the higher-ups at the promotion coming out and finding me after the fight and being like, hey, you know, like, don't listen to the crowd, like, the people who matter were impressed with you, and then having other fighters randomly encouraging me and being like, that was awesome, like, what you did was awesome.
"It took a lot of that for me to even be like, OK, well, what I did was cool," Smith said.
MMA as therapy
Smith, a Riverheads High School alum, has been, in a sense, fighting all her life.
In a feature on Smith written by News Leader reporter Patrick Hite in 2021, she described her relationship with her father, Richard – her nickname for him was "Sundance" – as "dysfunctional."
On the one hand, he encouraged her to run, and she was on the cross country and track teams in high school, with Richard helping guide her training around the family farm in Middlebrook.
The flip side: Hite, in the piece, notes that Richard once fired a gun at Sydney, leading her to seek a protective order against him.
Smith said her father had a drinking problem and mental health problems, and she has issues of her own in that respect, attempting suicide in a high school bathroom, twice spending time at the Commonwealth Center for Children & Adolescents, then being sentenced to drug court after an alcohol-fueled felony hit-and-run in 2011.
---
If you or someone you know needs support now, call or text 988 or chat 988lifeline.org.
---
It was while she was in that treatment program that Richard died.
Running had been her therapy in high school; punching bag became her therapy when he passed.
Tough as nails
Smith made her amateur MMA debut in 2014, with wins in her last three amateur fights, her game improving as she learned how to balance work, training and a myriad of serious health issues.
Smith struggled for seven years with what would eventually be diagnosed as endometriosis, a dreadfully painful disorder in which tissue similar to the tissue that normally lines the inside of the uterus — the endometrium — grows outside the uterus.
The reason she had to struggle with endometriosis for years was because she went undiagnosed for years.
Her first specialist told her point-blank that she was "making it all up, that the scar tissue was in my head," she said.
That she kept training and kept fighting is a testament to how otherworldly tough she is.
"I was, like, on the ground, on the mats, in between rounds, sparring people and stuff, you know, but I was still doing it. I still did it because I'd already signed up. Yeah. And it was like kind of just like, getting worse, and so I fought, and then it just kept getting worse," said Smith, who defeated Kelsey Gilmore by unanimous decision in a 2019 amateur fight, but then had to go on hiatus from fighting.
"Imagine every single thing that you do, literally to down to like wearing your seatbelt to the way that you turn to, I had to train my dogs to get me up off of the ground when I couldn't get up. It would put me on the ground like, and I would just be in a ball like trying to push it and like put pressure on it, which sounds counterintuitive, but it actually like, I don't know how to explain it, but yeah, just stop," Smith said.
As doctors continued to try to figure out what was causing her health problems, she would drop down to 115 pounds, her fighting weight – her walking around weight is usually between 130 and 135.
"I felt really awful, and I was very, very depressed and like, oh, I would rather have died than kept feeling like that, and just kind of like the hopelessness of it all," Smith said.
Aeneas
A second specialist discovered the cause, and two surgeries later, she'd not only healed, but came out with surprise news: that she was pregnant.
"That's when I ended up being blessed with my son, ironically, which is kind of crazy," Smith said.
Smith named her 2-year-old son, Aeneas, for the mythical hero of Troy and Rome, who she learned about in high school through her five years of Latin classes, the last two spent translating The Aeneid.
Her life is full of complications, and this was another. She didn't assume that her fighting career was over when she found out she was pregnant, but she knew it was on hold again.
Aeneas is the best thing to have happened to her.
"I was in a really dark place because of all the pain and stuff that I had been in. I think he helps keep me on track," said Smith, who takes her toddling training partner with her to the gym, where he can more than hold his own.
"He's got his own little punching bag, he's got his own boxing gloves, and he'll be like, he's throwing straight punches, he knows how to block. I didn't teach him to block. He just watched us so much that he taught himself," Smith said.
"Honestly, it's a lot easier than I thought it would be," Smith said. "I mean, it's really hard sometimes, you know what I mean, but like, in the grand scheme of things, it's really cool, it's so cool to have him with me, and that he loves it, and not forcing it on him. He's just around it all the time, and he likes it. You know, he's a feisty little thing."
Eyes on the prize
Just like his mother.
Smith trains at Gottardi Boxing in Fishersville and the MMA Institute in Bridgewater.
She's in the gym six days a week, with her eyes on the big prize – a world title shot.
"I'm coming from the belt. Yep. Yeah, that's 100 percent," Smith said. "By the end of the year, or the beginning of the year, next year, whenever they'll give it to me, like I'm coming through, I'm coming to fight everybody, anybody and everybody, and I'm going to show the world that I've got it, you know what I mean? Like, you can doubt me if you want to, but I've just proven it, and I'll prove it again. And I'll prove it again, and I'll prove it again. Like, I'm here to stay. I'm a force to be reckoned with, you know what I mean?"
She's survived a suicide attempt, a fiery car accident, years of an undiagnosed medical condition that would cripple even the meanest and nastiest of the rest of us, not to mention a decade in MMA.
Sydney "Sundance" Smith is a force to be reckoned with, indeed.
"I can't even imagine doing anything else," she said. "You know, someone the other day was, like, you know, normal people, they're out for a year, and they keep being out, and this stuff keeps happening, because I was going through these issues I've had those for, like, seven years, been through surgeries, all kinds of stuff. And, you know, he's like, most people would quit.
"I can't," she said. "Everything I do is geared with, when can I fight? How can I get back to fighting condition? How can I work around this or whatever, you know. It's just who I am now. You know what I mean? I don't know what else to do."