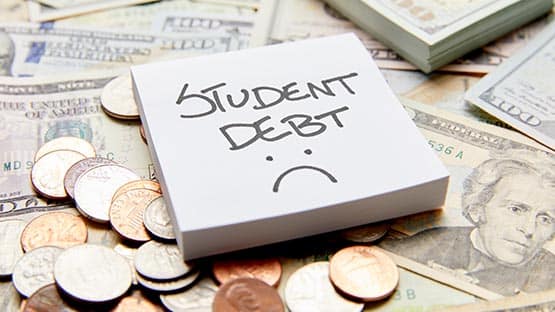 More than a hundred student loan borrowers, activists and allies will gather outside the Supreme Court starting at 6 p.m. tonight in anticipation of Tuesday's hearings on legal challenges to President Joe Biden's student debt relief program.
More than 40 million Americans with student loans will be impacted by the outcome of this case. The program would cancel up to $20,000 of student loans for some borrowers.
"The Supreme Court will decide whether the lives of 40 million Americans waiting for the specific COVID emergency relief on federal student loan debt are more important than the right-wing think tank funding campaign to doom one of President Biden's most popular, and clearly Constitutional, policy wins," said Melissa Byrne, executive director of We the 45 Million, a leading student debt relief organization. "We'll be there to make sure when that when they make these decisions – they will do so with the people most impacted by this – student loan borrowers – will be in front of them.
Nearly 100 students borrowers plan to camp out at the overnight event hosted by We The 45 Million, MoveOn.org,  and Rise.
The event will feature borrowers telling stories about their debt, a jazz and drum band performance, late night snacks and members of Congress stopping by to speak to constituents.
On February 28,  two challenges to President Biden's student loan relief program will be heard by the Supreme Court, resulting in a decision that will likely determine the fate of the program.
The first challenge, Biden v. Nebraska, is led by a group of six Republican-led officials and the second challenge, DOE v. Brown is backed by a right-wing front group representing one plaintiff who had already applied for and received government loan forgiveness and a second who qualified for President Biden's student loan relief program.
"Hundreds of college students and student loan borrowers from across the country are descending on the Supreme Court on Monday and Tuesday because of what's at stake" said Max Lubin, co-founder and CEO of Rise, Inc., a nonprofit that advocates for free college and student debt relief. "We're here to fight for the 40 million student loan borrowers who have been promised relief from the rushing burdens of student loan debt."
Related stories
Rally supporting student debt cancellation to take place outside Supreme Court
Student loan repayment plan could reduce monthly bills by 50 percent for some borrowers
Student loan borrower eligibility will be determined 'if and when we prevail in court'
Relief for student loan borrowers on hold; payment pause extended again
Biden student loan forgiveness on hold after Texas judge calls relief 'illegal'