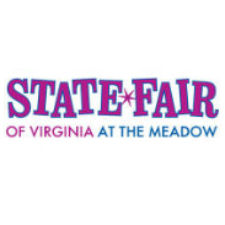 Official attendance figures show 238,000 people visited this year's State Fair of Virginia, a 4 percent increase over last year's attendance.
"We couldn't have asked for a better combination of mostly sunny skies, cooler temperatures and large crowds. We are thrilled with the attendance figures," said Greg Hicks, the fair's vice president of communications. "Last year's fair was a success, and we incorporated lots of guests' suggestions when planning for this year's event. We think the extra effort paid off, and visitors got a healthy dose of agriculture, food, rides and entertainment."
Fairgoers kept fair food traditions alive by eating fluffy cotton candy, crusty corn dogs, savory sausage sandwiches, giant turkey legs and crispy elephant ears. They also discovered new favorites, including Twinx, deep-fried Twinkies stuffed with Twix bars and wrapped in bacon; deep-fried Virginia country ham biscuits; and Piggyback Burgers, hamburgers topped with pork barbecue and fried onion rings. Some fairgoers enjoyed the State Fair's new signature beer, Virginia Midway, made with local honey byMidnight Brewery in Goochland County.
Those visiting The Meadow Event Park in Caroline County between Sept. 26 and Oct. 5 also had plenty of rides and games to enjoy, livestock competitions to watch and alligator, canine and rattlesnake shows to see.
Participants in the 4-H and ffa youth livestock competitions were offered up to $70,000 in scholarship money, and hundreds of adults and youth who competed in arts and crafts, baked goods, crops and vegetables, honey and plant competitions earned recognition, ribbons and cash awards.
"The State Fair Scholarship Program is a time-honored tradition we are proud to continue each year, and we feel that there are many deserving young people who benefit from this program," Hicks said.
Other continuing traditions included the fair's commercial wine competition, the Black Tie & Boots gala benefit, the Miss State Fair of Virginia pageant and the State Fair Parade. Taylor Reynolds of Chesterfield County was named the 2015 Miss State Fair of Virginia and will compete in the Miss Virginia pageant next June. During the parade, the Lancaster High School Red Devil Band of Lancaster County captured the fair's Marching Band Championship Cup.
New events included a Salute to Secretariat on both weekends, during which descendants of the famous racehorse were present; an NFL-sanctioned Punt, Pass & Kick competition; and a Latin music festival.
"We especially want to thank all of the families and other fairgoers who came out and made this fair a success. Without them, there would be no fair," Hicks said. "And we hope even more Virginians will bring their friends and families to the State Fair next year."
The 2015 fair will be held Sept. 25 through Oct. 4.