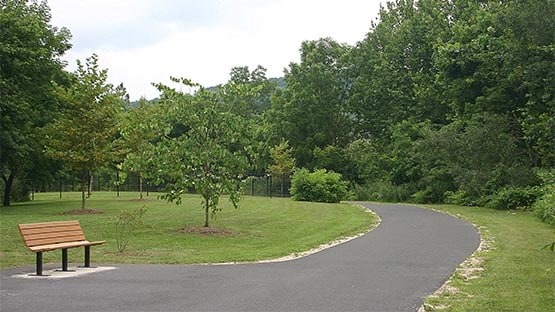 The Waynesboro Parks and Recreation Department is hoping to begin an extension of the South River Greenway from North Park to Basic Park in 2024.
The immediate plans for the Greenway, already a popular place for residents and tourists to walk, fish or cycle from sunrise to sunset, will include an additional mile of trails connecting two city parks. Eventually, the goal is to also connect the Greenway from the Loth Springs Trailhead (near the Waynesboro YMCA) to Ridgeview Park at 700 S. Magnolia Ave.
The current Greenway runs approximately two miles from the Loth Springs Trailhead at 640 Arch Ave. to North Park at 800 Bridge Ave.
Along the Greenway are benches, portable toilets, exercise stations and a bike repair station. There are also bags provided for waste making it an ideal spot to walk pets.
A portion of the Greenway near Constitution Park is currently closed while construction is being done on the South River Preserve, a 26-acre park designed along the South River that will replace the existing asphalt parking lot and improve the surrounding area, river and banks.
The Greenway extension is currently in the design phase, said Stephanie Seltzer, project manager with the Waynesboro Parks and Recreation Department.
Seltzer said the city is working to secure a right-of-way from a private property owner. If the city is able to get the easement in a timely fashion, Seltzer told AFP that the Basic Park extension could happen "rather quickly."
"It's been designed in such a way that utilizes some existing trail space there," Seltzer said. "When some of the stream bank work was done previously by DuPont, when they were doing the stream bank reclamation work to remove mercury, they left in a section of their construction road there for us to utilize for Greenway space."
Seltzer said the trail would also use the existing pedestrian walkway over the bridge and then follow the opposite side of the river down around the bend into Basic Park.
"And then it would kind of loop around the fields and the meadow space that we already have at Basic Park to get back to the parking lot," she said.
The South River Preserve and Sunset Park construction and the planning for the Greenway extension is keeping everyone in the Parks and Recreation department on their toes right now.
"We are very busy right now in Parks and Rec in terms of managing these different projects, but again, these are all quality-of-life improvements," said Seltzer.
She said the work being done in Parks and Rec will directly impact economic development with Nature's Crossing because the draw for a large company is often the amenities available to its employees.
"It's enticing to companies to know there's so many miles of Greenway here," Seltzer said. "And there's so many parks, and there's these different sports teams that are playing so my kids can play soccer, my kids can play softball. They can ride their bike. They can learn to mountain bike. You know, they can do learn to do all these things.
"All of those things are very enticing to have when industry or larger companies come in to the area," she said, "because they can say, 'yeah, my employees are going to be happy to work here and maybe stay.'
"Waynesboro has so much momentum right now."
Greenway expansion
Ridgeview Park extension
Basic Park
VDOT provided funding to extend the Greenway from North Park to Basic Park. Rinker Design Associates has been selected to engineer this section of the Greenway.
Related stories
Sunset Park in Waynesboro has potential to be open by end of year
Goodbye asphalt, hello open space: Waynesboro begins work on South River Preserve
Sunset Park under construction with $2.5 million price tag, trails on hold
Can Sunset Park help Waynesboro reach its potential as a destination?
Sunset Park: Waynesboro actually moves forward with a good idea
Waynesboro approves Sunset Park: Former landfill to become recreation hub