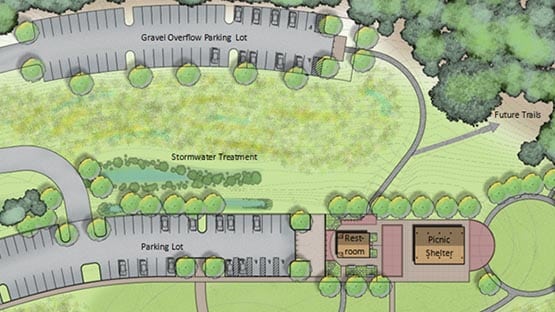 Sunset Park in Waynesboro is finally under construction, with work set to begin on adding a restroom facility, picnic shelter and two overlooks.
The city government reported today that there will be parking available and an improved access road. To support the amenities of the park, existing stormwater controls will be upgraded. Utilities including water, electricity and a septic system will also be added.
Waynesboro City Council voted 3-2 to approve the project one year ago. Bruce Allen and Lana Williams opposed the project. Funds available for this project total approximately $2.5 million.
"I am grateful for the opportunity to turn our attention to a part of our community that has lacked investment, and to provide access to neighborhoods that don't currently have active and passive recreational space, and to make investments in them as much as our city and our visitors," said At-Large Councilor Terry Short at the meeting after voting with the majority to approve the park project.
Former Ward D Councilor Sam Hostetter also voted to approve the project.
"Let's not sit and look at that empty space for another 20 years and then say, gosh, we should have done it back then," Hostetter said in 2022. "Twenty years from now, when many of us are up there enjoying that view, we're going to look back and say, thank goodness that this was done."
Approximately 20 people spoke out against the project at a public hearing.
Sunset Park will be located on 107 acres at 300 N. Winchester Ave. that was once home to Waynesboro's landfill. The landfill closed in 2003. The plan for the park was included in the 2018 Comprehensive Plan for the City of Waynesboro, although discussion of the project was delayed in part due to COVID.
Hiking and biking trails are planned for the site – but are not included in the current construction. The city said it is working with the Shenandoah Valley Bicycle Coalition to raise additional funds to add trails in the future.
Construction is funded through two sources: a Virginia Department of Transportation Recreation Access Grant and a portion of the state and local recovery funds the City received that were authorized by the American Rescue Plan Act, or ARPA funds.
The VDOT funds may only be used for the improvements associated with the access road and do require a small local match. Last year, ahead of the vote, a $125,000 investment by the city was discussed.
ARPA funds are being used for the other improvements and have no local match requirement.
For more information, email [email protected] or visit playwaynesboro.com
Related stories
Can Sunset Park help Waynesboro reach its potential as a destination?
Sunset Park: Waynesboro actually moves forward with a good idea
Waynesboro approves Sunset Park: Former landfill to become recreation hub
Waynesboro one step away from turning former landfill into city park