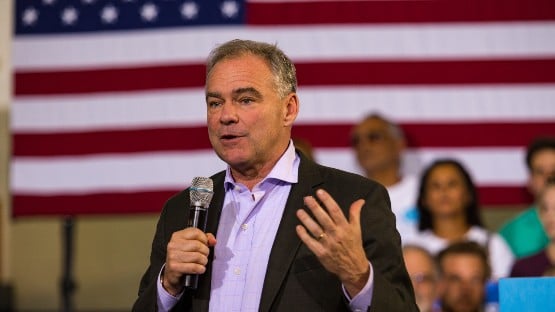 High school graduation day is supposed to be one of the happiest days of your life.
"If you as you look back over your life, I'm 65 now, you know, graduating from high school, graduating from college, my wedding day, the birth of my three kids, OK, those are, like, the five best days of my life," U.S. Sen. Tim Kaine, D-Va., said Thursday.
Kaine is a former mayor of Richmond, which saw a high school graduation marred by gun violence this week, with the shooting deaths of a Huguenot High School graduate, Shawn Jackson, 18, and his stepfather, Renzo Smith, 36, moments after a graduation ceremony at the Altria Theater in downtown Richmond on Tuesday.
Five other people were wounded in the mass shooting, with a 19-year-old, Amari Pollard, in custody on two second-degree murder charges.
Detectives have determined the shootings were not a random act, but resulted from an ongoing dispute between Pollard and Jackson.
What should have been a memorable day of celebrating achievement will now be memorable for unspeakable and irreversible tragedy.
"The notion that in the middle of that moment, that pivotal moment in anybody's life, where they're celebrating achievement, and thanking people help them get to that point, that violence would break out, that a young graduate, Shawn Jackson, and stepfather, Renzo Smith, would be killed, that others would be trampled and injured, that everybody, everybody, their teacher, faculty, staff, school board members, students, the graduating class, everybody who was there for him, would be traumatized, they're not going to forget this. They're going to remember this moment of pandemonium and chaos and panic and violence for the rest of their lives," Kaine said.
Kaine said he was in a Senate Health, Education, Labor and Pensions Committee hearing today on youth mental health challenges, and he couldn't help but think of the Altria shooting, and the shooting earlier this year at Richneck Elementary School in Norfolk, and how "everybody's traumatized, and everybody's thinking about it every day they drop their kids off to school, what's going to happen today."
"There used to be places in our society that were safe spaces," Kaine said. "Schools were safe, entertainment venues like the Altria were safe. Churches were safe. There's no safe space left. There's no place left in America where people feel completely comfortable or don't have some worry about what might happen to them if somebody with a gun and with problems decides to and lives by violence.
"It can seem a little bit helpless," Kaine conceded.
Progress in reducing gun violence has been slow in coming, but Virginia has been making strides at the state level, Kaine said, and he noted that Congress passed a bipartisan gun safety bill last year for the first time in more than 20 years.
"All of these things are not solving the problem, but they're demonstrating to us that we can find solutions if we stay with it," Kaine said.
"I just want to offer to the Jackson/Smith family and to all of the Huguenot family and to all of the RPS family, my feelings of solidarity with you and sorrow for you, and dedication to working together with you and continuing to work until we get this right," Kaine said.