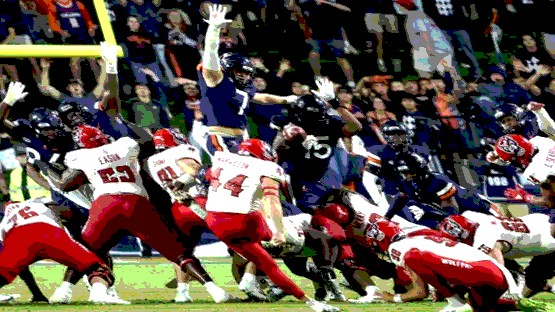 Brennan Armstrong said "it was pretty surreal, weird" playing as a visitor at Scott Stadium, after having worn the Virginia orange and blue for five seasons.
The ending was certainly surreal for Virginia, as late penalties practically handed the Wolfpack the 24-21 ACC win.
Armstrong connected with Kevin Concepcion on two touchdown strikes and Braden Narvespon made the best of his second opportunity, booting a 33-yard field goal on an untimed down to escape Charlottesville with a win.
Virginia staged a dramatic comeback to tie the game at 21-all with 36 seconds left, but costly penalties, two of which they dodged and one they did not, cost them a chance at a win.
"Penalties won us this game," Armstrong said.
Virginia fans would concur.
Narveson's first field goal attempt from 48 yards away was blocked at the line by James Jackson, but Jackson was flagged for a personal foul, giving State a first down at the Cavalier 16-yard line with five seconds left.
Narveson's second kick split the uprights as time expired.
Virginia tied the game late on an Anthony Colandrea to Malik Washington touchdown pass. Virginia was called for unsportsmanlike conduct after the play, forcing the two-point conversion from the 17.
No problem, however, as Colandrea connected with Malachi Fields to tie it up.
Yet another 15-yard unsportsmanlike call, this one on the freshman QB, forced the Cavaliers to back up 15 yards on the kickoff.
A good return by NC State's Julian Grey gave the Wolfpack the ball inside the Cavalier 50 at the 48. Three Armstrong runs set up the game-winning kick.
Key takeaways
Virginia's offense, led by Colandrea, can be explosive
Virginia's offense proved they can hit home runs on occasions. UVA torched the Wolfpack defense for six huge-gain plays. The Cavaliers connected on long passes of 42 yards in the second quarter and a 59-yard pass in the third. Both eventually led to points.
Colandrea proved his resilience. After throwing three picks – on three consecutive passes – against Maryland last Friday night, he bounced back with a 271-yard, two-TD effort against State.
Colandrea again looked calm under pressure, and on several plays, made something from nothing.
UVA is now 0-4 this year, and at times looked awful, but it has little to do with Colandrea's performance. He's been one of few bright spots for the Cavaliers, and moving forward, it should be his offense to run.
Short yardage still a nightmare for Virginia
It seems that when the Cavaliers need a yard or two to keep a drive alive, the opposing defense has Virginia right where they want them.
Three times Friday evening Virginia, deep in State territory, just couldn't get the extra yard or two they needed, coming away empty or just a field goal.
The most glaring example of Virginia's short-yard futility came after a spectacular 59-yard catch and dash from Malik Washington gave the Cavaliers a first and goal from the Wolfpack 4.
The result?
Virginia gained just one yard and kicked a field goal from the NC State three-yard line.
Talk about a letdown.
And about those late penalties
Virginia committed not one, not two, but three unsportsmanlike penalties in the last minute of play.
There are teams that don't get flagged for three of those penalties all season.
Somehow the Cavaliers survived two; the third, well, that was the killer.
That penalty came on James Jackson for jumping over the line of scrimmage and bumping the Wolfpack snapper on State's first game-winning FG attempt.
While the call was a bit borderline, it was legitimate.
And the result led to the Wolfpack win.
A story that has repeated itself numerous times this season.
Virginia's margin of error for winning this season is thisclose.
The Cavaliers simply can't continue making unforced errors, yet they do. The result is 0-4 heading to Boston College next Saturday.